With many companies moving to Zoom video conference calls for daily use, using headsets for Zoom will optimize your audio quality, cut down on distracting background noise and make for a much better video call experience. Built-in speakers and cameras on most laptops offer below-average quality as they are simply thrown in peripherals. Upgrading your audio and video sources will elevate your Zoom calls to feel as if you were face-to-face with co-workers and customers.
An understanding of headset options, special features, issues, and headset styles is essential to help you navigate to the perfect audio solution.
                   
Key Concepts for Zoom Headsets:
Corded or Wireless Headsets
Wearing Style
Noise Canceling Technology
Budget
Camera & Sound Bar
---
New to headsets for Zoom?  Watch our corded and wireless USB headset basics to learn what concepts will benefit you.
---
Corded or Wireless:
Corded vs. Wireless Headsets for Zoom Meetings:
Corded headsets will be less expensive, are simple to use and the only maintenance will be an occasional ear cushion needing to be replaced. Comfort and quality of your audio will be top-notch if you stay with guaranteed new product from the main manufacturers Poly (formerly Plantronics), Jabra, and Sennheiser. Straying from the big three will cause more headaches than what you make up for in cost savings.
Wireless headsets will be more expensive, require slightly more setup and require connecting to power each night so you start your next workday with a fully charged battery. In addition, batteries will typically last 2-3 years providing nearly the same amount of talk time as you had day one. Many models offer replacement batteries allowing you to refresh your headset to hold a charge as if new again. With the advances in technology, users will find the sound quality equal to corded headsets. Wireless has a huge advantage over corded, in preventing users from feeling tethered to a cord and enabling them to retrieve documents and information as needed.
Conclusion:
In short, it comes down to the budget. If you can afford it, wireless always feels less restraining and you will have more natural Zoom calls.
---
Wearing Styles:
Headset wearing options for Zoom Meetings: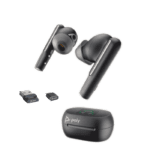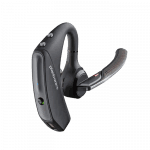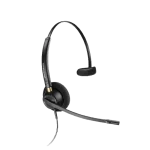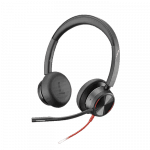 Over-the-Ear/Behind-the-Ear/Earbud/Neckband Headsets: Choosing this wearing option will typically give you smaller, lighter weight headsets. You will sacrifice battery size with wireless options, making for less talk-time with most models not being able to offer a replacement battery as it will be soldered directly onto the circuit board to help reduce overall headset weight. Audio quality will be acceptable for typical professional use.
Single Ear (Mono) Headsets: Most monaural headsets will have an adjustable headband and offer foam or leatherette cushions, which will need to be replaced on occasion with heavy use. Choosing this wearing option will give you a very secure fit for all-day wearing comfort. You will have a full sized speaker giving you slightly better audio quality than over-the-ear models. With the full sized speaker, you also create a better noise barrier separating what's going on around you versus what you're trying to hear through the headset. This improves your meeting audible quality and the ability to take more accurate information on your conference calls. With the other ear open, you can easily stay in touch with your environment and have conversations with people around you.
Dual Ear (Stereo) Headsets: Most binaural headsets will have an adjustable headband and offer foam or leatherette cushions, which will need to be replaced on occasion with heavy use. Choosing this option will give you the most secure fit and best audio possible. When covering both ears, you can focus on your meetings much easier and not be distracted with background commotion. You can also slide one speaker back behind your ear as needed if you need to converse with people around you, while still maintaining a stable fit. If using for personal use and listening to music, a dual ear headset is required for true hi-fi audio.
Conclusion:
Above all, if working in loud or open environments, dual ear headsets always perform the best while reducing the overall noise level of your surroundings. For quieter environments, it really comes down to personal preference. If you don't want to mess your hair up, an ear model will work great. If you feel a more secure fit is most important, opt for a headband model.
---
Noise Canceling Technology:
Business grade headsets using a noise-canceling microphone will reduce background noise, allowing your Zoom conference members to hear your voice more clearly. This is very important, because the clearer your voice is, the more natural your video call will be. It keeps your caller focused on your conversation and less distracted with background chaos; this is very important in a professional business environment — to maintain a level of confidence and trust with your viewers.

Many users are now working from home and require noise-canceling headset microphones that will eliminate sounds, like dogs barking, or babies crying. A typical noise-cancelling headset targets human voices and office noise, reducing them by up to 75%. When you have a dog barking or a baby crying, you will need the latest in headset technology. Acoustic fence puts an imaginary fence around you to completely block out any background noise outside of your area.
If you are working in a loud environment, active noise cancellation (ANC) will be the technology which benefits you the most and is available on select high-end headsets that helps you, the user, hear better. Standard noise cancelling affects your microphone and helps your caller hear you more clearly, but with active noise cancelling, your headset will listen to your environment and create an opposite sound wave to transmit into your ear, making background distractions simply go away. Having a headset with volume control allows you to easily adjust as needed without fumbling through your software settings.
Having a headset with a mute button will also be of benefit when noise suddenly finds you. By quickly pressing a button or raising the mic boom on specific models can save your caller from unexpected spikes in noise, keeping your calls at a professional level.
Read more: Headsets 101 Understanding Noise Canceling Technology
---
Headset Budget & Options:
Corded Headsets for Zoom Meetings. 
With a Zoom meeting, you will be positioned in front of your camera most of the time. A corded headset will provide plenty of cord length to sit comfortably in front of your camera. If you want to completely focus on your callers, a dual ear headset works best. If you need to hear what's going on around you, a monaural or single-ear headset will be preferred. It then comes down to choosing a headset budget based on durability, comfort, audio quality and high-end technology. Think of it as good, better, and best.
GOOD → Corded USB Headsets for Zoom
$30-50 price range. This buys you an entry level solution. Minimum padding and foam cushions. Plan on replacing units regularly because of breakage.
BETTER → Corded USB Zoom Headsets
$50-100 price range. This buys you a significant upgrade. Much better audio, padding and foam for better comfort, and improved durability for less replacements.
BEST → Corded USB Headsets for Zoom
$100-250 price range. This buys you products made to last with high-end technology. Padding and cushions for all day wearing and noise cancellation to help you and your caller hear less of your background noise.
More options: Corded USB Headsets
---
Business Grade → Wireless USB Zoom Headsets
With a wireless headset, you are simply freeing yourself from cords. Plan on spending $150+ for business grade wireless headsets for Zoom. While you're on a Zoom call you will spend most of your time in front of a camera, but many will enjoy the benefit of being able to freely roam about their office retrieving documents or other materials while maintaining audio with their other meeting attendees.
More options: Wireless USB Headsets
---
The Synergy Between Poly Headsets and Zoom Meetings:
---
Business Grade Audio & Video Products:
Also available is a wide range of audio and video products to further improve your Zoom meetings experience. Video with superior resolution and tracking will take your Zoom calls to an entirely new level and with background noise canceling, your customers and team members will be jealous of the quality of your Zoom meetings.
More options: Audio/Video Conferencing
---
In addition to above information, be sure to visit Computer Headsets for a complete listing of options for Poly headsets for Zoom, Plantronics headsets for Zoom and Jabra headsets for Zoom.