Poly (Plantronics) Quick Disconnect Headsets
We recognize that headsets are complicated. With so many different models, wearing styles, with and without noise canceling, accessories and upgrades, Headsets Direct is here to simplify and make your life easy so you can get back to your day job.
The following Poly (formerly Plantronics) headsets are all part of their business grade series terminating with a QD (Quick-Disconnect).  This allows you the freedom to choose the wearing style of your preference and then purchase either a Direct-Connect cable or Amplifier depending on your phone's compatibility or your application. With the QD (Quick-Disconnect) you also have the ability to add Y-Training cables and replace Direct-Connect cables or Amplifies should you ever change phones.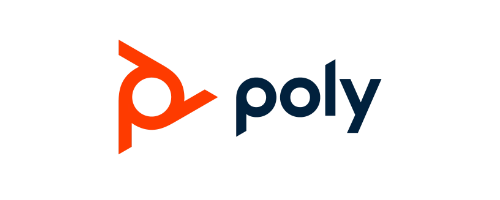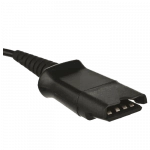 Showing all 12 results
To better understand the following choices, the core Poly products fall into three categories. HW300, HW500 & HW700 which is equated as good, better & best. All H-series headsets have a cable that ends with a Quick-Disconnect (QD). You will need a bottom Direct Connect cable or Amplifier (sold separately) with a matching Quick-Disconnect to connect to your device. Most common being a deskphone, computer or 911 dispatch console.
Poly HW300 Series: This is your entry level product which will provide minimal noise canceling, little padding and foam cushions. Being less rugged as other models, users will have to take extra care to ensure the longevity of the product.
Poly HW500 Series: This is your typical business grade line of headsets. They will have much better noise canceling capabilities, comfort for all-day wearing, and adjustable headbands. Select models offer multiple wearing options. This series offers durability to last everyday use and abuse. Foam cushions will be the standard with leatherette cushions sold separately to greatly improve the overall user experience.
Poly HW700 Series: This is your premium model with superior noise canceling capabilities. Features include telescoping mic booms for perfect positioning and adjustable headbands. There are leatherette cushions for all-day wearing comfort that are easily sanitized. The HW700 series is made to last and will provide users with the best Poly has to offer in business grade headsets.
Additional models will include over-the-ear and in-the ear designs that were numbered prior to the above tiered system. They are light-weight and use ear-tips to seal off distracting noise within your office environment or dispatch center.
Noise Canceling Microphones: When considering headsets, most models will have a noise canceling microphone which cuts down on the amount of noise your caller hears. This helps your caller hear you more clearly and not be distracted with your background noise. This does not effect the user of the headset in any way. With advances in headset technology, there are no negative effects of using noise canceling, even in quiet work spaces.
Voice Tube Microphones: When working in a quiet environment or private office, a headset using a voice tube will provide great sound quality to your callers. The tube is easily replaceable should the end become clogged with makeup or mustard and is best replaced every 6-months for optimal performance. Voice tube microphone headsets will be slightly less expensive than those with noise canceling microphones and be slightly less obtrusive to people your encounter face-to-face.
Visit:
Understanding Amplifiers & Direct Connect Cables