Jabra Evolve 30 II USB Single Ear Headset
Jabra Evolve 30 II UC Mono is more than a headset, it's a workplace evolution. Evolve 30 is a professional headset designed to help you focus and improve your conversations.
Stay connected, using either USB or jack: Connect to your PC via USB or use the 3.5 mm jack for connectivity to your personal device – such as a smartphone or tablet – to work or listen to music wherever you may be.
Easy call management: In-line call controller with large buttons and LED indicators, making handling of calls and music easy. Pick up or end calls, control volume, or simply mute the line.
Noise-canceling mic: State-of-the-art, noise canceling microphone eliminates background noise. Your conversation partner won't struggle to hear what you're saying.
Plug-and-play setup: Works out of the box with all leading Unified Communications platforms. Installation is as easy as simply plugging it in.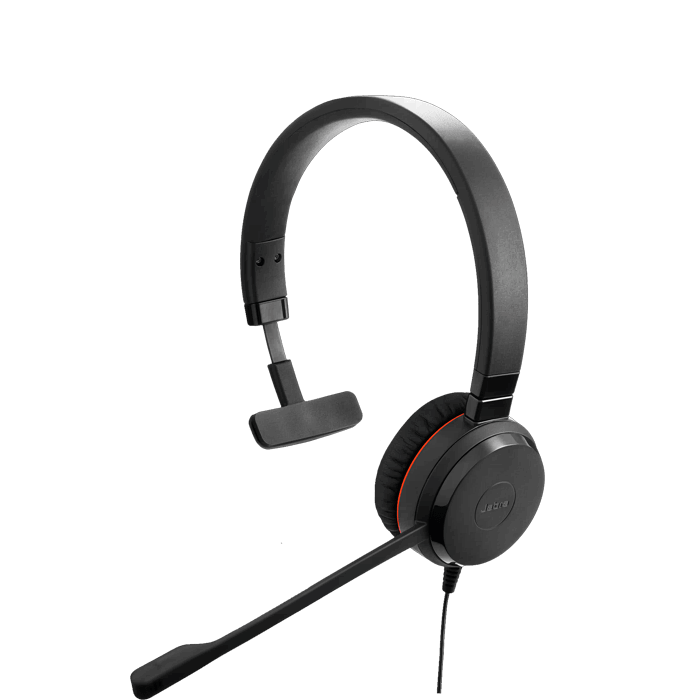 ---
At one with the universe (of phones and platforms)
Our headsets and speakerphones work out of the box with over 10,000 traditional desk phones. They are future-proof and compatible with all softphone and web clients, from Microsoft Teams to Mitel.
Providing your staff with optimized and trusted devices that work seamlessly with your UC platform is key to productivity, audio quality and having fewer IT issues. Jabra has tested devices with a long list of platforms, and offers Microsoft Teams certified variants from our wide range of headsets and speakerphones.

---
Jabra Evolve 30 II UC Mono USB Headset Benefits:
Passive noise cancellation helps you hear better
Works with all smart devices using 3.5 mm jack
In-line call controller w/ large buttons and LED indicators
Made for voice and music listening pleasure with HiFi stereo sound
Soft leather feel cushion for all-day wearing comfort
Available in Microsoft Teams version
---
Jabra Evolve 30 II UC Technical Specifications:
Audio

:
Headset bandwidth: Wideband
Speaker

Size: Ø28mm x 3.9mm
Sensitivity: 93.6dB SPL @ 1kHz
Impedance: 32+ / -4.8Ω, @ 1.0kHz
Max input power: Rated Input 5mW @ 0.4V, max input 10mW @ 0.56V
Frequency range: 150Hz – 7kHz, @ Output S.P.L -10dB
Bandwidth

Speak mode: Wideband 150Hz – 7kHz, @ Output S.P.L -10dB

Microphone:

Type: Electret condenser (ECM)
Sensitivity: F=1kHz, pin=1Pa, 0dB=1V/Pa, Min= -48dB, Max= -44dB
Bandwidth: Wideband
Frequency range: 100Hz – 10kHz @ 6dB

User hearing protection: Jabra SafeTone™**
Certifications:

Industrial Certifications: Microsoft Teams*, Leading UC vendors
Connectivity:
Connection (computer / mobile devices): USB-A /3.5 mm jack
AC Power Supply: USB power supply by PC
Bluetooth device: No
Cord length:

Control cable: 95cm/37.4 in
Headset cable: 120cm/47.24 in (approximately 7 feet)
LED features and functions
Busylight
Incoming Calls
Microsoft Teams notifications*
General:
Weight: Evolve 30 II Mono headset

With cable: 117.4 g / 4.14 oz
Without cable: 62.9 g / 2.21 oz

Box content: Evolve 30 II mono headset, USB Controller
Warranty: 2 years
Evolve 30 II Mono
Jabra Model Numbers

Headset – HSC060
Controller – ENC060

UC USB-A

SKU: 5393-829-309
UPC: 0706487017486

Microsoft Teams USB-A

SKU: 5393-823-309
UPC: 0706487017479
---
What Comes In The Box:
Pouch
Evolve 30 II Mono Headset packed in a pouch
USB Controller
Plastic bag for controller
Plastic bag for headset
Foam bag for left earcup
Quick Start Guide
Warranty Leaflet
---
FAQ:
Can I listen to music on the Evolve 30 II Mono?
Yes. Evolve 30 II has world-class speakers that are built for both voice and music.
Does this device have Noise Cancellation features?
The Jabra Evolve 30 II Mono has passive noise cancellation. Simply wear the headset to eliminate high-frequency noise, such as human voices – all thanks to the specially designed ear cushions. For active noise cancelling, see our Evolve 80 headset
Does it work with Mac and PC?
Yes, it works with both systems.
Does the Evolve 30 II Mono have a 3.5 mm jack?
Yes, the 3.5 mm jack lets you connect to your personal device – such as a smartphone or tablet – to work or listen to music.
What is the difference between standard UC models and models that are certified for Microsoft Teams?
The models that are certified for Microsoft Teams (or Microsoft Lync) support Microsoft Teams as a Plug and Play experience. The Plug and Play experience includes these benefits:
Automatic selection as the default audio device.
Features to answer and end calls, adjust volume, and mute.
If multiple certified audio devices are present, certified models also offer call prioritization. Microsoft Teams will correctly send the audio to the device that was used to answer an incoming call.
If you use a model that is certified for Microsoft Teams with a different computer telephony (softphone) client, the product should work the same as a UC model regarding audio features (such as answer and end calls, adjust volume, mute).
If you are not using Microsoft Teams, use the standard UC model.
How do I set up my Jabra Evolve 30 II to work with Microsoft Teams for Windows?
To select your Jabra device for use with Microsoft Teams, follow these steps:
Click on your profile picture at the top of the Teams window
Click Settings, then Devices.
In Devices, select your Jabra device under  Audio devices. If you are using a Jabra wireless device, select the connected Bluetooth adapter, such as the Jabra Link 370
Note: Microsoft Teams provides remote call control – the ability to answer and end calls directly from a connected audio device – when using versions dated July 1, 2018 or later. You must sign out of other softphone clients for this feature to work
If your organization is simultaneously using Skype for Business, see this Microsoft site for the latest information and guidance. If you are a user, contact your IT administration for information as guidance.
Please call if you have any further questions regarding the Jabra Evolve 30 II UC Mono.