Poly Voyager Free 60+ Wireless Earbuds – Say Hello To Your New Work Buds.
Meeting Time. Focus Time. Me Time — The Poly Voyager Free 60+ wireless earbuds is a hybrid work solution to meet every moment. With ANC and a three-mic array to isolate your voice, you're confident both sides of the call are crystal clear.
The smart charge case doesn't just go the distance — it gives you control at your fingertips. Allowing you to connect instantly with your team, playlists, podcasts, and even inflight entertainment. Your IT department will also approve because they are certified to work with the latest meeting platforms, as well as managed centrally from anywhere in the world.
---
Lift Your Voice. Lose The Noise
Advanced Mic Design & Audio Processing Technologies — Mic check, one, two, three. With a three-mic array in each earbud triangulating on your voice and minimizing the surrounding noise; you're loud and clear wherever you take your calls. Not to mention with WindSmart technology, you can breeze through conversations as you move through your day without interruption.
---
Tune In. Tune Out.
Superior Noise Canceling For Uninterrupted Listening — Whether it's a crowded café or bustling commute, forget the commotion around you. The Poly Voyager Free 60+ wireless earbuds with adaptive hybrid ANC automatically adjusts to your wearing style and cancels out just the right amount of noise for a quiet and comfortable experience. Additionally, with two-setting transparency mode, you can tune back into your natural surroundings without taking out your buds.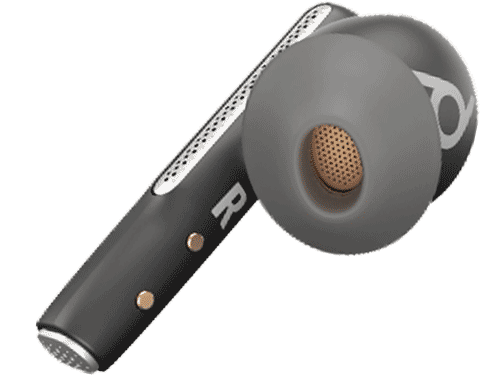 ---
Take Control With A Glance And A Touch
Status And Audio Controls At Your Fingertips — With the Poly Voyager Free 60+ wireless earbuds you can mute calls, adjust volume, connect to external sources, and switch devices without dropping a call or what you're doing.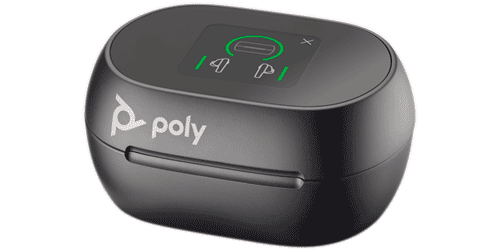 The smart charge case puts the information you need, and the ability to quickly do something about it in your hands, thanks to its color touch display and intuitive icons. The fast charging gives you an extra hour of talk time for every 15 minutes and will fully recharge your buds two times for up to 16.5 hours of active call use.
---
Hits All The Right Notes
Immersive Stereo Sound — Go from work to playlists without missing a beat. The hi-fi sound and 10mm speaker drivers transform your buds into a portable stereo. So, you can stream your music, shows, podcasts, and games when you need a break.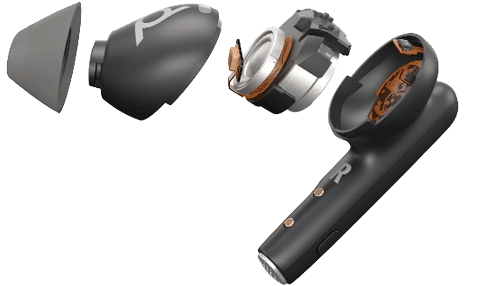 ---
Won't Wear Out Its Welcome
Comfort, Comfort, Comfort — Seamlessly switch from your 9–5 to your 5–9—and back again—without missing a beat thanks to the comfort-centric design of the Poly Voyager Free 60+ wireless earbuds.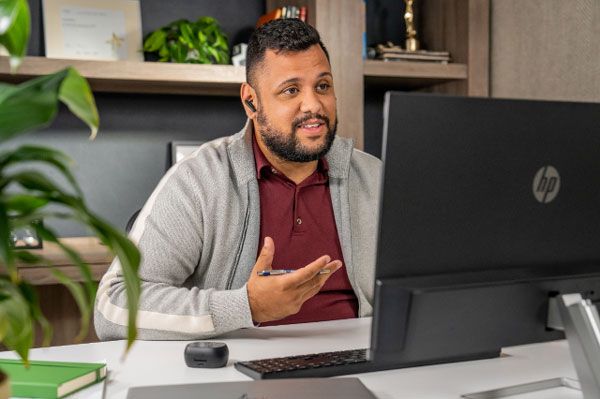 Discreet and lightweight; these 5.8g wireless earbuds come with three conical-shaped earbud tip sizes. Each are engineered to minimize pressure in the ear while also providing ideal audio isolation. The advanced sidetone technology keeps you aware of how loud you are speaking so you aren't straining your voice.
---
Connect To More of What You Want To Hear
Seamlessly Switch Between Multiple Devices — Multipoint technology lets you connect with up to two Bluetooth® devices at a time without resyncing, wheels spinning, or searching for a signal. Seamlessly manage calls between your mobile phone and PC without missing a beat.
Go Wireless With Wired Sources — The Smart Charge case includes a 3.5mm audio port so you can connect an external source, like an inflight entertainment system, and enjoy the movie without wires.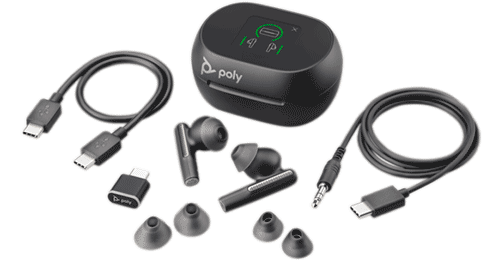 ---
Engineered For Enterprise Use
IT Approved! — Built for hybrid work means just that. The Voyager Free 60+ comes with Poly Lens Desktop, iPhone and Android apps so users and IT can customize the experience. Because they were optimized for use with communications platforms, have certifications from the leading virtual meeting providers. They will deliver the highest standard of audio quality on their platforms.
Using the Lens Cloud management software, IT can also proactively provision and manage their entire deployment of Poly headsets and gain insights and analytics on the health of the entire estate.
---
Poly Lens
Intelligent Insights, Scalable Management — Poly Lens software gives IT teams visibility and control over voice, video, and headset devices. Deploy, configure, update, and get valuable insights from one endpoint or thousands using one scalable platform. Poly Lens makes it simple: no heavy IT lifting required. More Info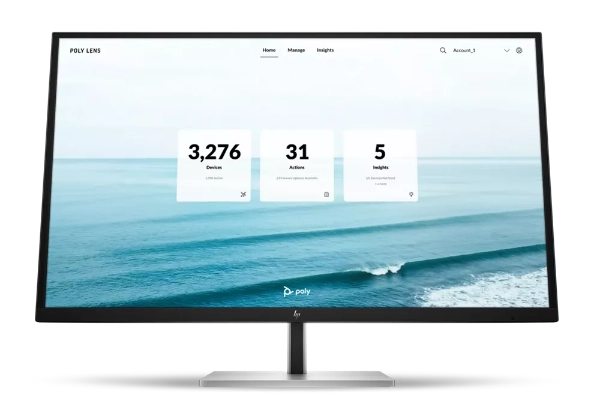 ---
Poly Lens App
Designed For You — Get the most out of your Poly devices. Use one convenient app to manage all your compatible devices. Keep software up to date, manage settings, and use the personal health and wellness reminders to keep you focused and energized all day long. With the Poly Lens App, you can customize your devices to work the way you do. More Info

---
Built For Compatibility
All Poly USB headsets and personal speakerphones are compatible with the most popular voice platforms – we just work. Poly solutions provide excellent audio quality for both you and those on the other end of the call – no matter your platform of choice.

Poly is certified (when offered) with all major communication platforms.
---
Poly Voyager Free 60+ Wireless Earbuds Specifications
Carbon Black UC
POLY

USB-A SKU # 216065-01 | UPC: 0017229187986
USB-C SKU # 216065-02 | UPC: 0017229187993

HP

USB-A SKU # 7Y8G3AA | UPC: 197497053845
USB-C SKU # 7Y8G4AA | UPC: 197497053852
Carbon Black MS Teams
POLY

USB-A SKU # 216066-01 | UPC: 0017229188006
USB-C SKU # 216066-02 | UPC: 0017229188013

HP

USB-A SKU # 7Y8G9AA | UPC: 197497053906
USB-C SKU # 7Y8H0AA | 197497053913
White Sand
POLY

USB-A SKU # 216754-01 | UPC: 0017229188020
USB-C SKU # 216754-02 | UPC: 0017229188037

HP

USB-A SKU # 7Y8G5AA | UPC: 197497053869
USB-C SKU # 7Y8G6AA | UPC: 197497053876
Warranty
---
Poly Voyager Free 60+ Wireless Earbuds Technical Information
Connects To
PC via included BT700 Bluetooth adapter
Smartphone via Bluetooth
External audio source via 3.5mm (listening only, cable included)
Recommended For
Professionals who prefer discrete in-ear hands-free calls at home, in the office or on the go
Compatible With
Windows (supports Microsoft Swift pair)
Mac OS, iOS (made for iPhone)
Android
Wearing Style
In-ear true wireless earbuds with pressure relief design
Wireless
Bluetooth v5.3
Class 1
Multipoint connectivity

Headset connect to two devices at the same time, remembers up to 8 devices
Easily switch between the two active devices via smart charge case

Supported Bluetooth profiles

A2DP, AVRCP, HSP, HFP, SPP

Supported Codecs

AAC, AptX, SBC, and mSBC
LC3 with BT700 only, in both mono and stereo telephony modes for improved density

Range

Up to 30m / 98 ft with included BT700 Bluetooth adapter
Up to 3m / 9.8 ft streaming via smart charge case
Poly Voyager Free 60+ Wireless Earbuds Battery
Battery Capacity

Each ear bud: 70mAh
Charge case: 580mAh

Battery Type
Talk time (using both earbuds)

Up to 16.5 hours (5.5 hours plus extra 11 hours with charge case)

Listening time (ANC on)

Up to 24 hours (8 hours plus extra 16 hours with charge case)

Charge time (Earbuds)
Charge case
Fast charge

Up to 1 hour 12 minutes of talk time after 15 mins of charge

Standby time

Up to 30 days including charging case

Qi certified wireless charging
Receive Frequency Response
Dynamic EQ optimized for PC wideband voice telephony up to 7 kHz or for multimedia 20 Hz to 20 kHz
Hearing Protection
SoundGuard DIGITAL: G616 support limits the level to 102 dBSPL
Time-weighted average prevents average daily noise exposure from exceeding 85dBA1
ANC/Transparency Mode
Adaptive ANC automatically compensates for variations in user fit
Transparency mode
Smart Sensors
Answer calls by inserting earbuds
Mute off and pause/resume music by removing earbuds
Microphone and Technology
Three microphones per earbud
WindSmart technology for protection against wind noise
Adjustable Sidetone
Use only one earbud for calls, if necessary
Headset Controls and Lights
Earbuds

Button for Bluetooth pairing, call answer/end (for mobile calls), play/pause (for media), Voice Assistant, etc
Gesture control for volume up/down, mute/unmute, call hold/resume, ANC/transparency, track forward/backward2

Charge Case

Touch display for full configuration and control
Headset Weight
Earbuds (Left/Right)
Smart charge case
Charge Case Dimensions
Smart charge case

54.5 x 72 x 33.1 mm / 2.15 x 2.83 x 1.30 in
Color Options
Accessories (Included)
Smart charging case powered by Poly LaunchPad technology, LCD touch display and Qi wireless charging
Small, medium and large silicon ear tips
USB charging cable (300 mm / 11.8 in)
USB to 3.5mm audio cable (770±20mm)
Manageability
Cloud
Local (Windows/Mac)

Poly Lens Desktop App
Poly Lens Mobile App
IP Rating
IP54 splash and dust resistant
Certification
Microsoft Teams Certified (Microsoft Teams version only)
Certified for Zoom3
Certified for Google Meet3
Certified for Google Voice3
Made for iPhone
Qi Certified (Charge case)
1Requires Poly Lens Desktop App to enable SoundGuard DIGITAL features
2Configurable via Poly Lens app
3Certification pending
---
Poly Voyager Free 60 UC FAQ
What is the Voyager Free 60 UC Series?
The Voyager Free 60 UC Series is the latest addition to the Poly Voyager family of enterprise Bluetooth® headsets. What makes these unique from other products in the Voyager family is their wireless earbud design — providing enterprise users with a solution for this fast-growing wearing style. Users always look and sound their best on calls with these discreet wireless earbuds.
Can the Voyager Free 60+ UC be used with inflight entertainment systems?
Yes. Users can wirelessly stream audio from inflight entertainment systems via the touchscreen charge case of the Voyager Free 60+ UC. A 3.5 mm cable (included) connects between the touchscreen charge case and the inflight entertainment system — the audio is then wirelessly streamed from the case to the earbuds.
The cable can also be connected to other 3.5 mm audio sources for listening to other types of media. Along with its adaptive ANC, compact design, and long battery life, the Voyager Free 60+ UC is the ideal travel companion and communication headset — no need to carry separate headsets.
How does the Free name fit into the Voyager family ad what does it mean?
Free is the name of the new wireless earbud range and is part of a new descriptor naming convention for products in the growing Voyager family. With this new wireless earbud range users are free to work anywhere with the ultimate everyday companion.
What makes the Voyager Free 60 UC Series ideal for enterprise use — when so many other earbud designs fall short?
Poly have designed the Voyager Free 60 UC Series earbuds as an enterprise communications first device. Meticulous attention has been paid to the transmit audio quality ensuring that users sound their best — thanks to six microphones and Poly noise reduction technology.
The Voyager Free 60 UC Series are also certified for use with popular enterprise applications such as Microsoft Teams — ensuring users get the best from these applications. Meeting the Microsoft Teams certification also provides a guarantee that the audio meets Microsoft strict requirements. The everyday needs of the enterprise worker have also been considered including easy control of mute and volume adjustment direct from the earbuds.
Does the Voyager Free 60 UC Series replace any products in the Voyager Family?
No. The Voyager Free 60 UC Series brings wireless earbuds as a new wearing style to the Voyager family.
What noise canceling technology is included in the Voyager Free 60 UC Series?
The Voyager Free 60 UC Series features a stem design with three microphones per earbud that triangulates on the user's voice and minimizes surrounding noise, so they are always heard loud and clear. Dynamic noise reduction algorithms are used to further reduce background noise.
Does the Voyager Free 60 UC Series include Poly's Acoustic Fence technology?
No. The discreet design of the earbuds means it is not possible to get the required physical separation between the microphones to include Poly Acoustic Fence technology. Poly noise canceling technology is included to provide amazing transmit audio.
Are replacement Voyager Free 60 UC Series earbuds available as spares?
Yes. A a set of left and right earbuds (in either Carbon Black or White Sand) are available.
Is there an easy way to determine the size of the eartips?
Yes. The plastic discs on each eartip are different in color as shown in the image below:
What controls are possible direct from the Voyager Free 60 UC Series earbuds?
The earbuds include a swipe sensor which can be used to adjust the volume, mute, etc. (actual function depends on current use case). A further separate button is used to answer/end calls. Both left and right earbuds controls have identical functions.
Where is the swipe sensor located on the Voyager Free 60 UC Series earbuds?
The metallic touch sensor is located on the top of the earbud. Swiping forward or backward on this sensor will change the function as described below.
Which features of the earbuds can be controlled direct from the touchscreen charge case of the Voyager Free 60+ UC?
The touch display on the touchscreen charge case provides the following features:
• Battery status of charge case and both earbuds
• Volume control (up/down)
• Pause/resume media playback
• Switch on and off ANC mode
• Switch between ANC and Transparency mode
• Microsoft Teams notifications (Microsoft Teams version only)
• Switch between paired Bluetooth® devices
• Enable Bluetooth® transmitter (for inflight entertainment systems and other 3.5 mm sources).
What is the difference between the Voyager Free 60 UC Series Standard and Microsoft Teams versions?
The Voyager Free 60 UC Series Microsoft Teams versions are certified for use with Microsoft Teams and include a Microsoft Teams button on both the earbuds. An indicator light on the BT700 Bluetooth® adapter provides notifications of Microsoft Teams events.
For the Voyager Free 60+ UC there is a MSFT logo on the touchscreen charge case display that can be used to interact with the Microsoft Teams desktop application and provides notifications of Microsoft Teams events.
Can the Voyager Free 60 UC Series be used in the gym?
The Voyager Free 60 UC Series are IP54 rated dust and splash resistant and can therefore be used outside in the rain while walking or other low intensity activities. They are not designed for heavy workouts.
Can the Voyager Free 60 UC Series be managed remotely via Poly Lens?
Yes. These earbuds can be remotely managed for setting and firmware updates – making them ideal for use in enterprise environments.
Does the Voyager Free 60 UC Series include hybrid Active Noise Canceling (ANC)?
Yes. Poly has taken hybrid ANC to the next level with adaptive hybrid ANC offered on the Voyager Free 60 UC Series. An inward facing microphone monitors what the user hears, and an external microphone monitors the noise outside (hence the term hybrid).
The new adaptive feature detects for differences in user fit (or movement while wearing) and automatically adjusts to provide the best ANC experience regardless of these differences.
What is the BT700 Bluetooth® adapter and why is it needed rather than pair directly to the computers' Bluetooth® stack?
When using the Voyager Free 60 UC Series with a computer, it is recommended that for the optimal user experience the BT700 Bluetooth® adapter is used. The BT700 Bluetooth® adapter allows the user to connect wirelessly to the computer and provides the following additional features:
• Call control (with supported softphones)
• Battery level status
• Firmware updates (requires Poly Lens)
• Change devices setting (requires Poly Lens)
Additionally, when using the BT700 Bluetooth® adapter, the user experiences the same great audio quality but at a lower bit rate as both the adapter and earbuds utilize the LC3 codec. This allows more devices to be used in a specific area without impacting audio quality. This is ideal for office environments allowing more users to go wireless.
How can the firmware of the Voyager Free 60 UC Series be updated?
The Voyager Free 60 UC Series earbuds can be updated wirelessly using either the Poly Lens desktop or mobile applications. The Voyager Free 60+ UC touchscreen charge case can be updated via the Poly Lens desktop app and
needs to be connected to the computer via the included USB cable.
Does the Voyager Free 60 UC Series support wireless charging?
Yes. Both the Voyager Free 60 UC and Voyager Free 60+ UC charge cases support wireless Qi charging. The earbuds themselves do not support wireless charging and need to be placed inside the charge case.
What is the new LC3 Codec?
The new LC3 (Low Complexity Communication Codec) provides less interference in enterprise applications, allowing for more units in the same area as well as providing the following additional features:
• Improved sound quality especially at lower bit rates compared to standard SBC Codec (uses ½ bit rate of SBC)
• Most noticeable when listening at a distance or in congested radio environments – ideal for enterprise use.
• Only when used with BT700 Bluetooth® adapter