Poly Blackwire 5210 USB Headset with All-Day Comfort
If you wear a headset for hours, then the Poly Blackwire 5210 USB headset is your jam. Easy to use, it's USB or USB-C and 3.5mm connectivity gives you the freedom to work on a variety of devices. Ergonomically designed, it's comfortable enough to wear all day, on your longest calls.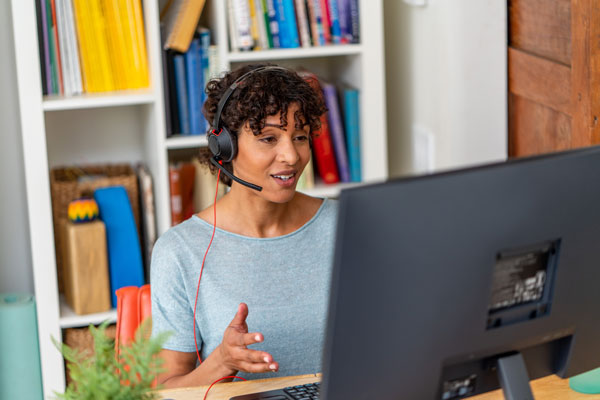 ---
Get Great Sound — Get More Done With Blackwire 5200 Series Headsets
Tune out the inevitable workplace distractions with the Blackwire 5210. Soft, conforming ear cushion provides passive noise canceling while it's precisely tuned microphone masks nearby conversations.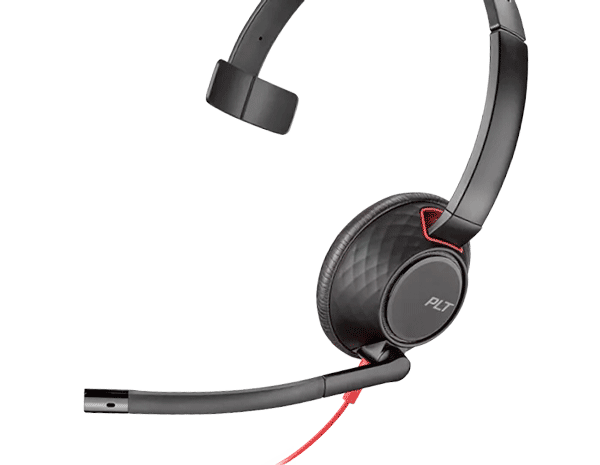 ---
Enjoy All-Day Comfort — Your Ears Will Thank You.
The Blackwire 5210 USB headset is built to stay comfortable. Adjust the headset to fit the way you work. Customize your settings to manage calls easily. Need to go to mobile? The headset folds up for easy portability in its carrying case.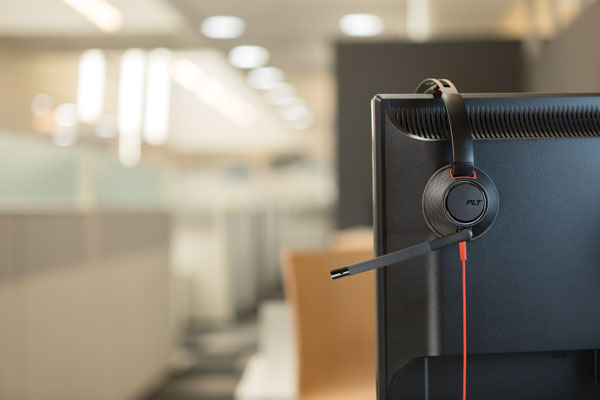 ---
Choose How You Connect — Now You Have The Freedom To Choose Your Device.
The Blackwire 5210 USB headset is available with 3.5mm connectivity for greater ease and control. You also can choose either USB-A or USB-C. (Blackwire C5220 Binaural Pictured)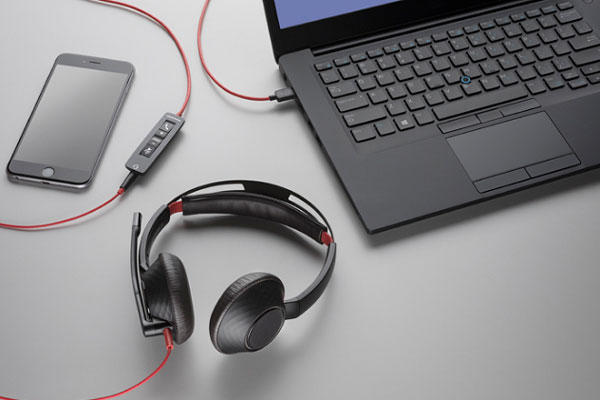 ---
Poly Lens — Intelligent Insights, Scalable Management
Poly Lens software gives IT teams even more visibility and control over voice, video, and headset devices. Deploy, configure, update, and get valuable insights from one endpoint or thousands using one scalable platform. Poly Lens makes it simple: no heavy IT lifting required.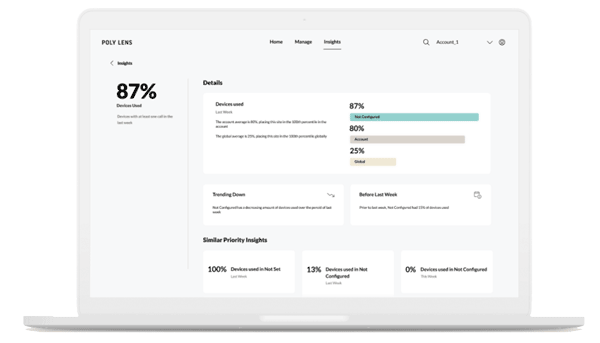 Poly Lens APP – Designed For You
Get the most out of your Blackwire 5210 USB devices. Use one convenient app to manage all your compatible devices. Keep software up to date, manage settings, and use the personal health and wellness reminders to keep you focused and energized all day long. With the Poly Lens App, you can customize your devices to work the way you do.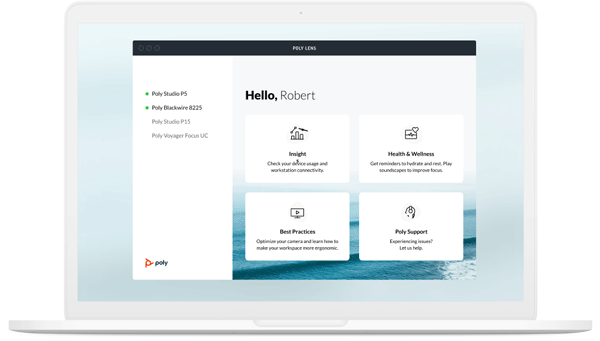 ---
Made To Make The Most Of Meetings
All Poly USB headsets and personal speakerphones are compatible with the most popular voice platforms – they just work. Expect to hear and speak with the level of audio quality that Poly is famous for, no matter which platform you're calling on.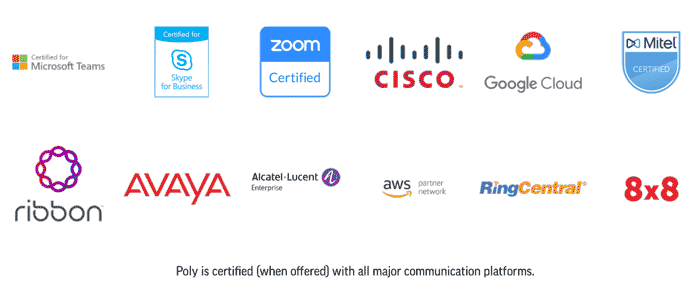 ---
Poly Blackwire 5210 USB Headset — Top Features
Ideal for all-day use, long conference calls and listening to multimedia.
Noise canceling microphone masks nearby talkers for maximum call privacy.
Monaural with passive noise reduction.
Variants include universal USB or USB-C.
Connectivity to smartphone and tablet via 3.5mm.
One-touch call answer/end, volume +/- and mute.
PC wideband audio with noise-canceling microphones for high-quality PC telephony.
Ultra-soft leatherette ear cushion with memory foam provides all-day comfort.
A lightweight cushioned metal headband offers durability and a comfortable custom fit.
USB-A Version – POLY
SKU: 207577-01
Part: 1C5210
UPC: 017229158610
USB-A Version – HP
SKU: 80R98AA
UPC: 197497211108
USB-C Version – POLY
SKU: 207587-01
Part: 1C5210-C
UPC: 017229158726
USB-C Version – HP
SKU: 783M2AA
UPC: 197029632319
---
Poly Blackwire 5210 USB Headset — Specifications
CONNECTS TO
PC via USB/USB-C
Mobile devices and tablets via 3.5mm
Devices that support USB-C
IDEAL FOR
Users with extensive PC communication
Multimedia
AUDIO PERFORMANCE
Dynamic EQ
Microphone frequency response: 100 Hz – 8 kHz optimal for PC wideband voice telephony (up to 6,800 Hz)
Monaural receive frequency response: 20 Hz – 20 kHz
Enhanced Digital Signal Processing (DSP)
Noise canceling microphone
Adjustable audio alerts with Poly Lens software
HEARING PROTECTION
SoundGuard® DIGITAL protects against sound levels above 118dBA
Anti-startle (during calls) detects and eliminates any large sudden increase in signal level
Time-Weighted Average prevents average daily noise exposure from exceeding 85 dBA (enabled by Poly Lens)
Additional lower level hearing protection against acoustic startle is provided Poly Lens software limiting peak levels to 102 dBA
POLY BLACKWIRE 5210 USB HEADSET MODELS
C5210 USB (Monaural)
C5210 USB-C (Monaural)

Built for UC applications and softphones from Avaya®, Cisco®, Microsoft® and more.1
Certified for Skype for Business
INCLUDED ACCESSORIES
Carrying case for easy storage and portability of your Blackwire 5210
WEIGHT (WITH CABLE)
WEIGHT (WITHOUT CABLE)
CABLE LENGTH (INLINE MODULE TO HEADSET)
CABLE LENGTH (USB TO INLINE MODULE)
CABLE LENGTH (TOTAL USB TO HEADSET)
HEADAND ADJUSTMENT
BOOM ROTATION
POLY BLACKWIRE 5210 USB HEADSET

SPEAKER SIZE
INPUT IMPEDANCE
SPEAKER SENSITIVITY
SPEAKER BANDWIDTH (SPEECH MODE)
SPEAKER BANDWIDTH (MEDIA MODE)
MAXIMUM ACOUSTIC OUTPUT
MICROPHONE SENSITIVITY
MICROPHONE BOOM LENGTH
MICROPHONE BANDWIDTH
WARRANTY
1Download the latest release of Poly Lens software to get one-touch call answer/end with these softphones.
21mW/1kHz 0.01m open field.
---
Poly Blackwire 5210 USB Headset — What's In The Box
Blackwire 5210 headset
In-line controller
Soft carrying case
User guide
Warranty card