Making Work From Anywhere Comfortable
Professional headsets have long needed a redesign. Shokz OpenComm2 UC bone conduction headset meets the changing needs and hybrid work environment of today's modern workforce by providing innovation.
Shokz has been thoughtfully designing problem-solving products with bone conduction technology since 2012, so rethinking decades worth of pros and cons of professionals headsets felt natural.
The result: an unrivaled openness to your communication and seamlessness to your connections. With a solution to the single biggest complaint about professional headsets that's gone unsolved until now — painful ear fatigue.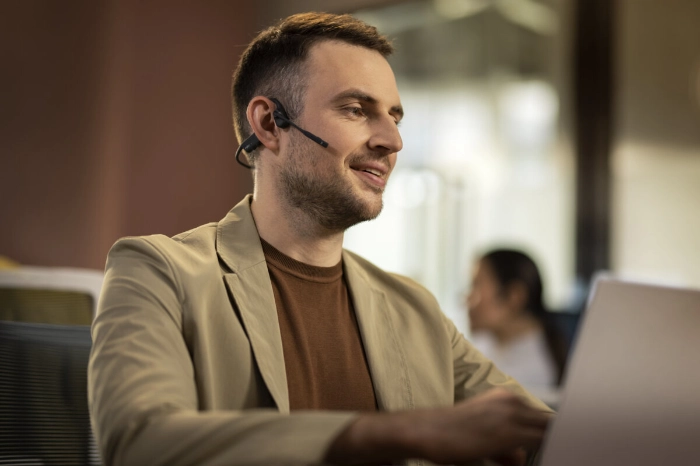 We are proud to deliver the world's most comfortable and versatile professional headset, designed for all-day-every-day wear. Meet the OpenComm2 UC. This is the first Bluetooth headset designed specifically for communication.
Engineered with patented 7th generation bone conduction technology ensures crystal-clear audio while an adjustable, dual noise-canceling microphone delivers high-quality calls. And with the Shokz Loop110 wireless adapter, you'll always be connected to your devices, whether you use a Mac or a PC, in the office or at home.
---
What Is Bone Conduction? (More details below)
Bone conduction is the transmission of sound vibrations to the inner ear (cochlea) bones of the skull, which allows you to perceive sound without blocking the ear canal. Even more simply put: it's sound that is delivered directly to the inner ear without needing to pass through the eardrum. Think of bone conduction as a shortcut to hearing sound.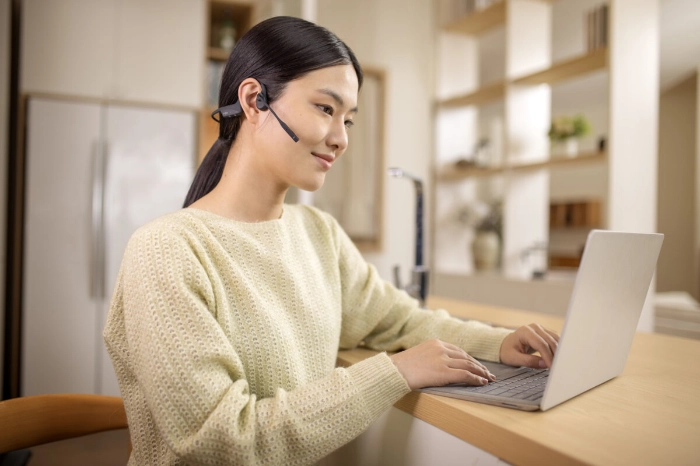 Have you ever plugged your ears and sang a song, but wondered how you can still hear the tune? Or heard the sounds generated from brushing your teeth or eating potato chips? That's bone conduction at its finest, and, along with more commonly used air conduction, your ears have been transmitting sound that way all along!
---
Advanced Open-Ear Design of the OpenComm2 UC Headset
Shokz OpenComm2 UC bone conduction headset features a lightweight, open-ear design powered by bone conduction tech for all-day comfort. Unlike traditional headsets, our wireless headset keeps you connected to the world without compromising on comfort or audio quality.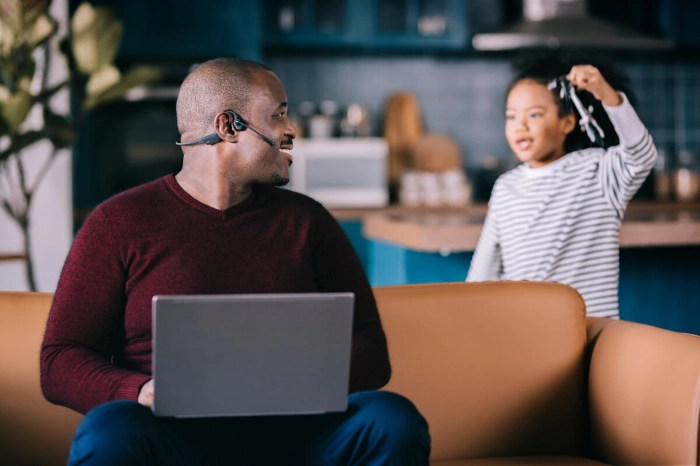 ---
 Lightweight & Easy with Effortless Comfort
Weighing only 35g, the OpenComm2 UC bone conduction headset is remarkably light and portable. Add in the flexible wraparound frame and soft silicone finish, the OpenComm2 UC delivers easy, effortless, all-day wear.
---
Crystal-Clear Calls with OpenComm2 UC Headset
The OpenComm2 UC headset brings conversations to life and take calls with crystal-clear audio. Thanks to a noise-canceling microphone with Digital Signal Processing (DSP) technology that brings your voice to center stage.
Our Clear Voice Capture (CVC) technology identifies and balances vocals by filtering out ambient noise for end-to-end high fidelity. Fore even more precision, the slim and easily adjustable boom mic can be positioned for optimal voice capture and rotated away when not in use.
---
Shokz OpenComm2 UC Headset — Outstanding Audio Quality
Never miss a word during important calls with seventh-generation bone conduction technology and PremiumPitch™2.0. The OpenComm2 UC accurately picks up and equalizes medium and high-frequency vocals, ensuring you hear every word distinctly and without distortion.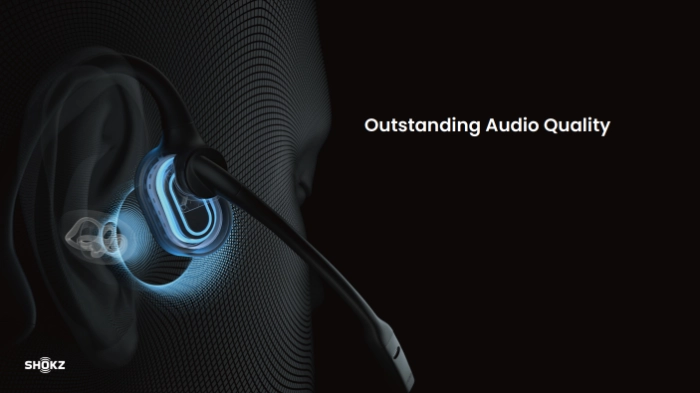 ---
PC and Mac Compatibility
Whether you're working on PC or Mac, the Shokz Loop110 wireless adapter keeps your connection stable and uninterrupted. Move freely while always staying connected with a wireless range of up to 98ft/30m. Simply plug in your wireless adapter and start working
---
User-Friendly Integrated Controls
Integrated headset operations on the Shokz OpenComm2 UC headset reduce PC or mobile device controls to simplify functionality. Simply press a button to adjust the volume, mute and unmute during calls, play or pause audio, check the battery level and more.
---
Improved Communications with Battery Life that Lasts
The Shokz OpenComm2 UC headset has high-sensitivity technology delivers long-lasting battery power. Master uninterrupted communication so you can be online anytime, anywhere.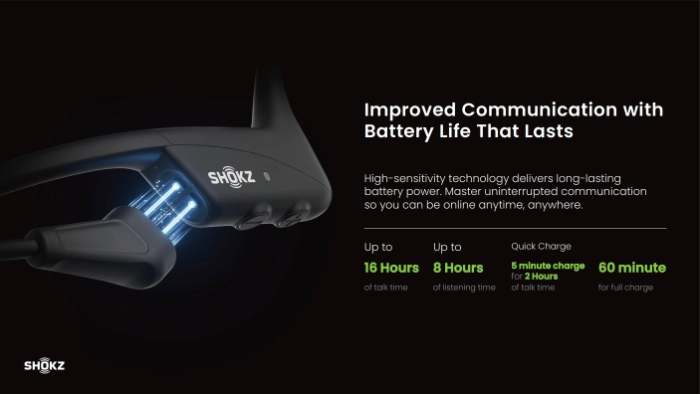 Up to 16 hours of talk time
8 hours of listening time
5 minute quick charge for 2 hours of talk time
1 hour for a full charge
---
Shokz Connect
 Shokz Connect supports firmware upgrades so you never miss an upgrade to functions while keeping your headset up to date with the latest firmware so you can perform at your best.

---
What's In Shokz OpenComm2 UC Headset Box
OpenComm2 UC Bone Conduction Stereo Bluetooth Headset
Shokz Loop 110 USB-A or USB-C wireless adapter
Magnetic Induction Charger Cable
Hard Shell Case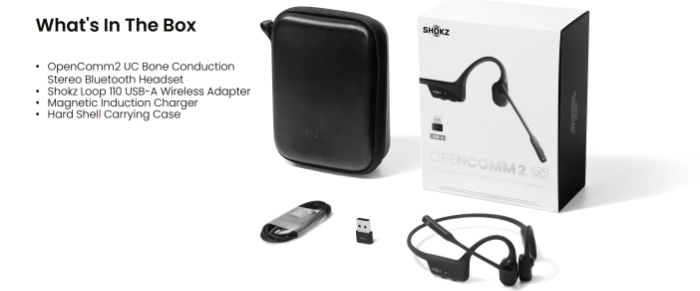 ---
Shokz OpenComm2 UC Headset Product Specs:
General
Model: OpenComm2 UC
Part # C110
Ideal for: Work-from-home & office
IP55 Water resistant: Repels dust, sweat, and moisture for added durability
Weight: 35grams
Warranty: 2 years
Versions
Speaker
Type: Bone Conduction
Sensitivity: 96±3 dB
Frequency Response: 20Hz-20kHz
Frequency Band: 2400-2483.5MHz
Impedance: 8.5Ω±20%
Microphone
Type: DSP Noise-canceling boom
Sensitivity: -38dB±3dB
Maximum RF output power: 10dbm
Bluetooth
Version: 5.1

Wireless Range: up to 98 feet (30m)
Compatible profiles
Multipoint paring: Up to 2 devices at a time
Battery
Type:

Lithium Polymer Battery

Capacity: 183mAh
Battery life

Talk time: Up to

16 hours

Listen time: Up to 8 hours
Standby time: Up to 14 days
Charge time: 1 hour

Charger:

Magnetic Induction Cable

Charging voltage: 5.0V±5%
Certifications and Software
Upgradable through the soon-to-be-released 'Shokz Connect' software
Zoom certification*
*Pending: OpenComm2 UC has passed initial testing by Zoom authorization labs, and is waiting for final paperwork.
---
How Bone Conduction Works
Unlike traditional in-ear or on-ear headphones that utilize air conduction, Shokz has mastered the natural phenomenon of bone conduction by adapting it to consumer electronics, and it's now the secret behind the success of our open-ear product line. Here's how we've harnessed bone conduction technology to work for our products:
1. Audio Enters The Transducer
Every Shokz audio device features two transducers on either side. These transducers, positioned near the cheekbone, work to convert audio signals into mechanical energy (vibrations) which is then sent to your cheekbones.
2. Titanium Makes Conduction Seamless
The use of titanium in the frame of all Shokz products is not only because of its lightweight and flexible properties, but also because titanium is an ideal metal for properly and efficiently conducting sound waves.
3. Vibrations Are Converted Into Audible Sound
Advances in bone conduction technology have enabled us to create devices that minimize the sensation of vibrations on the temple while still retaining high-quality sound.
---
The Difference Between Bone Conduction Open-Ear Headphones and Air Conduction Open-Ear Headphones:
Bone Conduction Open-Ear
The popularity of open-ear headphones has proved the importance of environmental awareness for consumers, and Shokz bone conduction headphones allow for the most natural open-ear listening experience with minimal sound leakage, don't fatigue the outer or middle ear, and stay put through any activity.
By nature, it's hard for bone conduction to out perform air conduction in terms of bass, but Shokz have been praised by experts worldwide for their overall audio quality, specifically with OpenRun (formerly Aeropex), featuring 9th generation bone conduction technology for a deeper bass, crystal-clear midrange and crisp high-frequency performance, while also being ultra-lightweight and ergonomically designed for a comfortable, snug fit.
Air Conduction Open-Ear
Open-ear headphones powered by air conduction work a little differently. With this design, two holes are added on the earbud; one hole, located close to the ear, transmits sound through the air to the ear.
The other hole, located on the opposite side of the earbud, reduces sound leakage using anti-phase sound. While this open-ear design delivers some situational awareness, it requires a louder volume to ensure sound clarity (therefore drowning out ambient noise) and a larger battery capacity, which causes an increase in the weight of the earbuds or headphones.
This combined with their loose fit could cause the earbuds to move and shift during high-impact activities.
---
Benefits Of An Open-Ear Design:
Safety:
Safety first! While other headphones and earbuds block the ear canal to offer a noise-canceling experience, Shokz open-ear products, such as the OpenComm2 UC headset, keeps you aware of your surroundings and possible hazards, such as traffic, wildlife, and pedestrians, for a safer listening experience.
Connection:
Stay connected to your running buddies, coworkers, family or environment. As opposed to traditional headphones that only allow you to hear your music and block out the sound of conversations and ambient noise, Shokz allows you to enjoy your audio and the world around you, so you never miss a moment.
Comfort & Stability:
Thanks to our lightweight, titanium frame and our signature open-ear design, Shokz are so comfortable you'll hardly notice you're wearing them. Unlike in ear/on-ear headphones that bounce or fall out, our wraparound flexibility creates a snug fit through any high-impact activity, so your Shokz stay put from start to finish.
Hygiene:
One of the most loves features of Shokz headphones is that there are no irritating, sweaty earbuds jammed into your ear due to our open-ear design. Shokz are also easy to clean; simply wipe them down with a soft, dry cloth after a hard workout.