Poly Blackwire 8225 UC Stereo Headset:
The new Poly Blackwire 8225 is the premium corded UC USB headset. With it's binaural headphones, you will stay distraction-free on both sides of the call. With exceptional audio performance, you can keep noise out and productivity up, no matter where you are working.
The noise canceling microphone with it's Acoustic Fence technology places you in a quiet office, even if you are not. In addition to the audio, the Hybrid active noise cancelling (ANC) helps tune out background noise. It also offers three different ANC settings, so you can adjust to the perfect setting for your noisy environment.

The Poly Blackwire 8225 is easy for IT to deploy and manage and is designed to drastically reduce the noise and distraction that comes with every style of workplace – from the home office to the traditional office.
Three settings of Advanced Hybrid Active Noise Canceling (ANC) technology allow users to adjust, to fit their work environment, and seamlessly tune out distracting household noises such as vacuum cleaners, or workplace chatter from colleagues.
A noise-canceling microphone enhanced with Poly Acoustic Fence technology ensures users sound crisp and clear from wherever they work by automatically reducing distracting background noise, like nearby talkers or dogs barking, so that the only sound heard on the other end of the line is clear, premium audio of the speaker talking.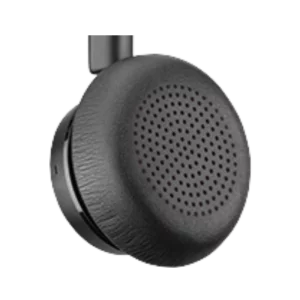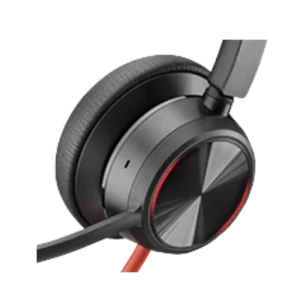 ---
New Technology – Need to Know:
Acoustic Fence Technology – Uses a noise cancelling microphone and an additional omni directional microphone to ensure the users voice is the only thing heard and not the background noise.
Advanced Hybrid ANC – With four microphones and three ANC settings users can adjust the level of ANC to suite their current work location.

---
Stay Distraction-Free On Both Sides Of The Call
Enjoy exceptional audio performance in the noisiest of environments.
Keep noise out and productivity up, no matter where you are working with the Blackwire 8225. Create a zone of calm so you can stay focused.  Get your voice across and not the noise around.
Your voice is the only thing heard and not the chaos around you.
Noise canceling microphone with Acoustic Fence technology puts you in a quiet office, even if you are not.
Zone into productivity by tuning out background noise.
Hybrid Active Noise Canceling (ANC) makes it easy to escape the noise around you. With three ANC settings, you can create the best quiet zone no matter where you are.
Select language preferences, feature settings and keep your device up to date with the latest firmware. And Plantronics Manager Pro gives IT teams remote management, headset inventory and usage monitoring. Stay in-the-know, and in control.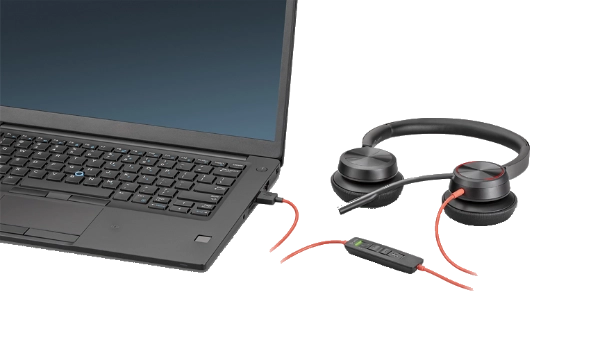 ---
HYBRID ANC (FOUND IN BLACKWIRE 8225)
ANC microphones are placed both inside and outside the ear cup (requires 2x more microphones) and monitors both what the user hears and the background noise.
Best of both worlds—feedback and feed-forward ANC
Supports wider range of frequencies
Sidetone is more natural and comfortable
With the Blackwire 8225, Poly has taken the performance of the regular feedback ANC technology to the next level with Hybrid ANC optimized for the distracting open office.
It's not just the background noises that are different in the office compared to an airplane, but it's also how it's being used, most notably for calls. There's an art to developing a good ANC headset that does not impact the audio when being used on calls, as well as not causing fatigue for the user.
Poly uses its 50-year knowledge to optimize the ANC performance of all its ANC headsets, so they sound natural and cause less fatigue when used on long conference calls. For those users working in the most distracting of open office environments the benefits offered by the Blackwire 8225 with its Hybrid ANC technology provides the best experience to ensure they stay focused and productive.
The Blackwire 8225 includes a switch that allows ANC to be set to either Off, Mid, or High, allowing the user to select the best option for their surroundings, current task (e.g., on a call or listening to music), and desired audio comfort level.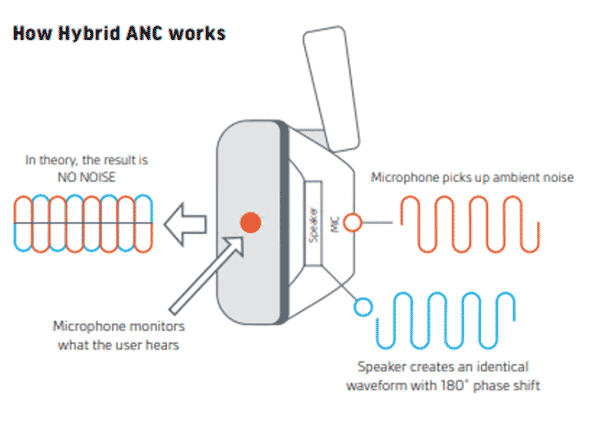 ---
Poly Lens — Intelligent Insights, Scalable Management
Poly Lens software gives IT teams even more visibility and control over voice, video, and headset devices. Deploy, configure, update, and get valuable insights from one endpoint or thousands using one scalable platform. Poly Lens makes it simple: no heavy IT lifting required.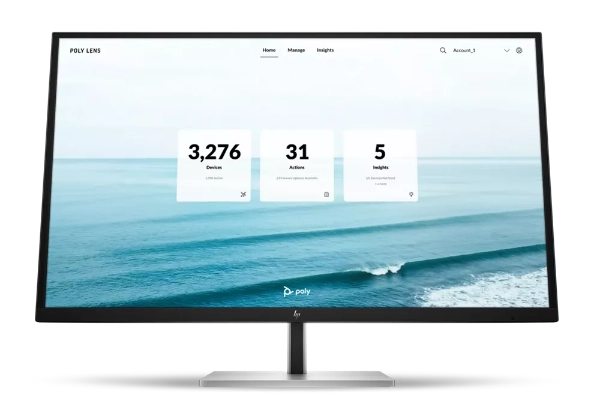 Poly Lens APP – Designed For You
Get the most out of your Blackwire 5210 USB devices. Use one convenient app to manage all your compatible devices. Keep software up to date, manage settings, and use the personal health and wellness reminders to keep you focused and energized all day long. With the Poly Lens App, you can customize your devices to work the way you do.
---
Poly Blackwire 8225 UC Headset Features:
Advanced hybrid Active Noise Canceling (ANC) with three settings to optimize
Flexible, noise-canceling microphone with Acoustic Fence technology
Fully adjustable headset w/ 180º pivoting speakers
Comfort padded headband and soft leatherette ear cushions provide all day comfort
Online indicator lets coworkers know when you are on a call
Inline controls for call control and ANC switch
Exceptional audio for calls and media
Premium materials and aesthetic design
Available in USB-A or USB-C
---
Specifications:
Connects to:
PC/Desk phone via USB-A/USB-C
Compatible with:
Windows or Mac OS
PC Audio Receive Frequency Response:
Dynamic EQ optimized for PC Wideband Voice telephony: 7kHz; Multimedia: 20Hz to 20kHz
Active Noise Canceling:
Advanced Hybrid ANC using four digital microphones
Microphone:
Noise canceling with Acoustic Fence Technology
Microphone Frequency Response:
100 Hz to 10kHz
Hearing Protection:
SoundGuard Digital
Weight:
186 grams
Call Controls:
Inline- Call answer/end, mute, volume, ANC: off, mid & high
Online Indicator:
Two LED indicators on speaker housing
Voice Alerts:
Volume maximum, Volume minimum, Mute on, Mute off, Noise canceling off, answering call
Cable length:
7.2 ft
---
Built For Compatibility
All Poly USB headsets and personal speakerphones are compatible with the most popular voice platforms – we just work. Poly solutions provide excellent audio quality for both you and those on the other end of the call – no matter your platform of choice.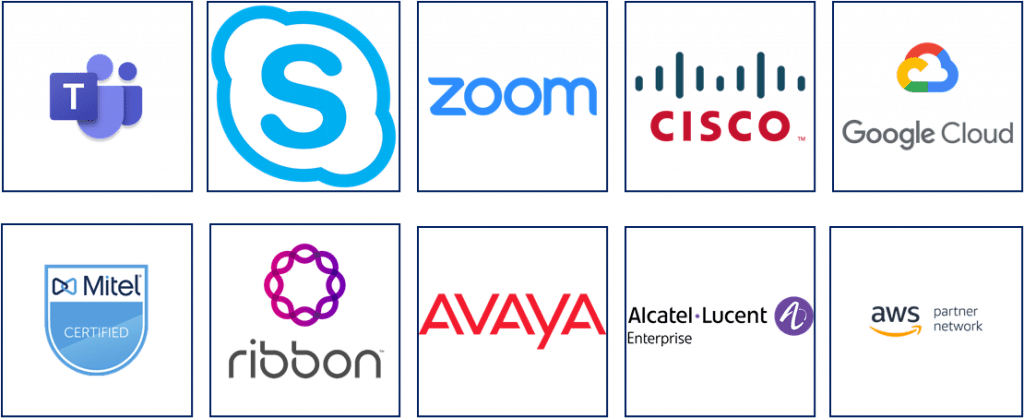 Poly is certified (when offered) with all major communication platforms.
---
Frequently Asked Questions
What does the Poly Blackwire 8225 UC replace?
The BW8225 is a premium addition to the Blackwire family and does not replace any existing Blackwire headset. It is the first headset to include a noise canceling microphone with Acoustic Fence technology and Hybrid active noise canceling (ANC) for the distracting workspace.
How does Acoustic Fence technology differ from the close conversation limiting on the Savi 8200 Series?
Acoustic Fence technology uses two microphones and DSP to identify and remove background noise meeting the levels requirements for Microsoft Teams Open Office premium specification. Close conversation limiting uses a single noise canceling microphone and DSP.
What is Hybrid ANC?
Hybrid ANC uses four microphones to monitor the noise externally to the ear and at the ear. Compared to other types of ANC, it works for noise across a wider range of frequencies as well as making side-tone more natural and comfortable. This is especially important when users are on calls.
What does the ANC switch on the Blackwire BW8225 do?
The ANC switch allows the user to select between ANC Off, Mid or High, depending on their environment.
How do the ANC setting on the Blackwire BW8225 differ from the Voyager 8200 UC?
The Voyager 8200 UC was designed to be used both in the office and out of the office. The mid setting is optimized for office use, with the high setting for noisier environments such as airports, etc. The Blackwire BW8225 has been designed for communication use in noisy environments.
How does the Poly Blackwire BW8225 UC differ to the consumer headsets with ANC?
The Blackwire BW8225 is a corded headset designed with advanced hybrid Active Noise Canceling (ANC) with three settings to optimize the user's experience. It can be used on voice calls without impacting side-tone and provides more acoustic comfort and less fatigue compared to consumer headsets. The Blackwire BW8225 is also tested and certified for use with major UC platforms including Microsoft Teams.
What hearing protection is included?
All Poly Enterprise headsets include acoustic limiting built into the headset to protect the user's hearing. The Poly Blackwire BW8225 provides additional SoundGuard DIGITAL which protects against sound levels above 118dBA; G616 anti-startle protection limits the noise level to 102dBSPL; Time-Weighted Average prevents average daily noise exposure from exceeding 85dBA (enabled by Poly Lens software)
How do I change settings and update firmware?
Poly provides PC/Mac software at no cost called Poly Lens. This application provides numerous settings and configuration options. If you have internet availability the software will periodically check for firmware updates and notify you when new firmware is available for download.
---
General
UC Versions
Model 8225-A or BW8225-A (USB-A)| 214406-01
Model 8225-C or BW8225-C (USB-C) | 214407-01
Microsoft Teams Versions
Model 8225-MA or BW8225-MA (USB-A) | 214408-01
Model 8225-MC or BW8225-MC (USB-C) | 214409-01
*Download the latest release of Poly Lens to get one-touch call answer/end with these softphones.
---
Poly Blackwire 8225 UC USB Product Information:
Overview of the Poly Blackwire 8225 USB headset.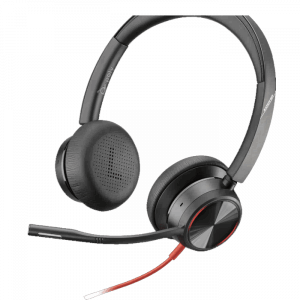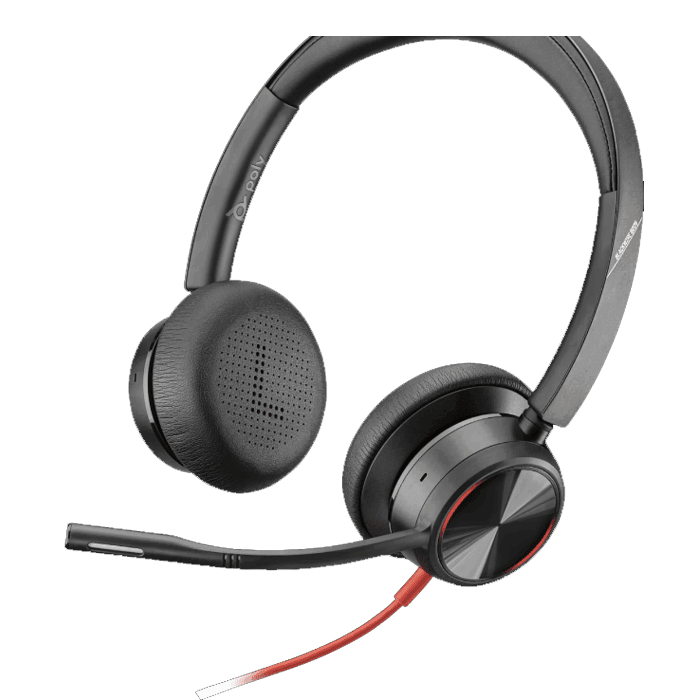 So first off, as you can see, it's a dual ear headset. This will cover up both ears. It has leatherette cushions that rotate, so it really gives you a good fit for all day comfort along with the padded headband.
There is a 7.2 foot long cable, so you get good length. It comes in USB-A or USB-C. So make sure you get the right connection you need for your device.
It also has inline volume controls for speaker up, speaker down, a mute button and a call control button. And the button on the side adjusts your active noise canceling.
So you can see the headset will rotate with the speaker, so the leatherette cushions fit very comfortably. There's a good size to them, allowing you to hear really well as it blocks out noise around you.
The microphone rotates, and it is also bendable. This lets you get perfect microphone positioning, which is roughly about a quarter of an inch away from your mouth. That way your caller can hear you really well.
Now, the overall weight of this headset is 186 grams, but what really sets it apart is the technology behind the scenes. Up to this point, the typical noise cancelling headset would cut down and reduce up to 75% of the background noise.
So if you work in a large call center type environment where there's a lot of noise, or you're working from home with the kids playing or the dog barking, we could reduce that background noise, but we couldn't eliminate it.
Thanks to the Acoustic Fence Technology, this is the first headset that can really eliminate that background noise. Creating a comfortable working environment, where your callers don't hear any of the background noise or distractions.
Again, that's the acoustic fence technology and it has to do with the microphone actually listening for what's going on around you. It goes out approximately six feet. So, if you can picture a fence around you, six feet out, anything outside of that is simply removed from the conversation.
This headset also has hybrid active noise cancelling, and that is built into the speakers and helps you, the user, hear better. So there are microphones that are listening from the speaker area. They listen to what's going on around you.
With the inline volume controls, you can adjust what level of sensitivity you want them to be, but they actually take the sound going on around you, and creates the opposite sound wave and sends that down into your ear canal, making the noise, just go away.
This is a great feature to really eliminate background noise. It makes it so your caller doesn't hear what's going on and it also helps you hear better. You can really stay focused on your calls, take more accurate information and just have a cleaner overall call.
So again, this is the Poly Blackwire 8225 UC, formerly known as Plantronics, 186 grams but very comfortable with the headband padding, the dual ear leather cushions that can pivot to the perfect fit for your ears to really block out a lot of noise.
Then you have the bonus features of hybrid active noise cancelling to help you hear. As well as the acoustic fence; so callers don't hear what's going on around you.
If you have questions on this or any other headsets for a home office, please give us a call at headsets direct. We really take the headaches out of headsets and find our customers the perfect solution the first time. You can call us at (800) 914-7996 or visit us online at www.headsetsdirect.com.