Poly Blackwire BW3315 USB Single Ear Headset for Business Professionals
The Poly Blackwire BW3315 USB Headset provides a best-in-class audio experience in a headset built for enterprise deployment. Even better, workers want to wear it—so your investment pays off.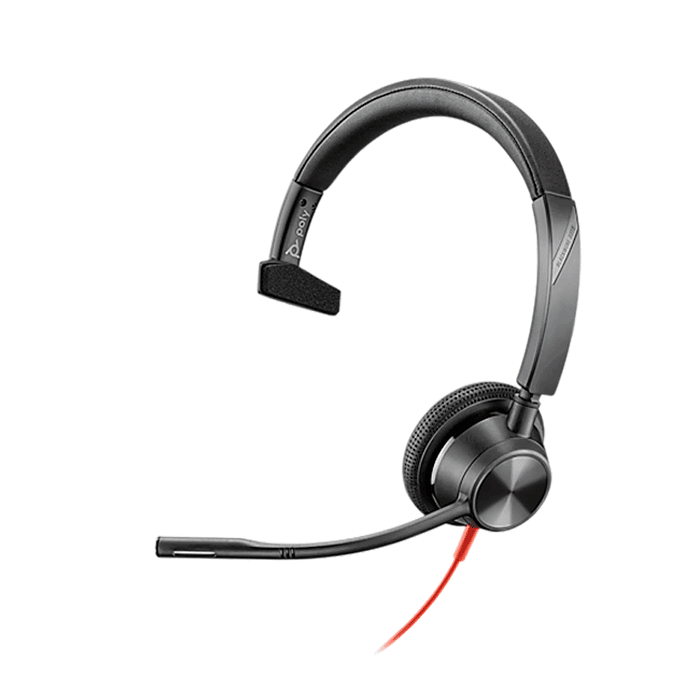 The great appeal of the Blackwire BW3315 headset is apparent at first sight: It has a modern, stylish design. Its microphone boom is flexible so workers can customize the fit. And the headset is fully adjustable with a comfort padded headband, pillow soft ear cushion, and 180-degree pivoting speaker. Not only that, it sounds as good as it looks— with high-quality audio you'd expect from Poly.
And if it's starting to sound expensive, we've got good news. Blackwire BW3315 USB headset is priced to fit your budget.
Mono OTH (over-the-head)
PC USB-A or USB-C and 3.5 mm for mobile connectivity
Corded simplicity and reliability
Easy to use: no training necessary
The great appeal of the Blackwire BW3315 headset is apparent at first sight: It has a sleek, modern design. Workers want to wear it—so your investment pays off. Not only that, it sounds as good as it looks, with high-quality audio you've come to expect from Poly.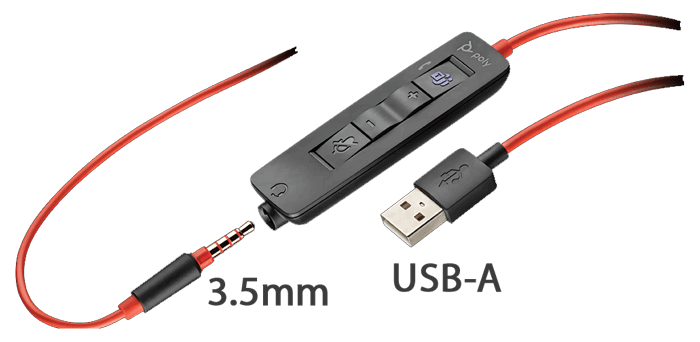 ---
Your Head, Ears, And Budget Will Thank You
SLEEK DESIGN AND PROFESSIONAL-QUALITY AUDIO IN ONE MODERATELY-PRICED HEADSET
You wear a headset all day long – better pick one that looks, feels, and sounds great. Built for style with the audio quality, comfort and reliability we're known for, the Poly Blackwire BW3315 USB headset delivers the best value in its category. Connect to any device quickly and easily and take it with you wherever you go. Boost your on-the-call confidence and save a few bucks while you're at it.
---
Connect Quickly And Easily
EASY TO USE? YOU BET.
The Blackwire BW3315 USB is completely plug-n-play with USB devices, so you can take calls in-the-office or on-the-go. Its robust design delivers reliability you can count on. And the Blackwire BW3315 USB even comes with a leatherette ear cushion, travel pouch and 3.5mm connector for mobile or table. This is the hassle-free headset you've been looking for.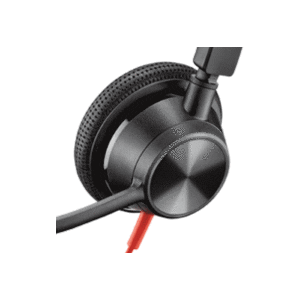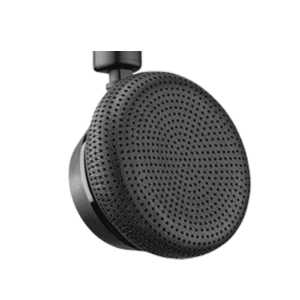 ---
Look Good, Feel Good, Sound Amazing
IT'S EASY TO SEE WHY EVERYONE LOVES THE BLACKWIRE 3315 USB HEADSET!
The sleek, modern design looks as good as it sounds. Crisp audio paired with all-day comfort lets you handle any call with ease.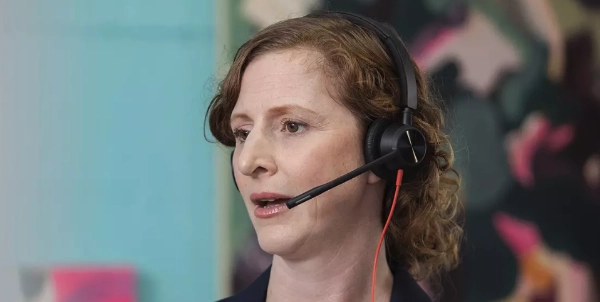 ---
Get One For Everyone
THINK THIS COMBINATION OF STYLE AND QUALITY IS OUT OF REACH? WE'VE GOT GOOD NEWS.
The Blackwire BW3315 USB headset comes with an affordable price tag, making it an investment that's sure to pay off. Plus, it deploys quickly and easily. And good news for your IT team: It's built for enterprise needs. Everyone wins.
---
Made To Make The Most Of Meetings
All Poly USB headsets and personal speakerphones are compatible with the most popular collaboration platforms – they just work. Expect to hear and speak with the level of audio quality that Poly is famous for, no matter which platform you're calling on.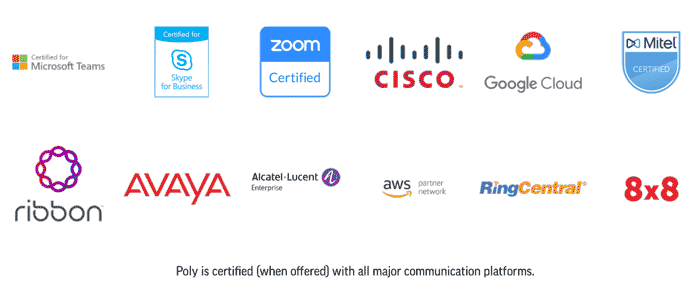 ---
Poly Lens – Intelligent Insights, Scalable Management
Poly Lens software gives IT teams visibility and control over voice, video, and headset devices. Deploy, configure, update, and get valuable insights from one endpoint or thousands using one scalable platform. Poly Lens makes it simple: no heavy IT lifting required. More Info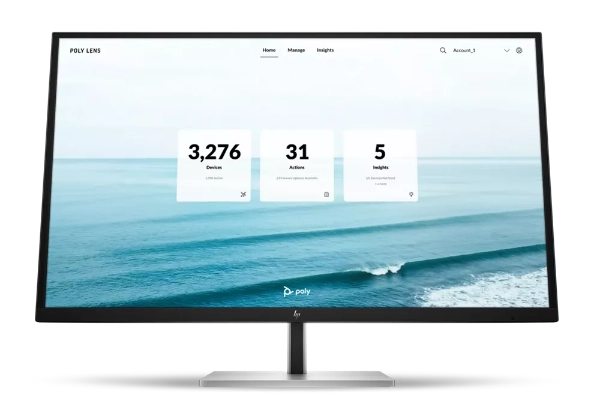 Poly Lens App – Designed For You
Get the most out of your Poly Blackwire BW3315 USB headset. Use one convenient app to manage all your compatible devices. Keep software up to date, manage settings, and use the personal health and wellness reminders to keep you focused and energized all day long. With the Poly Lens App, you can customize your devices to work the way you do. More Info

---
Poly Blackwire BW3315 USB Headset Features:
Features great audio and a modern design—so workers want to wear it
Best-in-class voice quality and a customized fit, the fully adjustable Poly wired headset has 180-degree pivoting speakers and a flexible microphone boom
Supports long-wearing comfort with a comfortable, padded headband and pillow soft ear cushion
Microsoft Teams version to support an easy collaboration and communication with a dedicated Team button for instant access to the Teams App
Certified for Skype for Business
---
Blackwire BW3315 UC Versions
BW3315-A
Poly SKU: 213936-101

Formerly: 213936-01
UPC: 0017229173675

HP SKU: 76J12AA
BW3315-C
Poly SKU: 213937-101

Formerly: 213937-01
UPC: 0017229173682

HP SKU: 76J14AA
Blackwire BW3315 Microsoft Teams Versions
BW3315-M-A
Poly SKU: 214014-101

Formerly: 214014-01
UPC: 0017229173743

HP SKU: 76J13AA
BW3315-M-C
Poly SKU: 214015-101

Formerly: 214015-01
UPC: 0017229173750

HP SKU: 76J15AA
*Download the latest release of Poly Lens software to get one-touch call answer/end with these softphones.
---
Poly Blackwire BW3315 USB Headset Specifications:
Connects To
PC via USB-A/USB-C, connects to mobile devices and tablets via 3.5 mm and devices that support USB-A/USB-C
Compatible With
Speaker Size
Speaker Sensitivity
116 dB (

1mW/1kHz with IEC 318 Coupler)
Speaker Input Impedance
Speaker Bandwidth (Speech Mode)
Speaker Bandwidth (Media Mode)
Maximum Acoustic Output
Microphone and Technology
Flexible noise canceling microphone
Microphone Frequency Response
100 Hz to 10 kHz optimized for PC wideband audio up to 6.8 kHz
Microphone Sensitivity
Microphone Boom Length
Microphone Bandwidth
Hearing Protection
SoundGuard: Acoustic limiting for protection against sounds above 118 dBA. G616 support limits the level to 102 dBSPL
Weight (With Cable)
Weight (Without Cable)
Cable Length (Inline Module to Headset)
Cable Length (USB to Inline Module)
Cable Length (Total USB to Headset)
Blackwire BW3315 USB Headband Adjustment
Boom Rotation
Call Controls
BW3315 USB: Call answer/end button, volume, mute
BW3315-M: Combined call answer/end and dedicated Microsoft Teams Button, volume, mute
Tone Alerts
Tone alerts for mute on/off and volume maximum/minimum
Warranty