Poly Voyager Focus 2 UC Wireless Headset w/ ANC
We couldn't build a wall around you to block out background noise, so we did the next best thing: created a "focus zone" with the new Poly Voyager Focus 2 UC headset. All you hear is your call with three levels of hybrid active noise canceling (ANC). All they hear is you with our pro-grade microphones using Poly Acoustic Fence technology.
And while you're thinking about your call, it's thinking for you, alerting you so you never again have to say, "Oops, I forgot I'm on mute." Heck, just put on the headset and it automatically answers the call for you. It's all the Poly next -level engineering you expect with the wear-it -all-day comfort you need.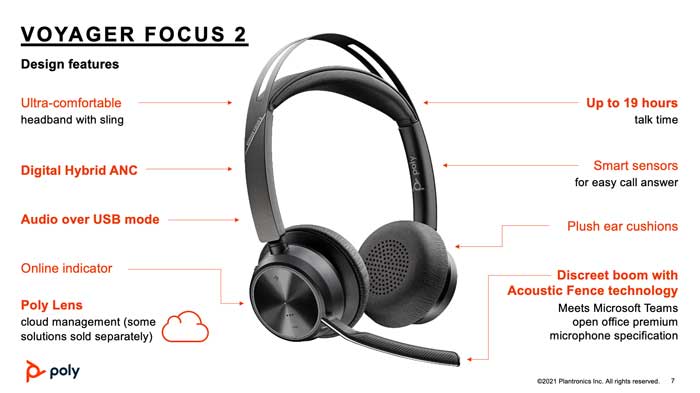 ---
Your Focus Zone

3 LEVELS OF HYBRID ACTIVE NOISE CANCELATION: Experience acoustic excellence others can't touch. Loud and distracting background is just gone with 3-levels of advanced digital hybrid ANC. With this headset, you're ready to have the most critical conversations with confidence.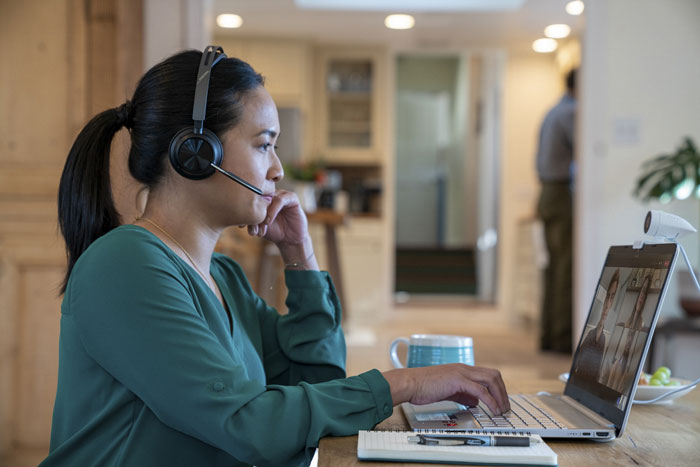 ---
Noise Is All Around Us

According to a recent survey in 2020*, 94% of workers experience some form of ambient noise during calls. This is an increase from 71% of workers in 2017.  Noise not only impacts a user's ability to concentrate and focus on the task at hand, but without a good quality noise-canceling microphone it also impacts other participants on conference calls.
Poly's headsets are used in the most demanding environments where clear audio is critical, such as emergency dispatch and command and control applications.
When considering noise canceling headsets it's important to note that different technology is used to reduce noise for the headset wearer and hence acts on the receive side (typically this is active noise canceling) compared to noise canceling for the far end, which acts on the microphone (transmitting) side.
*Persona Research October 2020 Factworks
---
Understanding Background Noise and Noise Canceling Technologies:
---
Receive Noise Reduction

Passive Noise Reduction

The simplest form of receive noise reduction comes from the fact any stereo headset provides a physical barrier to the ear canals and hence reduces the level of audio that can be heard.
The amount of noise reduction will depend on may factors for example a headset, such as the Voyager 8200 UC, or Voyager Focus 2 UC Headset that covers the ear completely provides better noise reduction compared to one that sits on the ear. Leatherette ear cushions provide a greater acoustic seal to the ear and will provide better noise reduction compared to foam ear cushions.
Headsets with earbuds that sit inside the ear, such as the Voyager 6200 UC , provide a greater isolation from external sounds.  An advantage of the Voyager 6200 UC headset is that it can still be used with one ear bud removed allowing users to still hear what's going on around them.
For greater noise reduction passive noise isolation can be combined with active noise cancellation. Poly offers one of the largest range of Active Noise Canceling headsets in the market.
There are three types of ANC:
Feedback ANC: With Feedback ANC microphones are placed inside the ear cup and monitor what the user hears.
Feed-forward ANC: Feed-forward ANC is rarely used on its own in headsets as the ANC microphones are placed outside the ear cup and monitor the background noise making it sensitive to wind noise, etc.
Hybrid ANC: ANC microphones are placed both inside and outside the ear cup (requires 2x more microphones compared to feedback ANC) and monitors both what the user hears and the background noise.
---
Transmission Noise Reduction

Noise Canceling Microphone

To ensure that background noise is not picked up by the headset microphone, which could interrupt the call, many Poly headsets include noise canceling microphone booms. These booms include a special directional microphone that picks up sound in a specific pattern that is focused towards the user's mouth.
Sounds that come from all directions, such as background noise, are picked up with less amplitude and therefore are heard by the far end at a reduced level.
To provide the best noise reduction the optimum position for a noise canceling microphone boom is directly in front of the user's mouth.  Since this can be distracting to the user, as its in their eye-line, a compromise is made so that the microphone boom is typically located at the corner of the mouth.
The microphone booms can be bent so that the microphone is in the correct position. For the Poly EncorePro 700 Series an extendable microphone boom is used to provide the best placement.
Close Conversation Limiting

Using proprietary Digital Signal Processing (DSP) Poly can further reduce any transmit noise. The Poly Savi 8200 Series use a noise canceling microphone boom plus a feature called close conversation limiting, which is designed to reduce the level of nearby conversations. The actual level of noise reduction can be configured via Poly software.
The Voyager 5200 UC, designed as an on-the-go product, includes a discrete microphone boom that is great for indoor or outdoor use. Windsmart® technology and a unique DSP is used to reduce disruptive wind noise for outdoor use.
Boomless Design Noise Canceling

For products without a microphone boom such as the Voyager 6200 UC and Voyager 8200 UC, four microphones are used along with beam-forming technology to focus on the user's voice while minimizing background noise.
Poly Acoustic Fence Technologies

Transmit noise reduction can be enhanced when additional, physically separated microphones are added, such as those on Poly headsets with Acoustic Fence technology.
Single additional microphone: 
Poly's Acoustic Fence technology, as found in the Blackwire 8225, uses a long noise canceling microphone boom with an additional microphone located on the ear cup.  This additional microphone picks up the background noise and using DSP this noise is minimized from the user's voice.
Multiple additional microphones: 
The Voyager Focus 2 provides even greater transmit noise reduction despite its shorter microphone boom.
In this implementation Poly's Acoustic Fence technology uses four microphones in total, two microphones on the boom and one on each ear cup, to create a virtual pick-up bubble focused at the front of the user's mouth. Anything outside of this bubble (typically noise) is ignored.
---
Crystal Clear Conversations

THEY'LL HEAR WHAT THEY'RE MEANT TO HEAR: It's you – loud and clear. That's all callers hear. The discreet microphone boom on the Voyager Focus 2 is not only ultra-noise canceling but, with its multiple microphone Acoustic Fence technology, literally creates a virtual noise-free bubble in front of your mouth.
It's so good it even meets the Microsoft Teams Open Office premium microphone requirements. The focus stays on you, right where it belongs.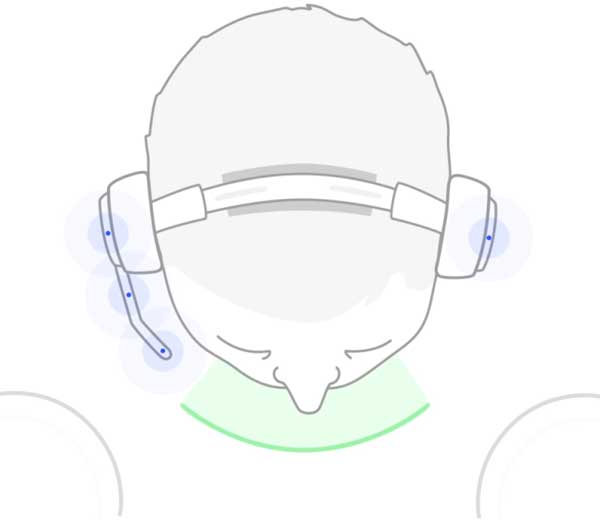 ---
Wear It Like It's Not Even There

COMFORT THAT'S EASY ON THE EARS AND EASY ON YOUR HEAD: Stay engaged during a full day of calls wearing an ultra-comfortable headband with super cushioned sling and plush ear cushions. The Voyager Focus 2 is designed with you in mind – stay focused and productive all day.
---
Work The Way You Want
STAY CONNECTED AND POWERED UP ALL DAY: With up to 19 hours of talk time it lasts all day. If you need more just plug it in and use as a corded headset.
Voyager Focus2 UC: Connect to a computer with the included new BT700 USB adapter for improved wireless range. Or connect to your mobile via Bluetooth v5.1.
---
Built For Compatibility

All Poly USB headsets and personal speakerphones are compatible with the most popular voice platforms – we just work. Poly solutions provide excellent audio quality for both you and those on the other end of the call – no matter your platform of choice.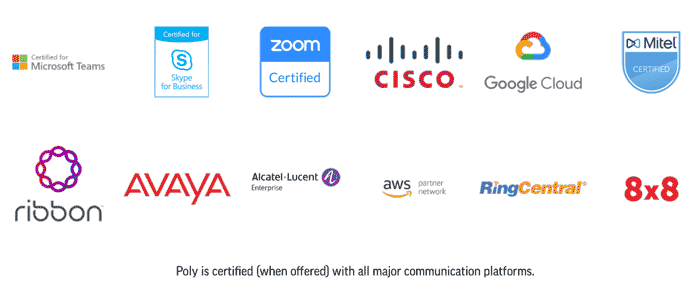 ---
Poly Voyager Focus 2 UC Headset Specifications:
Connects To

Voyager Focus 2 UC: PC via included BT700 Bluetooth adapter or via USB cable; smartphone via Bluetooth
Recommended For

Professionals on calls all day in noisy home or office environments
Wireless
Bluetooth v5.1
Class 1
Multipoint connectivity, headset connects to two devices at the same time, remembers up to 8 devices
Supported Bluetooth profiles: A2DP, AVRCP, HSP, HFP
Range for Voyager Focus 2 UC: up to 50 m/164 ft
Wired
Connect to PC via included micro USB cable with audio over USB mode
Battery
Battery Capacity: 560mAh
Battery Type: lithium ion
Talk time: up to 19 hours (ANC off) – up to 16 hours (ANC On)
Listening Time: up to 40 hours (ANC Off) – up to 24 hours (ANC On)
Charge time: 2 hours for a full charge • Standby time: up to 30 days
Receive Frequency Response

Dynamic EQ optimized for PC wideband voice telephony up to 7 kHz or for multimedia 20 Hz to 20 kHz
ANC Technology
Digital Hybrid ANC using two digital MEMS microphones and 2 analog ECM microphones with three user settings (Off/low/high)
Smart Sensors

Answer calls by simply putting on the headset, mute by taking the headset off and pause/resume music
Hearing Protection

SoundGuard DIGITAL: G616 support limits the level to 102 dBSPL; Time-weighted average prevents average daily noise exposure from exceeding 85dBA*
Microphone and Technology

Discrete noise canceling boom with Acoustic Fence technology to Microsoft Teams Open Office Premium microphone
Smart discrete microphone boom: wear on either side and maintain location of R/L stereo. Rotate boom up to mute and down to unmute
Headset Controls and Lights
Call answer/end, mute, volume +/-, power ON/OFF/PAIRING, ANC: Off, low, high
Online Indicator – Two LED indicators on speaker housing shows in a call status
Headset Weight

Accessories (Included)

Voyager Focus 2 UC: Carry Case, BT700 USB adapter, and charging cable
Manageability
Cloud: Poly Lens service
Local (Windows/Mac): Poly Lens Desktop App, (some solutions sold separately)
Certification
Microsoft Teams (Teams version only)
Warranty
2-year limited warranty included
Model/SKU
Voyager Focus 2 UC
USB-A Model: VFocus 2 UC-A

Poly SKU: 213726-01
HP SKU: 76U46AA

USB-C Model: VFocus 2 UC-C

Poly SKU: 214432-01
HP SKU: 76U47AA
Voyager Focus 2 UC Microsoft Teams
USB-A Model: VFocus 2 UC-MA

Poly SKU: 213726-02
HP SKU: 77Y85AA

USB-C Model: VFocus 2 UC-MC

Poly SKU: 214432-02
HP SKU: 77Y88AA
---
Poly Voyager Focus 2 UC Headset Features
Adjust noise canceling level for your personal preference with three options of Advanced Digital Hybrid active noise canceling (ANC)—high, low and off.

Callers 

hear 

you, not your surroundings, with advanced 

multiple-microphone noise 

canceling 

in a discreet microphone boom and 

Acoustic Fence technology

Stay 

focused while on calls or 

listening to music

/media with 

stereo sound.

Never worry about talking while muted 

– Dynamic Mute Alert tells you if you speak while 

muted.

Stay 

comfortable during a 

full day of calls 

wearing an ultra-comfort

able 

headband 

with sling 

and 

plush ear cushions.

Enjoy 

the 

simplicity 

of an easy 

-to-use headset with 

smart sensors 

for answering 

calls

, 

paus

ing music 

and instantly muting calls.

Give 

those around you a 

visual cue that you're busy

—an 

online ear cup 

indicator flashes 

when 

you're 

on a call.

It just works

—the 

smart microphone boom 

automatically 

maintains left and right audio no 

matter which side the headset is worn.

Multiple 

device 

connections

—PC/Mac and

mobile phone connection

. Voyager Office Base (sold separately) allows deskphone connections.

One headset, choose your device—PC/Mac 

and 

mobile phone connection options with UC 

versions

.

Extend the battery life of your headset by using it corded, with audio over USB mode. (IT Spec & End User Spec)

Take it with you—convenient carrying case included to easily use wherever you work.

Keep your headset fully charged at all times using the included charging cable or charging stand (sold separately).

Microsoft Teams version to support easy collaboration and communication with a dedicated Teams button for instant access to the Teams App.

Experience seamless collaboration with Zoom – Poly Voyager Focus 2 UC is compatible out of the box.

Gets better over time with future updates via Poly software and remote management* for your IT team. (IT Spec)

Keep nearby conversations private with a noise-canceling microphone enhanced with Poly Acoustic Fence technology that meets Microsoft Teams Open Office premium microphone specification. (IT Spec)

*Some solutions are sold separately.
---
Poly Voyager Focus 2 – How-to Video