Poly

Voyager 5200 UC Ear Model Headset – Poly 206110-102 or HP 7K2F3AA
In and out of the office? We've got you covered. The Poly (Formerly Plantronics) Voyager 5200 UC headset part # Poly 206110-102 or HP 7K2F3AAmoves with you. Count on professional-grade sound, no matter where you take the call. Now you can work in any environment on any of your devices, with versatile connectivity and Bluetooth technology. Go get 'em.
Work, Wherever With The Voyager 5200
You need to take calls in and around the office, on the road and at home. The Voyager 5200 UC headset keeps up – sound like you're in the boardroom, even from the parking lot. Its sleek portable design makes it the perfect travel buddy. Plus, it's easy to keep charged.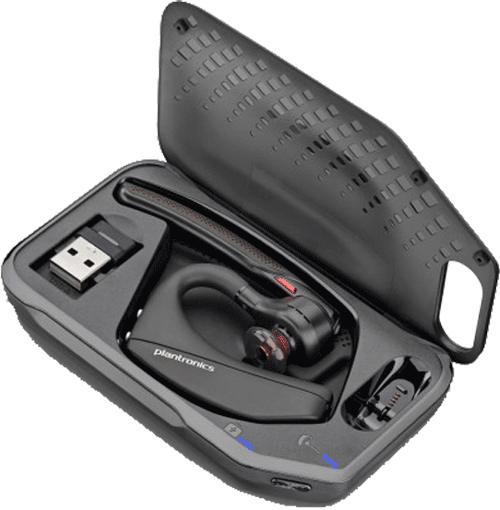 ---
Leave Noise Behind
What background noise? With four adaptive microphones and WindSmart technology, you never have to worry about it again. Tune out background buzz in the office, at lunch or anywhere. Sound professional so people can focus on what you're saying, not where you're saying it.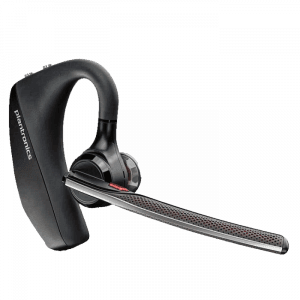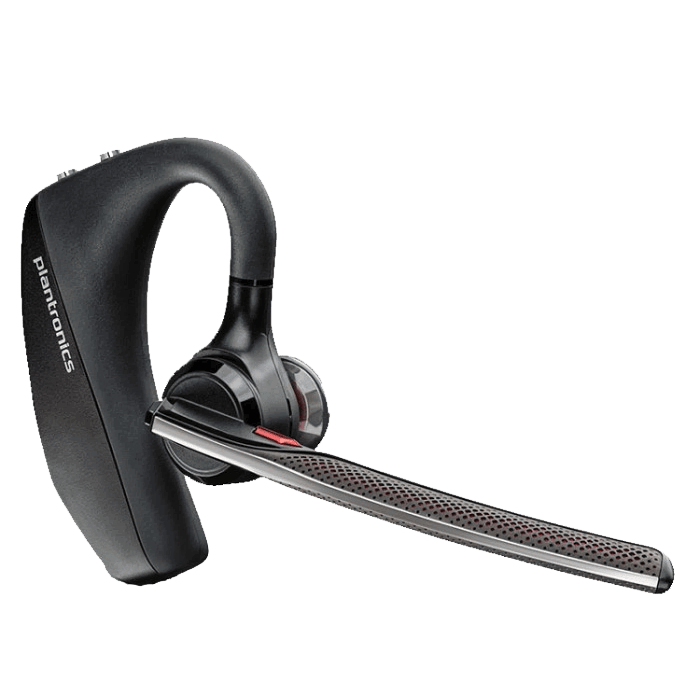 ---
Connect With Bluetooth
Instantly connect to your PC or Mac, mobile phone, and transition calls seamlessly. With this long-range Bluetooth headset, you can start a call at your desk, move to your car and get to your next destination. Keep your conversation flowing the whole time, so you never miss a word.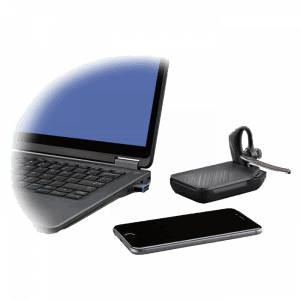 ---
Keep Your Ears Happy
When you wear something all day, it needs to be comfortable. This mono Bluetooth headset has a discreet wearing style. With an ergonomic earpiece, you might even forget it's there. A headset that feels as good at the end of the day as it did at the start-all day productivity, and comfort to boot.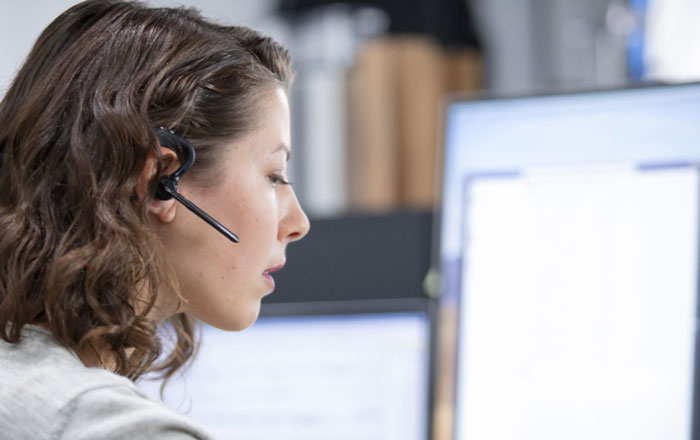 ---
Make It Yours
Customize your headset with Poly Lens for desktop. Select language preference, feature settings and keep your device up to date with the latest firmware. Poly Lens gives IT teams remote management, headset inventory and usage monitoring. Stay in-the-know, and in control.
---

---
Poly Voyager 5200 UC Benefits:
Versatility
If you require a headset that's versatile, the Voyager 5200 UC Bluetooth headset should be at the top of your list.  First, it's the next generation of Voyager headsets that have been very popular for mobile phone use.  Each generation improves on past success, and this UC Bluetooth headset further improves quality and functionality.
With four microphones, it's an excellent headset for outside use in noisy environments, when you encounter traffic noise and wind whistling bye.  Your callers will hear you clearly with a mic that recognizes your voice and cuts down background noise and chatter.
What makes the Voyager 5200 UC Bluetooth headset so versatile is that its also computer ready with an included USB dongle.  This allows it to double as your perfect unified communications headset for VoIP/softphone applications through your PC or MAC.
Comfort
With different sized ear gels, you will find the perfect fit providing all day comfort while also sealing out noise, so you can also hear clearly.  The Voyager 5200 stays securely on your ear as you walk about, with the bulk of the headset fitting behind your ear, making it very low profile and non-distracting during face-to-face conversations.
Mobility
As more businesses move to VoIP softphones, this UC Bluetooth headset connects easily with just under 100 feet of range to roam your office while continuing your conversation.  For office workers, this means one headset covers your mobile phone and PC requirements.
That means fewer cables, charging, and devices to mess with.  This also makes your life easy when on the road.
Your Voyager 5200 UC Bluetooth headset travels with you and acts as your mobile headset or PC softphone headset as you change between devices.  With seven hours of talk time, the Poly 5200 UC Bluetooth headset will get you through the busiest of days.
It also has a unique carry case that protects your headset when traveling, but also charges the headset as an added bonus.  This gives you great peace of mind that you'll never be without your headset.
Simplicity
Unified communications is simplifying how we do business, and with the Voyager 5200, you'll take another step in simplifying your devices while adding a great sounding, productivity boosting headset.
From the bustling city streets to the corner cafe, you'll be heard clearly with the Poly Voyager 5200 UC Bluetooth® headset. Our exclusive WindSmart® technology and cutting edge noise canceling block out distractions like wind, chatter, and traffic, for crisp, uninterrupted calls.
Designed for non-stop days, every detail simplifies mobile communications, from caller ID, to voice control, to smart audio routing. Its rigorously tested ergonomic design ensures all-day comfort, and the portable charging case with integrated docking stand offers up to 14 extra hours of power.
---
Poly Voyager 5200 UC Features:
Cutting edge, four mic noise canceling
BT700 USB-A dongle with USB-A to USB-C adapter
98 feet of range using Bluetooth 4.1 technology
The Voyager 5200 UC Bluetooth headset weighs only 20g
Six layers of exclusive WindSmart® technology
HD voice clarity on wideband devices and networks
Rigorously tested for all-day comfort
Dedicated voice control button
Smart sensor technology
Audio alerts, caller ID, and voice answer
Sweat-proof nano-coating by P2i
Up to 7 hours talk time and 9 days standby
14 hours extra charge time from case
Poly Lens App for firmware updates and settings
Certified for Skype for Business and Optimized for Microsoft Lync
Built for UC applications and softphones from Avaya, Cisco and others
---
Poly Voyager 5200 UC Specs:
Talk time/Stand By
Up to 7 hrs; up to 9 days standby time
Roaming Range
Bluetooth Technology
Bluetooth Version: Bluetooth 5.0 with BLE / Bluetooth Profiles: A2DP, HFP, HSP, PBAP, SSP2
Audio Profiles
Six layers of WindSmart technology
PC Wideband and mobile wideband: up to 6,800 Hz
Echo cancellation
Proprietary DSP, A2DP
Codecs
Speaker Size
Speaker Range – Communication
Speaker Range – Music/Media
Speaker Sensitivity
Voyager 5200 UC is optimized for telecommunications, music/media
Speaker Impedance
Battery Capacity
122 mAh typical / 120 mAh minimum
Battery Type
Rechargeable non-replaceable lithium-ion
Charge Time
Hearing Protection
SoundGuard: Sound leveling for listening comfort and acoustic limiting for protection against sounds above 118 dBA
Microphone and Technology
Digital MEMS omni-directional 4 mic array, multi-mic noise cancelling
Call Controls
Call answer/ignore/end
Redial
Mute
Volume +/-
Media Controls
Track forward/ track back/ pause/ play
Alerts
Enhanced voice alerts announce remaining talk-time, mute and connection status
NFC Pairing
Softphone Compatibility
Built for UC applications and softphones from Avaya, Cisco, Microsoft and more
Apps
Poly Lens App version is available for Windows/Mac
Amazon Alexa (easy access)
Tile (lost headset location)
General
Global 2 Year Warranty
Part # B5200
POLY

SKU: 206110-102

Formerly 206110-101, 206110-0

UPC: 017229151888

HP

SKU: 7K2F3AA
UPC: 197192519974

Voyager 5200 Series
---
Frequently

 Asked Questions:
Can the battery for the Voyager 5200 UC be replaced?
No, the Voyager 5200 UC has a rechargeable, non-replaceable, lithium-ion battery.
How do you charge the Voyager 5200 UC?
You can charge the headset either by standing it up in the charging case, or using the included USB charging cable.
Is the connection to the actual earpiece to charge it still magnetic like the Voyager Legend? 
There is a magnetic portion in the earpiece which allows the earpiece to stand up on one end while in the charging case. The earpiece can also be charged inside the charging case while laying flat. In order for charging to take place, the charging case is connected to a computer through a USB charging cable.
What is the difference between the Voyager 5200 UC and the Voyager 5200 Office Series? 
The Voyager 5200 UC connects via a BT700 USB dongle to your PC/Mac and directly to your mobile phone via Bluetooth. The Voyager 5200 Office series connects to your deskphone via a telephone interface cable and to your PC/Mac via a USB cable.
Can I listen to music on the Voyager 5200 UC? 
Yes, you can listen to music with the headset through your mobile device. The headset has media controls that include track forward/track back/pause/play.
Can I use the Voyager 5200 UC with both my phone and my computer?
Yes. The Voyager 5200 UC connects via a BT700 USB dongle (USB-A to USB-C adapter included) for your PC/Mac and via Bluetooth for your mobile device.
Does the Voyager 5200 UC work with voice commands?
Yes, when there is an incoming call (on mobile phone only), after it has been announced, you can either say "answer" to answer the call, or "ignore" to ignore the call.
Can the Voyager 5200 UC connect to a PC's built-in Bluetooth without the USB connector?
Yes it can, but we always recommend using the USB dongle when pairing with your computer. This will ensure you always have the best audio and connectivity with the headset.
Will the Voyager 5200 UC work on either ear?
Yes, simply slide the headset over and behind your ear, then press gently toward your ear. Rotate the microphone boom until it is pointed toward your mouth.
Does the Voyager 5200 UC case need to be plugged in for the headset to charge?
No, the charging case does have its own battery. A fully charged case can recharge your headset fully, two times for an additional 14 hours of headset talk time. You are able to check the charge case battery status by pressing the button on the side. To re-charge the case battery, simply connect it to the USB charging cable and plug it into a USB power source.
Does the Voyager 5200 UC switch easily between audio/video calls on the computer and cell phone calls? 
Yes, the Voyager 5200 UC connects to multiple devices at the same time. Whichever devices you have paired with the headset, you will be able to answer those calls by just pressing the headset button.
Does the Voyager 5200 UC have voice answering?
Yes, with mobile phones only. After you hear the call announced, simply say "answer".