Jabra Evolve2 30 SE Monaural Noise-Canceling USB Headset

When you're working flexibly, you need to know you can be heard clearly wherever you are. The Jabra Evolve2 30  SE UC mono has advanced 2-microphone audio system captures your voice while simultaneously analyzing and reducing the noise around you while meeting Microsoft Open Office requirements. The perfect way to get your point across and ensure even the smallest nuance isn't lost in translation.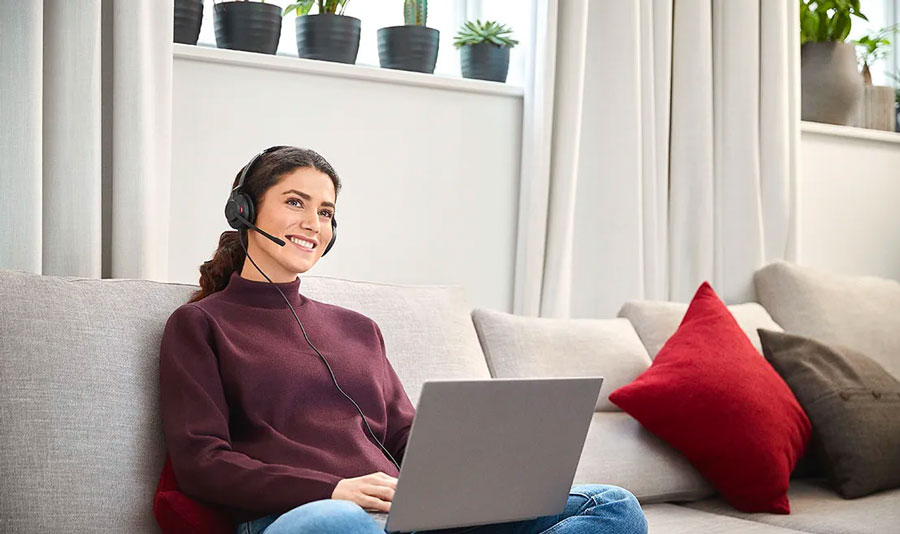 It's time to get ahead with the new standard of professionalism. From open office to open-plan living, Evolve2 30 SE mono headset opens doors to enhanced comfort, seamless collaboration, and instant concentration anywhere, whoever you are, and however you work.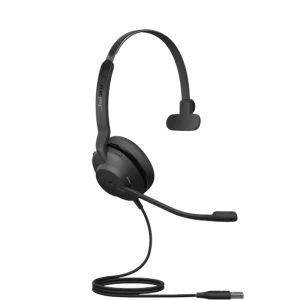 ---
Easy listening. Hearing every detail has never been easier.
When time is of the essence, great quality audio is essential. With our professional-grade 28mm speakers and an advanced digital chipset, the Evolve2 30 SE delivers exceptional audio quality. So, whether you're taking an important call or listening to music while you work, you can enjoy great sound that's engineered for modern working.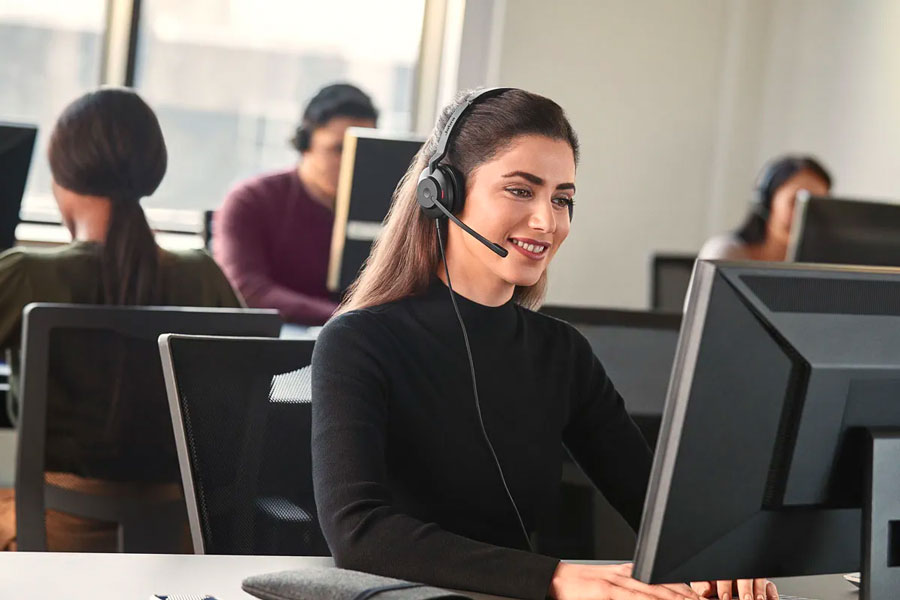 ---
UC-certified means UC-satisfied. UC, it's so easy.
'Satisfaction guaranteed' isn't something you hear very often these days, but we're bringing it back; Evolve2 30 SE works with all leading Unified Communications (UC) platforms, for truly seamless collaboration. If your UC platform of choice is Microsoft Teams, the Teams-certified variant is perfectly adapted and optimized to give you the best experience with the platform.
---
Heavy on comfort. Light on the ears.
Settle into the new standard of comfort. You've earned it. To get ahead, we measured heads. Hundreds of them. Then we used that data to design the perfect shape using biometric measurements. The result is a headset that's been ergonomically designed to exert just the right amount of evenly distributed pressure.
Evolve2 30 SE was built with premium materials, with soft memory foam ear cushions that mold to your ear's natural contours.
When you're in and out of calls all day, you need to know that your headset won't weigh you down. In fact, research suggests a well-fitting headset can significantly enhance your workday, extending your wearing time and improving your experience on call and when listening to music.
---
Flexibility you can depend on. Productive flexible working starts with reliable tools.
From the office, to your home, and even in your local coffee shop – when you work flexibly, your headset gets around almost as much as you do. We've re-engineered the design of the Jabra Evolve2 30 SE UC mono with a stainless-steel headband and slider for maximum durability. We've also significantly enhanced the design of the earcups, so internal and external components are more resistant to impact.
---
Shh…we're working. Accessible concentration anywhere is the new standard.
Looking for a way to get some instant peace and quiet? Evolve2 30 SE is specifically designed to deliver portable concentration, with noise-isolating memory foam ear cushions and a pioneering angled ear-cup design. With this lightweight headset in your workbag, you're only ever a second away from being able to hear yourself think.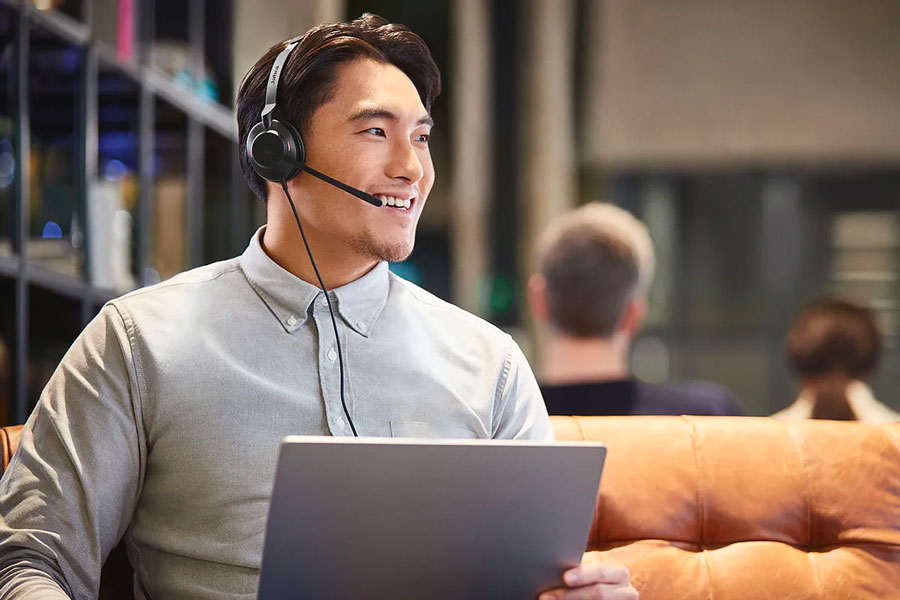 ---
Do not disturb – Fewer interruptions; wherever your office is.
The Evolve2 30 SE automatically knows when you need peace and quiet. An integrated busylight turns on automatically when you're on a call, and you can also turn it on manually to signal 'do not disturb' mode.
Unbox. Plug in. Go. It really is that simple. No, really.
Instant collaboration is where it's at these days. Jabra Evolve2 30 SE UC mono is plug-and-play and available in both USB-A and USB-C variants, so you can unbox it and get going straight away.
Thinking outside the box. Think it's great now? Just wait…
As far as things in boxes go, this is kind of a big deal. Before you've even unboxed it, you're holding a pioneering piece of tech that's leagues ahead of any other headset. But because we have one eye on the future, firmware upgrades and value packs are already on the way to boost it even further.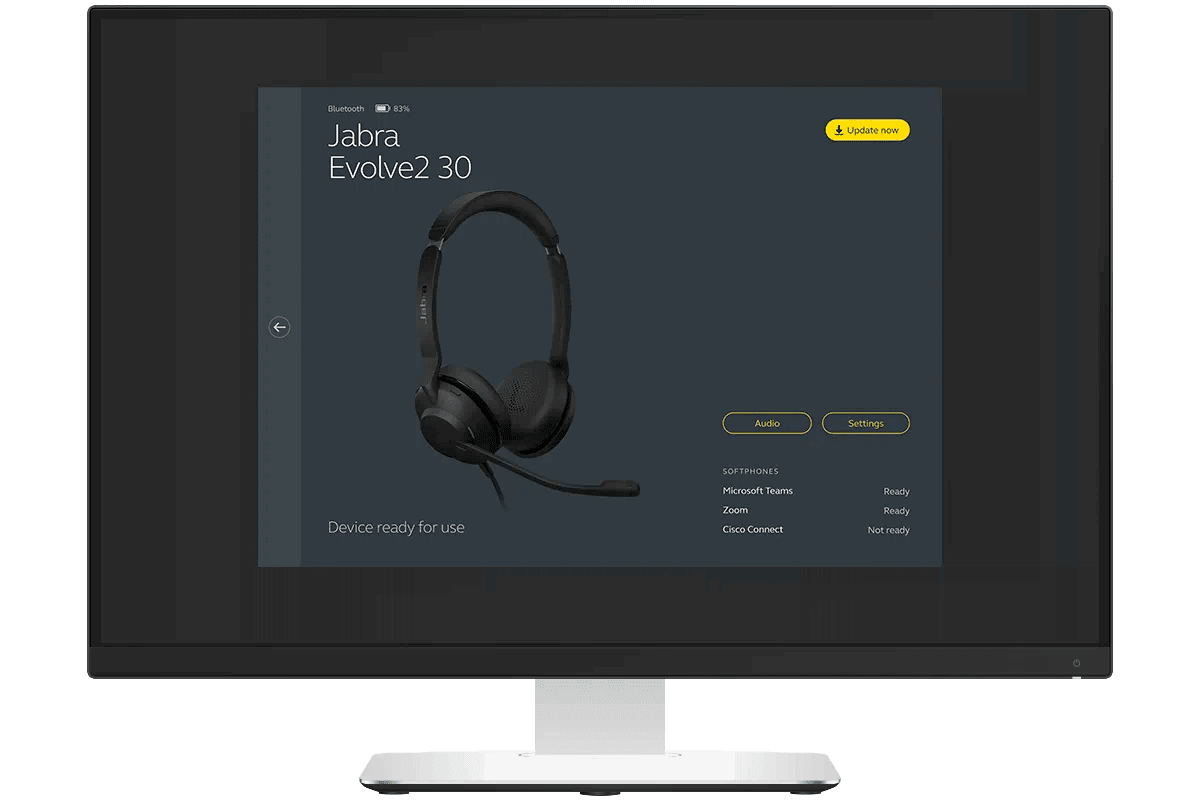 ---

---
Jabra Evolve2 30 SE Mono Product Overview:
2 built-in microphones
Advanced 2 microphone technology ensures clear voice transmission and outstanding call performance
Integrated busylight
Automatic busylight lights up to signal 'do not disturb' when you're on a call, and can also be enabled manually
28mm speaker
Superior 28mm speaker deliver outstanding audio for both calls and media playback
Noise-isolating design
Memory foam ear cushion and ergonomic design ensure great noise isolation from the moment you put it on
Reinforced steel headband and slider
Slider and headband are reinforced with steel for maximum durability and flexibility
---
Jabra Evolve2 30 SE UC Mono Technical Specifications:
Audio
Speaker size: 28mm Ø
Speaker sensitivity: 115dB @ 1mW-1kHz
Speaker max input power: 30mW
Speaker frequency range: 200Hz – 20,000Hz
Speaker bandwidth – Music Mode: 20Hz – 20,000Hz
Speaker bandwidth – Speak Mode: 100Hz – 12,000Hz
Microphone type: 1 Analog MEME and 1 Analog ECM
Microphone sensitivity: -38BV/Pa / -33dBV/Pa
User hearing protection: Jabra SafeTone
Certifications: Leading UC vendors; meets Microsoft Teams Open Office requirements*
Fit & Comfort
Connectivity
Connection (computer & mobile devices): USB-A / USB-C
General
Weight: With cable – 92 grams / Without cable – 69 grams
Cable length: 1.5m / 4.9 ft
Material used: Headband cushion ultra soft foam covered in color-matched leatherette, ear cushion soft audio foam covered in color-matched leatherette, stainless steel slider arm.
Warranty: 2 Years
Jabra Direct / Jabra Express: Yes
Jabra Sound+: No
LED features and functions: Microsoft Teams notifications (Microsoft Teams variants only), busylight, incoming call
Jabra Model Number: HSC140
UC Variant SKUs
USB-A: 23189-889-979
USB-C: 23189-889-879
Microsoft Teams Variant SKUs
USB-A: 23189-899-979
USB-C: 23189-899-879
---
What comes in the Jabra Evolve2 30 SE Mono box:
Evolve2 30 SE Mono headset
Felt pouch
Warranty and warning information
---
Frequently Asked Questions:
How does Jabra Evolve2 differ from the existing Jabra Evolve Series?
Jabra Evolve2 is a new range within the existing Evolve Series. We have re-engineered the products in the new range in every single way. Evolve is the world's leading professional headset series – with Evolve2 we are setting the new standard.
Can I connect my headset using both USB-A and USB-C?
Yes. You can choose either USB-A or USB-C connectivity.
Can I stream music to this device?
Yes. Jabra Evolve2 30 features powerful 28mm speakers, which guarantee great sound.
Does it work with Mac and PC?
Yes. It works with both systems.
What does "meeting Open Office requirements" mean?
When the Evolve2 30's boom-arm is pulled down, it meets premium microphone for open office standards. This qualification is the strictest test requirement of how the headset microphone suppresses surrounding noise and office conversation from multiple directions. It is the ultimate reassurance that your headset will excel in an open office environment.
Does it have a 3.5mm jack?
No. Evolve headsets that include a 3.5 mm jack are: Evolve2 85, Evolve 80, Evolve 40, Evolve 30.
Does it work with Microsoft Teams?
Yes. Jabra Evolve2 30 comes in two variants – UC-certified and Microsoft Teams-certified.
What are the benefits of Evolve2 models that are certified for Microsoft Teams?
The Evolve2 models that are certified for Microsoft Teams support Microsoft Teams as a plug-and-play experience. The plug-and-play experience includes these benefits:
Automatic selection as the default audio device
A dedicated Microsoft Teams button to:

Notifications of Microsoft Teams LED flashes purple when

Microsoft Teams meeting ready to join
Microsoft Teams missed call
Microsoft Teams voicemails

Microsoft Teams LED flashes green with an incoming Microsoft Teams call
Invocations

Answering incoming Microsoft Teams calls
Opening the meeting "pre-join" screen
Open missed calls screen
Open Microsoft Teams voicemail screen
Bring up Microsoft Teams client from the background

Voice prompt when the user is wearing the headset
If you are not using Microsoft Teams as your UC client, we recommend choosing the standard UC variant, which is certified for all leading UC platforms like Cisco, Mitel, Avaya and more.