Wireless Headsets for Office Phones
The modern office is a fast-paced environment with numerous demands competing for your time. Since you can't do everything at once, it's important to be able to multitask when chatting with customers, consulting co-workers, and typing emails.
When you need to get a lot done, it can be hard to focus on everything at once. That's where the top wireless headsets for office phones come in!  These devices give workers greater range than standard wired models do; giving them more freedom when handling calls while also allowing enough time left over for other tasks such as typing emails or doing paperwork between meetings/appointments.
The key to improving work productivity and effective client handling is choosing quality headsets that will provide comfort during long calls, which in turn can lead you to achieve greater productivity than ever before!
Showing 1–16 of 28 results
Considerations For Comfortable Wireless Headsets
Everyone has their own wants and needs when it comes to defining comfort. Every headset manufacturer faces the challenge of designing the right size and fit to meet the needs of as many users as possible. The typical standard is in the 80-90 percentile for users that will find a wireless headset that has great fit, comfort and stability.
Light-weight - Select models are so light-weight, you forget you even have it on
Low-profile - Do you interact with customers regularly? A low-profile model plays a key part with face-to-face interactions.
Stability - Users that are constantly on-the-go find a secure fit that never moves works best.
Easy to listen to - Many will describe comfort as the quality of sound and making calls easy on the ears.
Wireless Headset Wearing Options
The biggest challenge for users is finding the right style when they're new to headsets, when changing models or manufacturers. When done right, you will find a wireless headset that's quick and easy to put on, sounds great and you forget to take it off at the end of the day. Often users don't know where to start when asked the question 'Do you want an over-the-ear, headband over-the-head with one or two speakers?' With numerous choices, you need to simplify the process to make it manageable and not overwelming.
Light-Weight Wireless Headsets vs Best Performing Wireless Headsets
There is a natural divide to help users narrow their choices and eliminate a large selection of models. If you prefer a light-weight, low profile wireless headset, you can immediately eliminate any over-the-head models. This style of headset is for users avoiding weight, messing up their hair, feeling confined, or talking to people face-to-face to name the most common. If this sounds like you, make sure to consider over-the-ear, in-the-ear, behind-the-neck and a select few convertible options (headsets that come with multiple wearing attachments to change how they fit).
The other end of the spectrum is performance based headsets that will have better audio, longer talk-time, greater roaming distance, and most often high-end noise canceling technology in the microphone and speakers. With a headband to support and disperse the weight of the headset, you're able to increase the size of the ear cups allowing for a larger battery, more circuit board space for audio processing and the ability to add additional microphones for noise canceling.
How Particular Headset Wearing Styles Feel
With decades of experience, we receive first hand information from our customers on their headsets experiences. Generally speaking when you start wearing a headset for the first time, your ear will be very sensitive to it. After a couple hours, the initial pressure or weight your ear noticed will quickly go away. For users with ear models, make sure to try all of the different ear tips that are included. Some will feel tight, some loose but ultimately one will just feel better than all the rest. If you have ear-loops to help support the wireless headset on your ear, again try all of them because we all have different shaped ears and a random size ear-loop may fit more comfortably versus going strictly by size.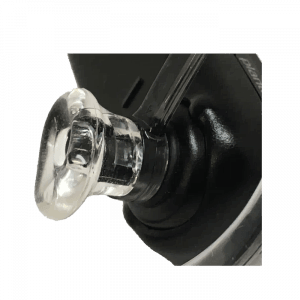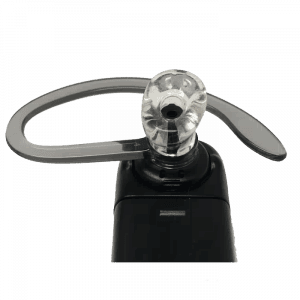 It's worth taking the time to get the right fit as it should feel very secure and stay in place. Standing in front of a mirror works best so you can easily see what you're doing and how the wireless headsets fits/rests on your ear.
The advantage of ear models is users will not experience 'headband hair' where you have a line of hair over the top of your head where the headband has make an indentation. Also with ear models you will never feel like the headset is applying pressure to your ears or head. Some describe this like a vise clamped down on your head.
When using an over-the-head style of headset, the feel will be very different than ear models. Initially, you will feel or notice something sitting on your head which is applying a slight amount of pressure agains your ears/head. This will quickly diminish within hours and feel much lighter and become almost irrelevant by the end of the day. Headband headsets will vary greatly in weight depending of the size of the battery, if the ear cups rest against your ears or cover your ears, the amount of padding, and last how much electronics/sophistication is needed for your particular model. The headband does a great job of disbursing the weight across the top of your head to minimize the amount of weight you actually notice. The pressure will be a welcomed benefit to help the headset feel secure and seal out background noise. If you didn't have that slight pressure, you would constantly feel like the headset was sliding and slipping off of your head.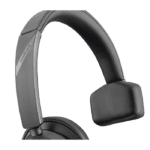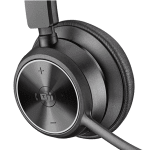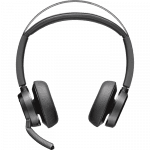 Considerations for wireless headsets and distance
Users should always start by finding a wireless headset with the perfect fit. Equally important is finding a headset that meets your needs when it comes to distance. You want to make sure and find a solution that will cover the distance you need when taking calls throughout your location. Many Bluetooth wireless headsets will limit you to 33-98 feet. That's great if you simply want to eliminate cords and take calls within your cubical or private office. Wireless headsets in the 100-150 foot range will let you extend your reach to a nearby co-worker or comfortable chairs in an open office environment. It's worth taking the time to find the furthest point you need to reach and measure it off so you have a better sense of what models will give you what you need. Many of the DECT wireless headset will extend your roaming capabilities to well over 500 feet. This works well in large office spaces, warehouse use and users that simply need to cover significant distances while continuing their calls.
Battery Life and The Ability To Replace Batteries in Wireless Headsets
Another key factor in choosing a wireless headset is battery life. How much talk time can you get out of a single charge? First determine how much time you talk within a typical day. Then think about your busiest day. Do you want a solution that covers most days or everyday? Most users will opt to find a wireless headset with sufficient battery life to cover usage through the busiest of days. Nothing is worse than when you're having 'one of those days' and then your battery dies. You're now tackling the rest of your calls tied to your phone. For extremely busy work environments you will want to consider wireless headsets with hot swappable batteries. This allows you to be using one battery while the other is charging. When your first battery starts alerting you it time to change, you can flip-flop batteries within seconds and be back on the phone. This process simulates putting a caller on hold for a few seconds while you swap them with very little interruption to the flow of your call. Another advantage of having a second battery always charging is peace of mind if you forget to dock and charge your wireless headset on occasion. With a second battery always on standby you can easily swap to a fresh battery in the morning and put yesterdays battery in the charger. 
A few models have extended use batteries giving you 20-40 hours of talk time to make worrying about battery life a thing of the past.
As for replacing batteries most models will offer this option, but it's important to read the details or ask an expert. For the first 2-3 years of use you will have full recharge time and never have to worry about battery life. As the years pass you start to lose how much charge your battery will hold. For example a 7 hour battery may only hold 5 hours for year 3 and continue to diminish until a fully charged battery only lasts 20 minutes. Wireless headsets that support replacement batteries are a great way to refresh your unit every 2-3 years to regain maximum charge and usage. A few models, typically over-the-ear, are designed in such a way the batteries are soldered directly onto the circuit board to conserve space and decrease weight. This makes the only option for battery replacement is to replace the entire headset. This is more expensive, but for users that require the lightest and smallest in technology a small sacrifice to find their perfect headset.
One last consideration when considering battery life and the ability to replace batteries is if that's even important. Wireless headsets are becoming very similar to cell phones where we all want to upgrade every few years to take advantage of the latest technology and advancements. It might be better to find the headset that you truly 'love' and worry about the battery a few years from now when you will read about that next new headset you will want to 'love'. It's becoming the trend to make sure you're getting the most out of your wireless headset today and one that you really like versus sacrificing comfort or weight as you try and guess what will happen 3 years from now.