Poly Headsets, Office Phones, & Video Conferencing Solutions
Poly headsets (formerly Plantronics) have been an icon in the electronic industry for their excellence in headset and communication devices since 1961.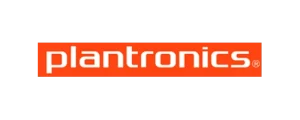 With a Poly headset, technology that was once exclusive to the airline and space industry is now available for all businesses and individuals who demand quality and convenience from their audio and communication devices.
Poly headphones are still leading the industry with wireless headset technology, Bluetooth headset technology, DECT headset technology, USB wired headsets, call center headsets and all of the accessories and software needed to make your business and personal communication effortless.
Headsets Direct is proud to be a Poly Authorized Dealer and provide our clients with all the advantages Poly (Plantronics) equipment has to offer for your office or personal use.
Popular Poly/Plantronics Wireless Headsets for Office Phones:
Poly Headsets Have a Winning History
In the 1960s, the airline industry had a problem. The available headsets were just too big and heavy to be practical, and airline pilots were using handheld microphones rather than the uncomfortable headsets available at the time. They needed something better to be hands-free yet wearable and comfortable.
Two pilots in the industry decided to create headsets that actually delivered ease of use and the safety of hands-free technology. They managed to create a set that was basically small hearing aid-style transducers attached to a headband, and their creation was approved by United Airlines.
The two pilots decided to incorporate their small business, and Plantronics was born in 1961. Their innovative headsets were produced for the aviation market in 1962. In just a few more years, Plantronics was the lone manufacturer of headsets for American air traffic controllers and also supplied headsets to Bell Telephone operators (the early days of call centers). Poly headsets like the EncorePro HW710 and the Blackwire 8225 are examples of their continuing legacy.
The First Headset On The Moon!
In 1961, one of the founders of Plantronics was tapped by a NASA astronaut to design a communications headset for the spacecraft Mercury. Plantronics formed an offshoot division they named SPENCOMM, Space Environmental Communications. This division designed a usable and wearable microphone headset in just 11 days for the Mercury-Atlas 8 endeavor. These headsets were later used for the Apollo missions and are still used by NASA to this day. In fact, Neil Armstrong spoke through a Plantronics headset as he stepped onto the moon.
Plantronics began going wire-free as early as the 1980s. It entered the gaming industry with headsets for consoles in the 1990s and has been a history-making company since its very inception! The Plantronics phone headset is a direct descendant of this amazing heritage.
Poly Headsets: An Evolving Workplace Calls For Evolving Headsets And An Evolving Corporation
Like multiple devices such as the cell phone, the workplace itself has changed significantly since the 1960s, both in large corporate institutions and in smaller businesses all over the world. Changes have continued, especially in recent times, with more and more employees and small business staff working from home or remotely.
Poly has also evolved to meet the needs of the changing workplace environments with Plantronics' acquisition of the Polycom company. Plantronics and Polycom became known as Poly and were then acquired by HP in 2023. The company is still headquartered in California but is truly an international company.
Poly continues to design and manufacture some of the best headsets, from Bluetooth and wireless DECT headsets to different wearing styles, such as an over-the-ear Poly headset with active noise canceling technology, to the best choice of smartphone-ready headsets. You can't beat a Plantronics Poly headset.
The company also provides customers with conference and business desk phones that address all of the telecommunication needs for business applications, video conferencing products and all of the attendant accessories and software. Poly is still leading the way with the right technology at the right time in the new business world. The Poly wireless headset and Plantronics call center headset put the company at the top of its game.
Poly Headsets — Wireless, Bluetooth, USB, Call Center Headsets
Let's talk about Poly headsets! The company is still the pacesetter in the headset industry. From Plantronics call center headsets to Poly Voyager headsets, they offer a variety of products for many different businesses and personal needs:
Poly Savi
DECT Wireless Headsets-DECT, or Digital Enhanced Cordless Telecommunication headsets. are used with a base and telephone using DECT wireless technology, utilized by Poly's Savi line. Benefits include three-way connectivity and conferencing on two different devices at once. Poly Savi Series 7300 offers enhanced security during calls, perfect for government and health care conferences. The Savi headset line also includes the Poly Savi 7200 series. One of these will surely be perfect for you.
Poly Voyager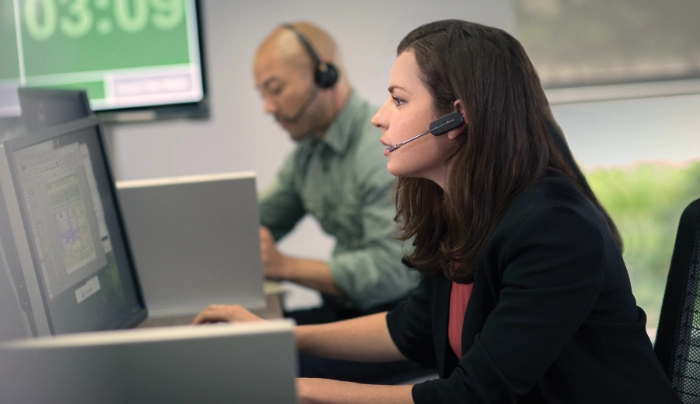 Voyager is the Poly/Plantronics line of Bluetooth headsets. The line includes models perfect for both in-office use and home/remote office applications. Long battery life lets you speak for up to five hours! The Poly Voyager 5200 Bluetooth headset is the perfect example of this technology.
Poly Blackwire
The Poly/Plantronics USB headset line is the Blackwire line. The USB/USB-C allows connectivity on a variety of devices. These headsets are lightweight, comfortable and very versatile.
Poly EncorePro
The Poly/Plantronics EncorePro Series is made for call centers and customer service reps both in-office and those working remotely and from home. Comfortable, lightweight and noise-canceling headphones eliminate unwanted background noise. Perfect for comfort and productivity.
You can't go wrong with our extensive inventory, including the Poly/Plantronics wireless headset for office phones and Poly USB headsets.
Poly Phones For Your Office
When Plantronics acquired Polycom, they acquired the perfect addition to their already great business communications lineup — office phones! Poly desk phones in the VVX Line are high-quality IP desk/office phones that offer reliable performance and high-grade sound quality. The line includes several different phones to complement your home or office setup.
Poly also makes a great line of conference phones. The Trio line will accommodate up to eight people and comes in a range for different conference room sizes. Poly also makes speakerphones. The Poly Sync line reduces echo and background noise, can be used in an array of spaces, is perfect for flexible workspaces/remote working and has a battery life of up to 20 hours! The flexibility and variety of the Poly lines of phones will serve you no matter the size or location of your business.
Poly Headset And Phone Accessories
In your business or home office setting, you want comfort and ease with your headsets and telecommunication devices — including various wearing options, noise-canceling ability in loud environments and other benefits. Parts can wear down and need to be changed out. Poly provides for this with an extensive line of accessories and replacement parts to keep your Poly headset equipment clean and in excellent working shape!
Some of the items we carry from Poly are:
Earpiece kits
Voice tubes
Spare QD cables
QD cord clips
Ear cushions and ear loops
Clothing clips
Versa tips
Windscreens
Comfort and safety can increase productivity, so easily keep your Poly equipment in great shape with our inventory of Poly/Plantronics accessories.
Health, Safety And Environmental Issues With Headsets
Prolonged exposure to loud sounds can damage your hearing and cause hearing loss. When you use your Poly wireless or Bluetooth headset, please set it to a moderate or lower volume level before you put them on. Try to limit the amount of time you use the headsets if you use them at a higher volume level. If your ears hurt or you sense hearing issues, stop listening to your device with the headset. Limit the time you use your headsets. Poly will inform you of how to responsibly dispose of retired Poly headsets and products at the end of their life. You should dispose of them according to Poly guidelines and never throw them in the trash bin with household waste.
FAQs and Info About Poly Headsets
Whether you have questions about a Plantronics headset for an office phone or Poly Blackwire headsets, we have the answers you need. Read on for additional details, and be sure to contact us to learn more.
Plug your Poly headset into a USB port on your computer, and set the headset as the default device. Test the headset to ensure proper working order.
For a Bluetooth Poly headset, start with your headset powered OFF, then press and hold the call control/power button until you see the LED flashing blue and red. Activating Bluetooth on your phone, search for new devices — look for "Poly" followed by the model name.
Headsets Direct provides a 30-day money-back guarantee on most core products.
Same-day shipping is available for in-stock items, including Poly headsets.
Buy From Headsets Direct, Your Authorized Dealer For Plantronics and Poly Headsets
Headsets Direct is proud to be an authorized dealer for Poly headsets and equipment. We're also proud to offer special pricing to government agencies, including federal, state, county, city and municipal levels. Plus, discount pricing applies to state-operated and -funded school districts, universities and overnight-stay hospitals. Headsets Direct has a knowledge base directory on our website to help you decide which Poly headset will work best for you. You can also learn how to set up your communications equipment and find compatibility solutions. Plantronics/Poly offers great warranty plans for your equipment purchases. We are so pleased to be an authorized dealer for such a fantastic company and its products! Order now and take advantage of everything we offer.
Shop Poly Headsets
Articles Related to Poly Headsets
Headsets Direct is the go-to source for information on Poly headsets and other headphone solutions. Read these articles to learn more.