Poly Voyager 5200 Office Headset for Multi Connectivity – Poly 212722-01 or HP 7W6D2AA#ABA
In and out of the office? We've got you covered. The Poly Voyager 5200 Office 1-Way headset part # Poly 212722-01 or HP 7W6D2AA#ABA moves with you as it connects to one desk phone in the office and travels with you connecting to mobile devices out of the office.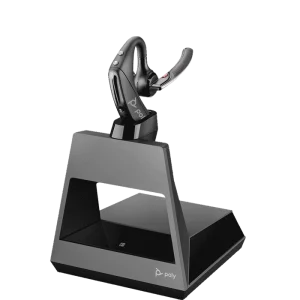 Count on professional-grade sound, no matter where you take the call. Now you can work in a variety of environments on desk phones and mobile devices, with versatile connectivity and Bluetooth technology. Go get 'em.
---
Work, 

Wherever
You need to take calls in and around the office, on the road and at home. The Poly Voyager 5200 Office 1-Way headset keeps up – sound like you're in the boardroom, even from the parking lot. Its sleek portable design makes it the perfect travel buddy. Plus, it's easy to keep charged.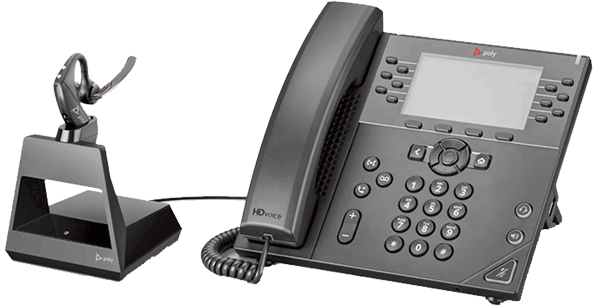 ---
Leave Noise Behind
What background noise? With four adaptive microphones and WindSmart technology, you never have to worry about it again. Tune out background buzz in the office, at lunch or anywhere. Sound professional so people can focus on what you're saying, not where you're saying it.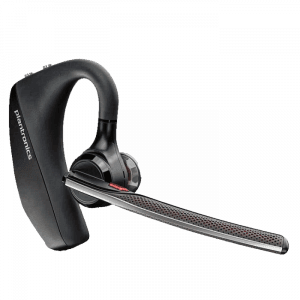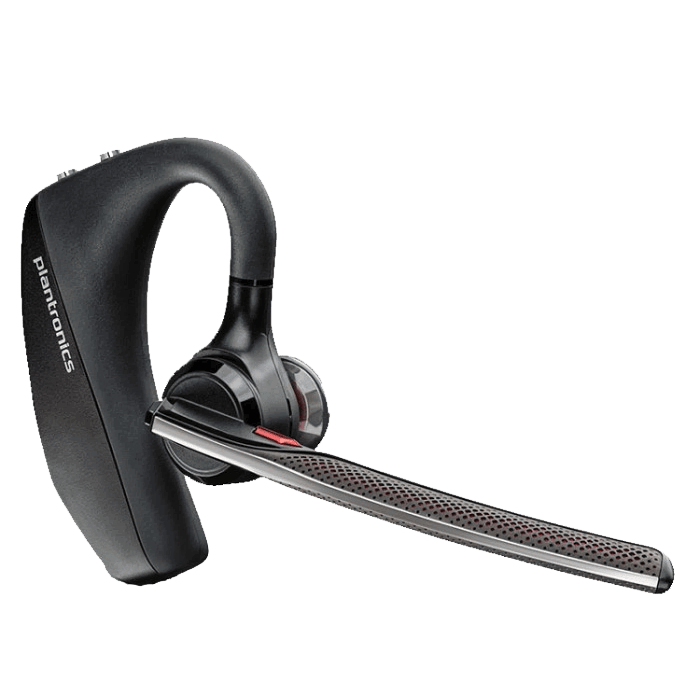 ---
Connect With Bluetooth
Instantly connect to your deskphone or mobile phone, and transition calls seamlessly. With this long-range Bluetooth headset, you can start a call at your desk, move to your car and get to your next destination. Keep your conversation flowing the whole time, so you never miss a word.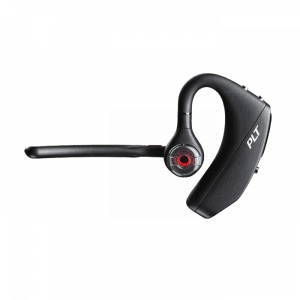 ---
Keep Your Ears Happy
When you wear something all day, it needs to be comfortable. This mono Bluetooth headset has a discreet wearing style. With an ergonomic earpiece, you might even forget it's there. A headset that feels as good at the end of the day as it did at the start-all day productivity, and comfort to boot.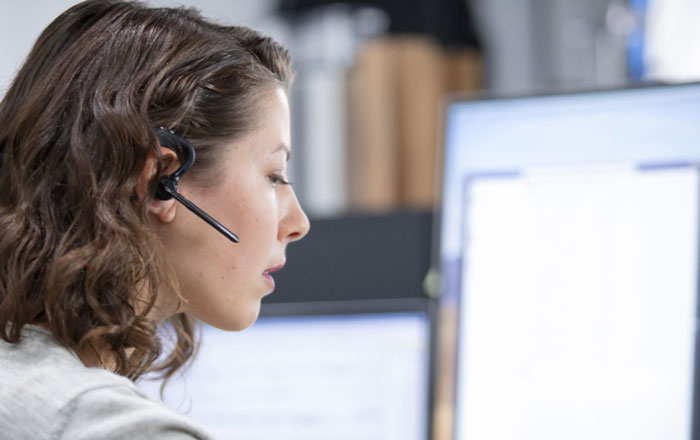 ---
Adjust The Voyager 5200 Office & UC Series Headset Settings To Make It Yours
Get the most out of your Poly device with Poly Lens app. Keep software up to date, manage personal settings, use personal health and wellness reminders to stay focused and energized all day. Connecting to Poly Lens gives IT the ability to provide better service and support when you need it.
---
Poly Voyager 5200 Office Bluetooth Headset Features:
If you require a headset that's versatile, the Poly Voyager 5200 Office 1-Way Bluetooth headset should be at the top of your list.  First, it's the next generation of Poly (Formerly Plantronics) Voyager headsets that have been very popular for mobile phone use.  Each generation improves on past success, and this Office Bluetooth headset further improves quality and functionality.
With four microphones, it's an excellent headset for outside use in noisy environments, when you encounter traffic noise and wind whistling bye.  Your callers will hear you clearly with a mic that recognizes your voice and cuts down background noise and chatter.
With different sized ear gels, you will find the perfect fit providing all day comfort while also sealing out noise, so you can also hear clearly.  The Voyager 5200 stays securely on your ear as you walk about, with the bulk of the headset fitting behind your ear, making it very low profile and non-distracting during face-to-face conversations.
Workers in and out of the office need a Bluetooth® headset that moves with them. Voyager 5200 Office headset sounds professional in any environment whether connected to a desk phone or mobile device. In addition, the six layers of WindSmart technology and four omni-directional microphones to reduce distracting background noise, nothing gets in the way of a clear connection.
No matter what type of device they are using to communicate with in and out of the office. Sleek and pocket-sized, the headset is comfortable enough to wear all day. And workers don't have to worry about battery life due to convenient charging options. The Voyager 5200 D Office headset makes sure you're ready to talk whenever, and wherever.
---
Poly Voyager 5200 Office 1-Way Headset Features:
Cutting edge, four mic noise cancelling
250 feet of range from headset base
The Voyager 5200 Office weighs only 20 grams
Exclusive WindSmart® technology
HD voice clarity on wideband devices and networks
Rigorously tested for all-day comfort
Smart sensor technology
Audio alerts, remaining talk-time, mute and connection status
Media controls track forward/track back/pause/play
Up to 7 hours talk time and 9 days standby
Poly Lens App allows updates and customization
Certified for Skype for Business and Optimized for Microsoft Lync
Built for UC applications and softphones from Avaya, Cisco and others
Amazon Alexa (easy access)
Tile (lost headset location)
2-Year Global Warranty
Part # 1V5200 1W (Formerly V5200 D)
POLY

SKU: 212722-01
UPC: 017229167391

HP

SKU: 7W6D2AA#ABA
UPC: 197497169089

Voyager 5200 Series
---
Poly Voyager 5200 Office 1-Way Headset Specs:
Talk time/Stand By
Up to 7 hrs; up to 9 days standby time
Roaming Range
Bluetooth Technology
Bluetooth Version: Bluetooth 5.0 with BLE / Bluetooth Profiles: A2DP, HFP, HSP, PBAP, SSP2
Poly Voyager 5200 D Audio Profiles
Six layers of WindSmart technology
PC Wideband and mobile wideband: up to 6,800 Hz
Echo cancellation
Proprietary DSP, A2DP
Codecs
Speaker Size
Speaker Range – Communication
Speaker Range – Music/Media
Speaker Sensitivity
Optimized for telecommunications, music/media
Speaker Impedance
Battery Capacity
122 mAh typical / 120 mAh minimum
Battery Type
Rechargeable non-replaceable lithium-ion
Charge Time
Hearing Protection
SoundGuard: Sound leveling for listening comfort and acoustic limiting for protection against sounds above 118 dBA
Microphone and Technology
Digital MEMS omni-directional 4 mic array, multi-mic noise cancelling
Call Controls
Call answer/ignore/end
Redial
Mute
Volume +/-
Media Controls for the Poly Voyager 5200 D
Track forward/ track back/ pause/ play
Alerts
Enhanced voice alerts announce remaining talk-time, mute and connection status
NFC Pairing
Apps
Poly Lens is available for Windows/Mac
Poly Lens App allows updates and customization
Amazon Alexa (easy access)
Tile (lost headset location)
---
What Comes In The Voyager 5200 1 Way Office Box:
Wireless headset
Charging base
Mini USB/USB cable
A/C power cable
Telephone Interface cable (

86007-01

)
---
Frequently Asked Questions:
Can the battery for the Voyager 5200 be replaced?
No, the Voyager 5200 has a rechargeable, non-replaceable, lithium-ion battery.
How do you charge the Voyager 5200 ?
You can charge the wireless over-the-ear headset by placing it in the charging cradle. The base display's battery icon turns solid blue when charging and turns off when charge is complete. A full charge takes approximately 90 minutes.
Is this the 1-way desk phone headset?
Yes. You can tell the difference between the 2-way headset and the 1-way by checking the icon on the front of the base. The 1-way has the desk phone icon only and the 2-way has both a PC and a Phone icon.
Can you silence the charging base on the Voyager 5200 Office?
The base ring tone can be disabled only through the Poly Lens software for Desktop. You can also lower the volume.
What is the difference between the Voyager 5200 UC and the Voyager 5200 Office Series?
The Voyager 5200 UC connects via a BT600 USB adapter to your PC/Mac and directly to your mobile phone via Bluetooth. The Voyager 5200 Office headset series connects to your deskphone via a telephone interface cable and to your mobile phone via Bluetooth.
Can I listen to music on the Voyager 5200 Office?
Yes, you can listen to music with the headset through your mobile device. The headset has media controls that include track forward/track back/pause/play.
Can I use the Voyager 5200 Office with my deskphone and cell phone?
Yes. The Voyager 5200 Office connects via a telephone interface cable for your deskphone, and via Bluetooth for your mobile device. You can purchase a separate BT600 adapter to enable connection to your PC/Mac.
Does the Voyager 5200 Office work with voice commands?
Yes, when there is an incoming call (on mobile phone only), after it has been announced, you can either say "answer" to answer the call, or "ignore" to ignore the call.
Will the Voyager 5200 Office work on either ear?
Yes, simply slide the headset over and behind your ear, then press gently toward your ear. Rotate the microphone boom until it is pointed toward your mouth.
Does the Poly Voyager 5200 Office have voice answering?
Yes, with mobile phones only. After you hear the call announced, simply say "answer".