How to Pair Plantronics Voyager 5200 Bluetooth Headset

Pairing the Voyager 5200 Headset (Also applies to Voyager 5200 UC)
1) To pair your Voyager 5200, turn the headset on. Slide the power switch to the 'on' position showing green. You will hear "Power On" and the battery status.
2) Put your headset in pair mode. Press and hold the Call button until you hear "pairing".
3) Indicator lights. The headset LEDs will flash red and blue.
4) Turn on your phone's Bluetooth feature. While the Voyager 5200s LEDs are flashing red/blue, activate Bluetooth on your phone and set it to search for new devices.
iPhone Settings > General > Bluetooth > On
Android™ Smartphones Settings > Wireless & Networks > Bluetooth: On > Scan for devices
NOTE: Menus may vary by device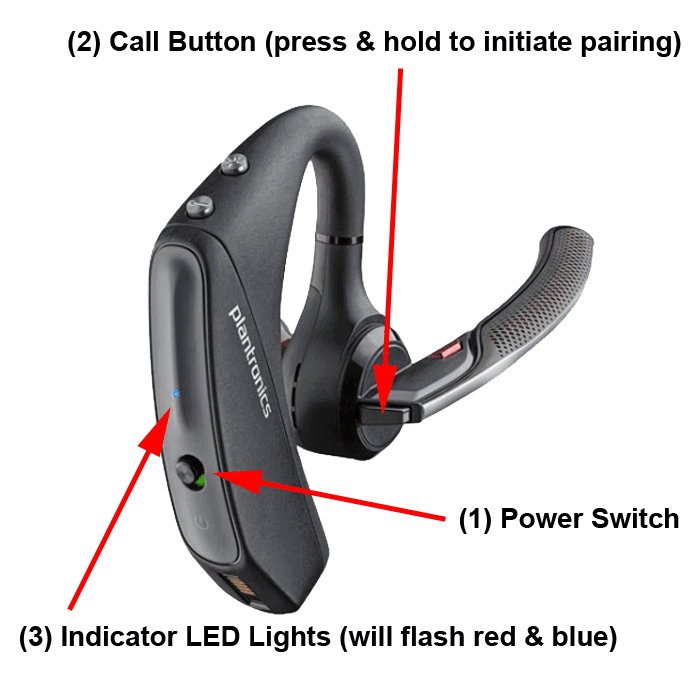 5) Select Voyager 5200. Select "PLT V5200 Series" on your phone as a found device.  If your phone asks, enter four zeros (0000) for the passcode or simply accept the connection.
6) Complete pairing process. Once your Plantronics Bluetooth pairing is complete, LEDs on the Voyager 5200 will stop flashing red/blue and you will hear "pairing successful." from the headset.
NOTE: Your headset can pair with up to 8 devices but only maintain 2 connection simultaneously; this includes the Plantronics Bluetooth USB adapter as one of the 2 simultaneously connected devices.
---
Popular Audio/Video Solutions:
---
TECH TIPS to Pair Voyager 5200:
1) NFC pairing is also an option if you have no more than one other device already connected. NFC pairing will not work if there are two devices connected already.
On your mobile phone ensure NFC is enabled and your phone's display is unlocked. (Phones may vary and some phones may not have NFC support.)
With the headset powered on, lay the headset on the back of phone near the NFC tag on your phone until NFC pairing completes. If necessary, accept the connection.
2) It's always best to have the latest Voyager 5200 headset firmware which can be updated at Poly Hub
---
Pairing Your Voyager 5200 Headset Complete:
Your phone should now be connected with the Poly (formerly Plantronics) Voyager 5200 UC. Customers often ask us how to pair their Plantronics Voyager 5200 UC Bluetooth headset and with these instructions, you will be able to use your old headset with your new phone.