Poly HL10 Handset Lifter (Straight Plug) For Remote Answering – Poly 60961-35 or HP 784Q2AA
The Poly HL10 Handset Lifter (straight plug) part # Poly 60961-35 or HP 784Q2AA will automatically lift your desk phone's handset with you push allowing you to answer and hang-up calls remotely. Auto pickup of a ringing line needs to be supported by your phone for this function to work.
The Poly HL10 Savi/Voyager/CS500 handset lifter is compatible with many phones but you should also check the compatibility of an Electronic Hookswitch (EHS) cable which will also allow for remote answer/hang-up but is designed for specific phones.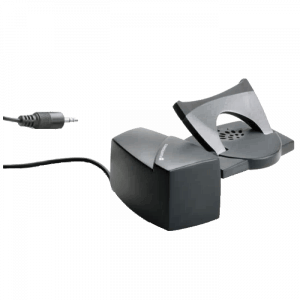 TECH TIP: Not compatible with older CS wireless headsets where the lifter plugs into the bottom of the base. See below

---
Poly HL10 Handset Lifter (Straight Plug) Details:
180 degree plug
Attaches with adhesive tape to the side of most corded phones
3 position lift adjustment
POLY

SKU: 60961-35
UPC: 0017229127869

HP

SKU: 784Q2AA
UPC: 197029639943

1-Year warranty
---
Poly HL10 Handset Lifter (Straight Plug) Specs:
Automatically lifts handset and returns it to the cradle
Enables remote call answer/end with your wireless headset
Takes up no desk space
Dimensions: 4″ x 2.9″ x 1.7″ (10.2 x 7.3 x 4.3 cm)
Weight: 3.5 oz (100 g)
Power: 325mA supplied by Plantronics Serial Bus
Operating temperature: 39.2 F – 104 F (4 C – 40 C)
Storage temperature: -4 F – 150.8 F (-20 C – 66 C)
---
Compatibility Considerations:
Poly HL10 Handset Lifter (SKU 60961-35) is compatible with:
Savi WO100, WO200, WO300, WO350, W710, W720, W730, W740, CS510, CS520, CS530, CS540, Savi Series, Voyager Series w/Office Base
*Will not plug-in properly to CS50, CS55, CS70N, CS351N, CS361N, 510S – (Use 90 degree plug – Part # 60961-32)
TECH TIP: Make sure to set your desk phone's ringer volume to a mid-loud setting and not to a music ringtone. The HL10 handset lifter is sensing the vibration of your deskphone ringing, which indicates an inbound call. Once the lifter senses a call, it sends a signal to your headset to beep in your ear, indicating you have an inbound call.
When you press the Call Control button on the headset, the lifter lifts and you have an immediate connection with your caller.
---
Poly HL10 Handset Lifter FAQ:
Is a handset lifter required to use a busy light with a wireless unit?
No, the busy light can be plugged directly into the base of a wireless headset.
How does the Plantronics Headset Lifter work?
When you have a wireless headset with a handset lifter, you can answer and hang up away from your telephone.  As long as your telephone lets you answer any line that is ringing just by picking up your handset receiver and not having to press a button on the phone itself, the wireless headset will work the same way.
However, if you need to answer a specific line, transfer a call, or need to put someone on hold, you will need to go back to your telephone to perform these tasks.  Just remember that a headset only takes the place of your handset receiver and does not change the way that a telephone functions.