Poly Savi 7220 Office Wireless Dual Ear Headset – Poly 213020-01 or HP 7W6D5AA#ABA
Help everyone be more productive with the Poly Savi 7220 Office wireless headset part # Poly 213020-01 or HP 7W6D5AA#ABA for office phones. Give workers more flexibility and confidence with up to 400 feet of roaming range and up to 12 hours of talk time after each charge.
Make company-wide deployment easy and keep everyone comfortable with an over-the-head binaural headset with an adjustable headband. This cost-effective headset is compatible with over 800 analog and IP desk phones. Say hello to your one-stop shopping solution for headsets and desk phones.
---
Poly Savi 7220 Office Wireless DECT Benefits:
400 ft of distance give you mobility throughout your office
12 hours of talk time gets you through the busiest of work days
Conference up to 4 headsets with one base for training and collaboration
Savi 7220 offers a flexible noise-cancelling microphone boom for perfect mic positioning
Enterprise-grade DECT audio for premium listening experience and eliminate Wi-Fi interference
Covering both ears allows complete focus on your caller
One touch controls – call answer/end, volume up/down, and a dedicated mute button
Instant integration with over 800 desk phone models
Weighing 138 grams, the Savi 7220 Office fits securely for all day comfort
Adaptive power system optimizes for range and talk time



FREE technical support with purchase!
---
Poly Savi 7200 Office Series Features:
The Poly Savi 7220 (Formerly Plantronics) Office DECT wireless headset is an intelligent cordless headset that can help increase productivity for many professionals. Easily integrate with over 800 desk phone models and communicate in comfort with an over-the-head design.
With easy conferencing and 400 feet of distance from your headset base you can be able to carry on a conversation and file at the same time. Make your life easy with the Savi 7220 Office today!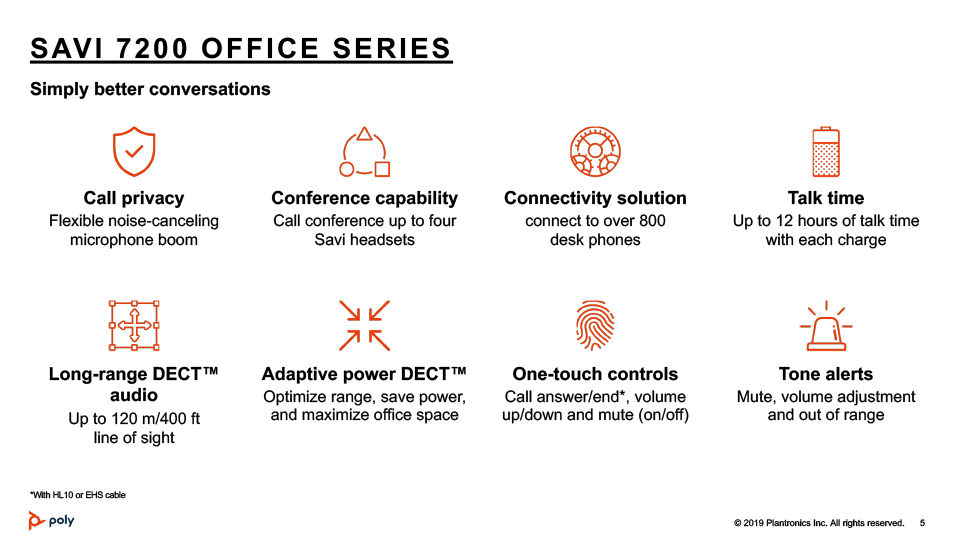 ---
Move Freely, Get More Done With The Savi 7200 Office Series Headsets!
Helping everyone in the office be more productive is easier than you might think. The Savi 7220 Office DECT™ wireless headset for desk phones is a crowd pleaser that lets workers roam far. And they'll look good while doing it. The Savi 7220 Office Headset is stylish—so people across the company will love using it. Compatible with 800+ desk phones, it's cost-effective, too. (Savi 7210 monaural shown below)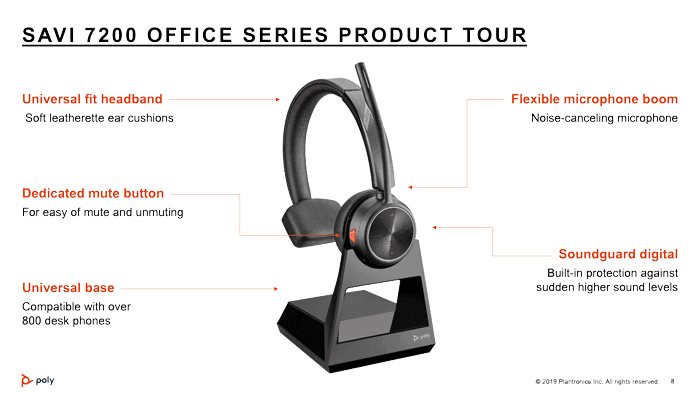 ---
Hands-Free Productivity
Everyone in the office could use more flexibility. Let them roam confidently 400 ft from the headset base with up to 12 hours of talk time after each charge. They'll be able to collaborate simply, since teams can conference up to four headsets on a single base.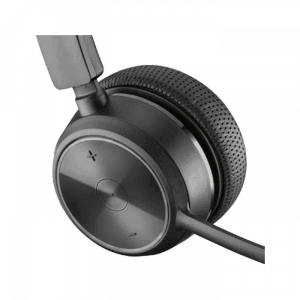 ---
Easy Integration
The Savi 7220 Office wireless headset offers instant integration with over 800 analog and IP desk phones from industry leading makers – including the wide range of phones that Poly offers.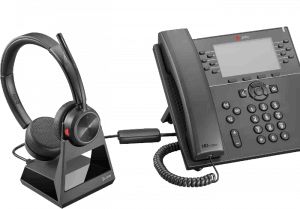 ---
Effortless Deployment
Set the scene for convenient company-wide deployment – and keeping everyone comfortable. A stylish, over-the-head monaural design makes it possible. The adjustable headband is perfect for all head sizes.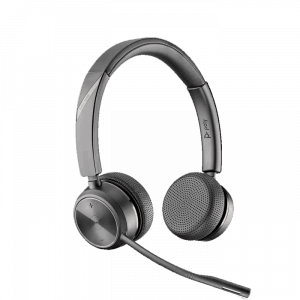 ---
DECT Adaptive Power
Optimize range, save power and maximize office space with the DECT adaptive power system. It automatically adjusts wireless signal strength based on distance from the headset base.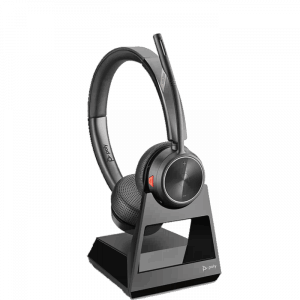 ---
Built For Compatibility
All Poly USB contact center solutions are compatible with the most popular voice platforms – we just work. Poly solutions provide excellent audio quality for you and your customer – no matter your platform of choice.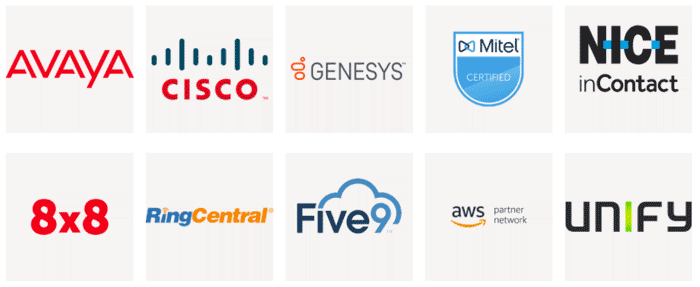 ---
Savi 7220 Office FAQ:
Will these new product introductions end of life any other existing models?
Yes, the CS510 and CS520 products are going end-of-life. Refer to channel communications for end-of-life dates. For replacement products, please see chart below. Note that CS540, CS540XD, CS510XD and CS520XD products will continue to be available.
| | |
| --- | --- |
| Existing Model | New Model |
| CS510 | Savi 7210 |
| CS520 | Savi 7220 |
How does the Savi 7220 Office connect to a desk phone?
Savi 7220 Office headset systems include a simple telephone interface cable which enables the base to connect in-line with the telephone handset as a basic connection, if the desk phone does not include a dedicated headset port.
For users who prefer to not have to manually lift the handset to answer a call, the HL10 (Handset Lifter) is available as an accessory (sold separately). Another solution would be to purchase an Electronic Hook Switch (EHS) accessory cable for the user's specific model of desk phone.
This provides a seamless integration enabling the user to answer the desk phone from the Savi headset while away from the desk with just one button press.
What hearing protection is included?
All Poly Enterprise headsets include acoustic limiting built into the headset to protect the user's hearing. The Savi 7220 Office also includes SoundGuard DIGITAL which protects against sound levels above 118dBA
The G616 Anti-startle (during calls) which detects and eliminates any large sudden increase in signal level; an d Time-Weighted Average that prevents average daily noise exposure from exceeding 85 dBA.
Is there support for training Customer Service Representatives (CSR's)?
Yes, the Poly Savi 7220 Office headsets support multi headset conferencing. Up to four headsets can be conferenced onto a single base. Reference the Savi 7220 Office user guide for full details.
Does the Savi 7220 Office also connect to a computer?
Customers looking for a multi device solution, connecting to both desk phone and computer, should consider the Savi 8220 Office and UC Series.
Can CS510/CS520 headsets dock to the Poly Savi 7220 Office base?
No, due to the different headsets designs, it is not possible to dock the CS510/CS520 headset to the Savi 7220 Office base and vice versa.
Is it possible to pair a CS510/CS520 headset to the Savi 7220 Office base?
Yes, it is possible to pair a CS510/CS520 headset over the air to a Savi 7220 Office base and vice versa.
---
Poly Savi 7220 Office Wireless Headset Features:
Ideal for enterprise and contact center professionals who require premium sound quality for their business communications
DECT Security certified; uses the latest standards in DECT wireless security
Adaptive power system allows you to automatically downshift to low power when the headset is close to the base to save battery life and maximize density
Conference four headsets together with a single base
2-Year Warranty
Part# S7220 D
POLY

SKU: 213020-01
UPC: 017229169623

HP

SKU: 7W6D5AA#ABA
UPC: 197497169133

Savi 7200 Series
---
Poly Savi 7220 Office Wireless Headset Specifications:
Talk time: Up to 12 hours
Headset wireless range: Up to 400 ft/120 m from headset base
Battery capacity: 250 mAh
Battery type: Rechargeable, replaceable, lithium ion polymer
Charge time: 3 hrs with Savi 7220 Office
Wireless technology: DECT
Receive frequency response: Narrowband 300-3300Hz, Wideband 100-6800Hz
Hearing Protection: SoundGuard Digital: protects against sound levels above 118 dBA; G616 anti-startle detects and eliminates any large sudden increase in signal level; Time-weighted average prevents average daily noise exposure from exceeding 85 dB
Microphone and technology: Noise Canceling
Weight: .3lbs/138g
Call controls: Call answer/end, mute, volume +/-, power off
---
What Comes In The Poly Savi 7220 Box:
Wireless headset
Charging base
A/C power cord
Telephone Interface Cable (

86007-01

)
User guide