Poly Savi 8445 Wireless Headset Is Built For The Modern Office
Ensure flexibility for users with the ability to connect from your computer, desk phone or mobile phone with the Poly Savi 8445 Office wireless DECT headset. Ready for the modern office with an intuitive user interface on the universal base that can connect to almost any Savi headset1.

---
Be Heard Clearly With A Great Noise-Canceling Microphone
With the Poly Savi 8445 Office series headset system, you can stay focused on your tasks while enjoying crystal-clear conversations thanks to a noise-canceling microphone with close conversation limiting.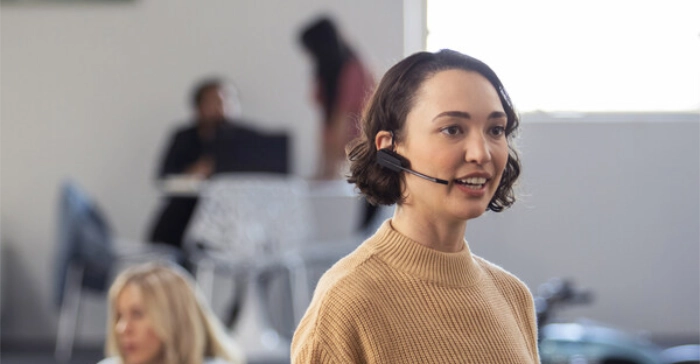 ---
Make Your Life Easy With Multi-Device Connectivity
Designed for the modern office with 3-way connectivity, the Poly Savi 8445 office is the perfect solution for business calls allowing you to stay connected in the office. You can even conference four headsets together with the base for increased productivity.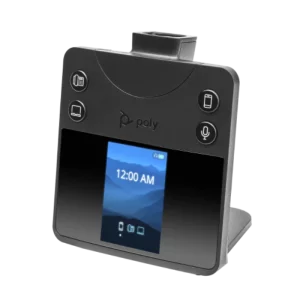 ---
Without A Cord, You're Free From Your Desk
Enjoy the convenience of hands-free calling and a longer roaming range with the Poly Savi 8445 office series. With up to 13 hours of talk time and the ability to roam up to 590 ft/180 m means you can keep the calls going, even away from the desk.2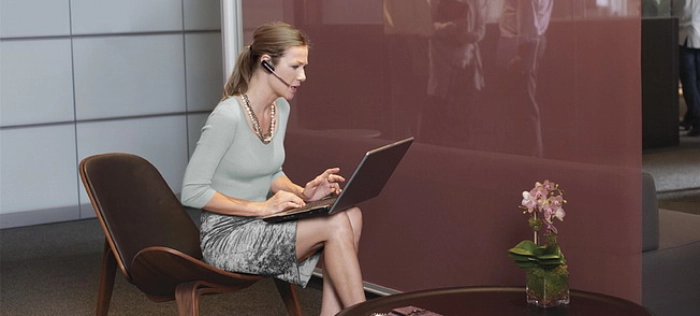 ---
Poly Lens — Intelligent Insights, Scalable Management
Poly Lens software gives IT teams visibility and control over voice, video, and headset devices. Deploy, configure, update, and get valuable insights from one endpoint or thousands using one scalable platform. Poly Lens makes it simple: no heavy IT lifting required.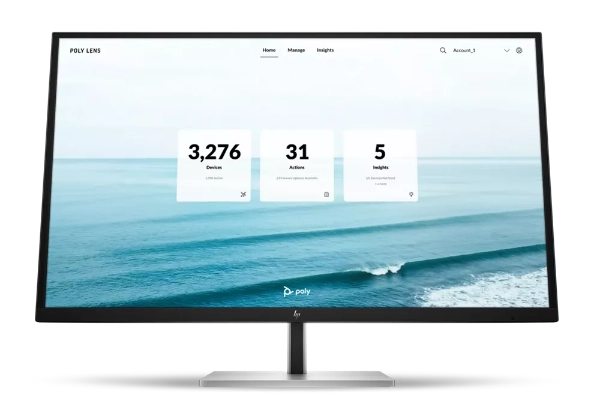 Poly Lens App — Designed For You
Get the most out of your Poly devices. Use one convenient app to manage all your compatible devices. Keep software up to date, manage settings, and use the personal health and wellness reminders to keep you focused and energized all day long. With the Poly Lens App, you can customize your devices to work the way you do.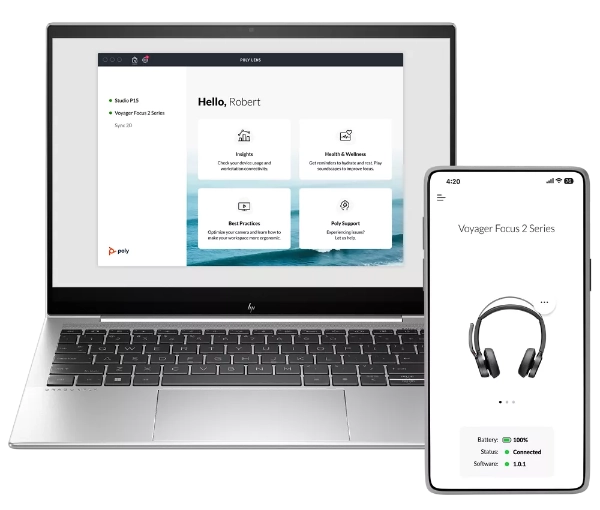 ---
Built For Compatibility
All Poly USB headsets and personal speakerphones are compatible with the most popular voice platforms – we just work. Poly solutions provide excellent audio quality for both you and those on the other end of the call – no matter your platform of choice

Poly is certified (when offered) with all major communication platforms.
---
Poly Savi 8445 Office Wireless DECT Headset Features:
3-Way Connectivity – Manage all your calls with a compatible single base that offers 3-way connectivity – computer, desk phone and mobile.
Crystal-Clear Calls –

Reduce background sounds with noise-canceling microphone and close conversation limiting.

Take It Further – Everyone can move, multitask, and get more done with up to 13 hours of talk time on a single charge. Convenient voice prompts notify of mute status, wireless range limit and more.
Training Made Easy – 

Make training and collaboration easy with the ability to conference up to 4 headsets onto a single base

Privacy Is Ensured –

Privacy of your conversation is ensured: DECT™ security-certified headset
---
Poly Savi 8445 Headset Specifications:
UC Version (S8445)
POLY
HP

SKU: 8L7F8AA#ABA
UPC: 197497833584
MS Teams Version (S8445-M)
POLY
HP

SKU: 8L7F1AA#ABA
UPC: 197497836691
Connects To
Desk phone, PC and mobile. For PC only connection, see the Savi 8200 UC Series
Talk/Standby Time
Up to 13 hours talk
Unlimited talk and standby option
Headset Wireless Range
590 ft of range (line of sight) / 180 ft typical office
Battery
Capacity
Type
Charge time
Wireless Technology
DECT™ 6.0 and Bluetooth® v5.2 (North America)
Audio Profiles
Advanced Audio Distribution Profile (A2DP)
Bluetooth® Hands-Free Profile (HFP)
Bluetooth® Headset Profile (HSP)
CODECS
G726
G722
Broadvoice32
CELT
Receive Frequency Response
Hearing Protection
SoundGuard DIGITAL3 protects against sound levels above 118dBA
G616 anti-startle (during calls) detects and eliminates any large sudden increase in signal level
Time-weighted average prevents average daily noise exposure from exceeding 85dBA3
Microphone and Technology
Noise canceling with close conversation limiting
Weight
Headset Call Controls
Call answer/end
Mute
Volume +/-
Power on/off
Headset Base
Works with Savi 8400/Savi 8200/Savi 7400/Savi 7300 Series headset tops
Conference up to 4 headsets
Color display for audio control settings
Scroll wheel
Back Button
Microsoft Teams Button (Microsoft Teams version only)
PC/Desk phone/Bluetooth® selector buttons
Voice and Other Alerts
Warranty
Manageability
Cloud: Poly Lens Service4
Local (Windows/MAC OS): Poly Lens Desktop App4
What's In The Box
Savi 8445 Wireless headset
USB-A cable
USB-C cable
Universal Office base
AC power adapter
Charging cradle
Spare battery
Telephone interface cable
USB deluxe charger for spare battery
Convertible fit kit
1. Does not connect to the Savi 7200 or older model headsets
2. Line of sight from computer
3. Requires Poly Lens software to enable SoundGuard DIGITAL features
4. Some solutions sold separately
---
Poly Savi 8445 Office Wireless DECT FAQ
Why should I upgrade to the Savi 8400 Office Series?
The new office base on the Savi 8400 Office Series delivers exciting new innovations that make it the right fit for your modern office. It introduces a color display that delivers ultimate control over your headset. Interact with the display using a jog wheel and buttons on the base. Control features such as:
Easily manage existing and new devices (PC, mobile, desk phone) and set a default line.
Quickly pair your headset – especially important in hot desking scenarios.
Control device settings such as sound protection, wideband vs narrowband audio, ringtones, and more.
Conference up to 4 headsets to a single office base or mix calls from 2 different lines (i.e., desk phone to softphone).
Interact with Microsoft Teams using a dedicated Teams button (Microsoft Teams versions only).
The new office base is universal, meaning it works with all Savi 8400/8200/7400/7300 headset tops. Streamline return
to office with a single base for all your Savi headsets
Is the Savi 8445 Office secure?
Yes. The Savi 8445 Office is DECT™ Security Certified and will meet the security expectations of most organizations.
For customers with stricter security requirements — we should instead recommend a Savi 7300/7400 DECT™ wireless solution — designed to meet the latest and highest level DECT™ Security Step C, enhanced further with the latest AES 256-bit encryption, and an option for no Bluetooth.
How does DECT differ from Bluetooth?
DECT™ wireless headsets deliver significantly more range and better wireless density performance than their Bluetooth counterparts. Deploy more wireless headsets in a shared space with the Savi 8400 Office Series and get up to 590 ft/180 m range line of sight.
For customers who prioritize the best possible density performance, we should instead recommend a Savi 7300/7400 DECT™ wireless solution — which offers up to 2x better density performance than other DECT™ headsets.
What is the difference between the Savi 8445 Office and the Savi 8245 UC?
The Savi 8445 Office headset top and the Savi 8245 UC headset top are the same. The difference between the two DECT™ wireless headset  systems is the base unit – how the headsets connect.
The "Office" base simultaneously connects to your PC, mobile, and desk phone. The "UC" base is a charging stand only and includes a D400 DECT™ wireless adapter for connection to PC only (or a desk phone USB port if it supports USB audio).
Will these new product introductions end of life any existing models?
Yes. The Savi 8400 Office Series will be replacing the Savi 8200 Office Series. We expect the transition period to take place over a period of 4 quarters from the time the Savi 8400 Office Series is announced (July 18, 2023).
For recommended replacement products, please see the chart below:
| | |
| --- | --- |
| EXISTING MODEL | RECOMMENDED REPLACEMENT |
| Savi 8210 Office Series | Savi 8410 Office Series |
| Savi 8220 Office Series | Savi 8420 Office Series |
| Savi 8240 Office Series | Savi 8445 Office Series |
| Savi 8245 Office Series | Savi 8445 Office Series |
The Savi 8200 UC Series is not a new product. It is not being replaced and does not replace any existing models.
Will there be a Savi 8440 Office Series?
No. We will not have a Savi 8440 Office Series. We recommend customers select the Savi 8445 Office Series for a convertible wearing style. The Savi 8445 will also include a spare battery for unlimited talk time.
What makes the new Savi office base "universal"? What about the D400 DECT™ wireless adapter?
The new Savi universal office base is designed to work with our most popular Savi headsets. It works with Savi 8400/8200/7400/7300 headsets, including UC versions and headsets already being used by customers.
If I already have a Savi 8445/8245 headset, can I use it with both the D400 DECT™ wireless adapter and a Savi universal office base?
Yes. You can use a single Savi 8445/8245 headset with both an office base and a D400. For customers looking to deploy a DECT™ wireless solution in a hybrid setting, this would be our recommendation.
Deploy universal office bases in the office and give your employees a D400 for home or remote work. Then take a single headset back and forth between locations.
What can the D400 wireless adapter connect to?
The D400 can connect to PC/Mac. Additionally, the adapter provides a wireless DECT™ solution for desk phones that support USB audio, for example, the Poly VVX450. The D400 is USB-A, and we include a USB-A to C adapter in the box.
How does the Savi 8445 Office connect to a desk phone?
The Savi 8445 Office Series connects to desk phones in the same way the Savi 8245 Office Series did. It maintains broad compatibility with desk phones and all our existing EHS cable solutions.
The Savi 8445 Office Series includes a simple telephone interface cable. This enables the Savi base to connect in-line with the telephone handset as a basic connection if the desk phone does not include a dedicated headset port. To save having to manually lift the handset to answer a call the HL10 (Handset Lifter) is available as an accessory.
The intelligent solution for headset-compatible desk phones is to purchase an Electronic Hookswitch accessory cable (EHS) for the user's specific model of desk phone. This provides an intelligent integration enabling the user to answer the desk phone from the Savi headset while away from the desk with just one button press.
How does the Savi 8445 Office connect to a computer?
In the box, we include USB-A and USB-C cables to connect the Savi 8445 Office base to the computer. The universal Savi office base has a USB-C connector on the base.
How does the Savi 8445 Office connect to a mobile phone?
Bluetooth devices will pair directly with the office base, not the headset. Use the color display and buttons on the base to pair new devices quickly and easily.
What does the Microsoft Teams button on the office base do?
The Teams button when pressed brings the Microsoft Teams desktop client to the front of the screen. If there is a message waiting or other notification the application will open to that screen – for a seamless Microsoft Teams experience. Available on Microsoft Teams Versions only
Can the Savi 8445 Office and 8245 UC be managed with Poly Lens?
Yes. Savi 8445/8245 can be remotely managed with Poly Lens for setting and firmware updates – making them ideal for use in enterprise environments.