Poly (Formerly Plantronics) CS540 Wireless Convertible Headset – Poly 84693-01 or HP 7W073AA#ABA
The Poly CS540 wireless headset  has quickly become one of the most popular wireless headsets in the industry. Built around versatility with multiple wearing options, and being lightweight for all-day wearing, the Poly CS540 headset part # Poly 84693-01 or HP 7W073AA#ABA will provide a great option in any work environment.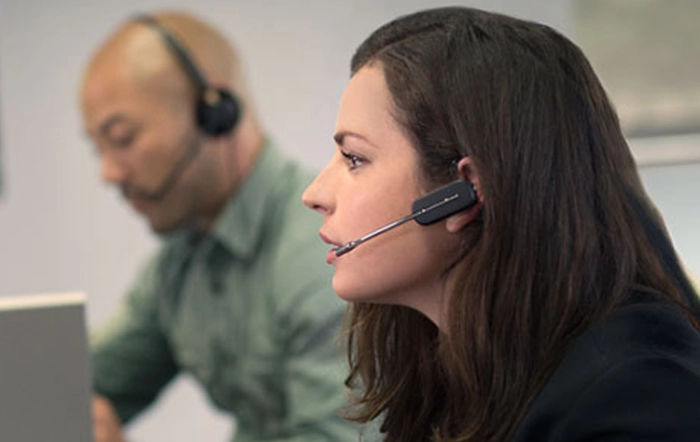 Hands-Free Productivity
Need to get in some extra steps or pop your head out of your office? If you want an excuse to drop off your call, you'll need to find another one. With the Poly CS540 convertible DECT headset, you can get more done — even on the move. Plus, it's easy to deploy company wide. More freedom, means more productivity.
Work Better, Hands Free
Give everyone their hands (and feet) back with wireless flexibility. Move freely thanks to a roaming range of up to 120 m / 400 ft. Afraid you'll lose power with all that activity? Up to 12 hours of talk time per charge keeps you confident on every call.
Wear It Your Way
There's more than one way to make a call. Customize your look and feel for all-day comfort—lightweight, convertible design comes with three wearing options. If you're new to the headset game, you can switch up styles to fin your groove. Introduce your ears to something new.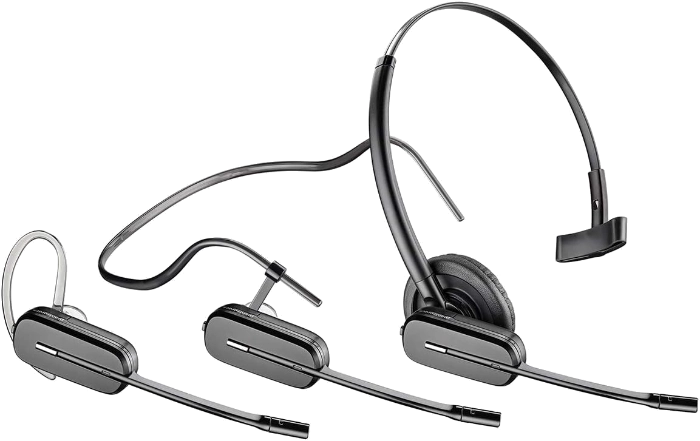 ---
Conference With Colleagues
Collaboration just got easier. With the ability to conference up to four headsets on a single base, connect faster and save time on awkward dial-ins. Now you can work together, better.


FREE multiple-sized earbuds & earloops for a perfect fit
Rechargeable battery included

---
Only Available From Headsets Direct (click links below):
---
Do you need the lightest wireless headset in the industry?
Choose your wearing style.
It's so comfortable, you'll forget you're wearing a headset with the CS540. With two wearing styles included, you decide what's best for your all-day wearing comfort. Using the over-the-ear configuration, it only weighs 21 grams, making it the lightest headset in the commercial grade industry.
Opting for the headband will provide a secure fit with a soft ear cushion sealing out sound from your environment, giving you a clear and crisp conversation with your caller.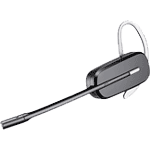 One-touch controls for adjustments on the go.
Speaker volume & microphone mute controls are at your fingertips allowing you to adjust your CS540 headset remotely without returning to your desk. The silver call control button on the side of the headset, when pressed, will answer and hang up calls remotely when used with a compatible EHS cable or handset lifter.
When you freely move about your office, your environment constantly changes. That's why it's important to quickly increase your speaker volume if you move into a loud environment. Or maybe you need to converse with a co-worker, and muting your microphone is required. With one-touch controls, you can concentrate on your caller, not your headset.
Fast and Easy Setup.
Setup only takes a few minutes as you configure compatibility, microphone, and speaker volume controls. Base settings are easily configurable to maximize your audio experience. You will find a 4-position dial for your major speaker volume setting. Your headset also has a speaker volume adjustment, for minor call-to-call changes.
Also on the base, you have a 6-position microphone dial allowing you to adjust the outgoing voice volume that callers hear. Last on the base is the compatibility slide switch with the letters A-G. The default setting is 'A' which works with most phones. If you experience no sound, slide the switch to other letters until the headset works correctly.
Productivity Booster.
Above all, if you're serious about getting more done in a busy work day, going wireless allows you to roam your office while you talk. Ever need to grab a file while on a call? How about needing paper for your printer? Need to ask a co-worker a quick question down the hallway?
With up to 350 feet of range to roam your office, you'll improve productivity as you're able to gather information throughout your office while continuing to talk.
---
CS540 Frequently Asked Questions:
How many can I have in one office?
You can have approximately 38 units in one area without performance issues. As you exceed 38 units, your roaming distance will diminish with the more units you add. Since every office is different in spacing, density and active units, the number varies per location.
Technology scares me. How complicated is setup and daily usage?



We've prepared a complete guide to make setup quick and easy.
Visit our installation guide: Poly CS540 Installation Walk-Through
How is the quality of a wireless headset?



Technology has advanced wireless audio quality to amazing levels. Your caller won't be able to tell you're on a wireless headset as you roam your office.
How do I get my headset to answer a call when I'm away from my desk?
Order the Poly HL10 Handset Lifter or a compatible Electronic Hook Switch Cable (EHS) for remote answer and hang-up capabilities. Call 1-800-914-7996 for compatibility or see our available options on the HL10/EHS Cables product pages.
---
CS540 Headset Insider Info:
TECH REVIEW
The first thing about this amazing headset is it can be worn in two different ways, making it  "convertible". It comes with a headband and ear loops/buds, for those who prefer to wear it around the ear. Since the Poly CS540 wireless headset is the lightest headset on the market, you can wear it either way and almost forget you have it on!
In addition, it gives you 7 hours of talk time (set on Narrowband) to get you through a busy day. Placing it on the charging base while you are at lunch, or its not in use, helps to extend the talk time.
The CS540 headset has an optional setting of Wideband (for newer phones that support Wideband) to give you the highest possible audio quality (talk time drops to 4 hours), while Narrowband gives you the longer battery life. You have up to 350 feet of roaming distance from the charging base, which will greatly increase your productivity!
The 6.0 DECT technology helps eliminate Wi-Fi interference, and allows you to have up to 38 units in one area before you start diminishing your range. If you need to have other colleagues on a call with you, you can easily conference an additional three CS500 series headsets at one time.
Also you have volume and mute controls on the earpiece, so no matter where you are you can adjust the volume accordingly. This headset is equipped with all the technology of today, and more.
---
HOW TO INSTALL
The setup of the headset is quick and easy, and can be done in a matter of minutes. It is as simple as attaching the A/C power adapter into the base and then plugging it in the wall. Then you connect the interface cable between the phone and base.
On the bottom of the charging base you have two dials, one adjusts the volume on the microphone, and the other adjusts the speaker volume, so you can adjust them even while on a call.
There is also a compatibility slide switch that comes preset set on "A" as a default, but if that doesn't work with your phone, then slide it to the appropriate letter.
How do you know which setting works best? If you don't get a dial tone or the sound is not clear when set on "A" then slide it to the letter that gives you the clearest sound.
We suggest visiting our Installation Walk-Through for step-by-step instructions with pictures to make setup quick and easy.
---
HOW TO STORE
The charging base and headset sit discreetly on your desk not taking up much space at all. At lunch, the end of your day, and any other time you remove the headset, it's best to place it back in its charging dock.
This keeps it safe, and you'll always be able to quickly grab it should another call come in. This also allows it to charge when not in use, so you can get the most battery life possible when using.
---
HOW TO CLEAN
When cleaning your headset, be sure to always use non-alcohol chemicals or wipes. Using alcohol-based products over time will break down the plastics, and can dull or damage the finish. You can use a very soft, non-abrasive cloth to clean or polish the base so it maintains its sleek appearance, as well as the headset.
---
WHO USES THIS MODEL
In conclusion, the CS540 wireless headset system is by far our most popular and best-selling due to the fact that it is so light, sleek, and discreet looking.
Because of its versatility and multiple wearing styles (there is also a behind-the-head neckband which can be purchased separately — P/N 84606-01), it can be used by the home office entrepreneur or the multi-tasking office worker, the valet who parks your car or the CEO of a major corporation.
You will always sound professional, as no one will ever know you are on a headset!
---
Poly CS540 Wireless Headset Features:
Choose from an Over-the-Head or Over-the-Ear wearing style
Lightest wireless headset on the market – weighs only 21 grams
Up to 350 feet of range to roam your office and improve productivity
Speaker volume & mute controls at your fingertips allow adjustments remotely
Adaptive power system optimizes the headset for the perfect balance between range and talk time
Voice-dedicated DECT technology eliminates Wi-Fi interference
Advanced wideband audio using CAT-iq technology enables clearer conversations
Conference up to three additional CS headsets to have co-workers join calls quickly and easily
Noise-canceling microphone reduces background noise to your caller
CS540 headset provides 7 hours of continuous talk time
Compatible with most phones
Optional HL10 Handset Lifter or EHS cable allows for remote answer
2-Year Warranty
Part # CS540
POLY

SKU# 84693-01
UPC 017229134768

HP

SKU: 7W073AA#ABA
UPC: 197497173833

CS500 Series
*Base reads Plantronics C054, Plantronics co54, Poly C054 or Poly co54 – References CS540 only
---
What Comes In The Poly (Plantronics) CS540 Wireless Headset Box:
---
What The Lights Indicate:
| | | |
| --- | --- | --- |
| Base: | Bottom-Left | = Solid GREEN when in use |
| | | = Solid RED when microphone is muted |
| | | |
| | Bottom-Middle | = Solid WHITE when power connected |
| | | |
| | Bottom-Right | = Solid GREEN indicates headset is fully charged |
| | | = Flashing GREEN indicates headset is properly docked and charging |
| | | |
| Headset: | | = Flashes GREEN when in use |