1) Blackwire C610 – The Blackwire C610 is perfect for webinars and conference calls and performs with excellence even in noisy environments.  It has a flexible boom microphone for a custom fit just for you.

2) Blackwire C420 – This headset offers crystal clear audio, soft ear cushions, and is durable for all professionals.  You have the inline controls that allow you to answer/end calls, control the volume, as well as mute when necessary.  The Blackwire C420 is perfect for listening to music, desktop presentations, and so much more.

3) .Audio 355 – Here is a headset that will blow you away!  If you are looking for a headset that makes you feel like you live at the concert, or in the video game you are playing, then look no further.  The .Audio 355 headset has studio quality audio, quick-adjust microphone, and noise-canceling features will make every call, game, or listening experience incredible.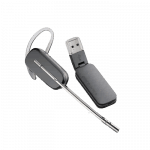 4) Savi W440 – Freedom at last — this extremely lightweight headset can be taken anywhere with you for true portability.  The Savi W440 headset is perfect for the busy professional who needs to be able to make or receive PC calls; just plug the USB into the computer, and you are on your way.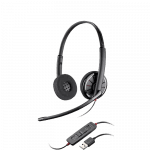 5) Blackwire C320 – This headset is simple to use and comfortable.  The Plantronics Blackwire C320 is perfect for those who are newer to PC telephony, and with the dynamic equalizer, you will love how it sounds.
---
If you're deciding between computer headset models, it never hurts to see what the top five computer headsets from Plantronics are, because chances are other customers have purchased computer headsets and found what they liked and continue to buy. Choosing any will provide a great headset to use with your desktop or laptop computer.