Jabra Evolve2 65 UC Stereo Wireless Headset
It's Not Just New In Every Way. It's The New Standard.
Outstanding outcomes require outstanding call performance, and seamless, professional audio makes all the difference. We took the incredible call performance of our world-leading Evolve Series, and we made it even better with the Jabra Evolve2 65 UC stereo wireless headset.
We built in three strategically placed powerful and professional microphones and added our advanced digital chipset and latest signal processing technology. As a result, the call quality is outstanding, every time. It's not just a great call. It's the new standard of great calls.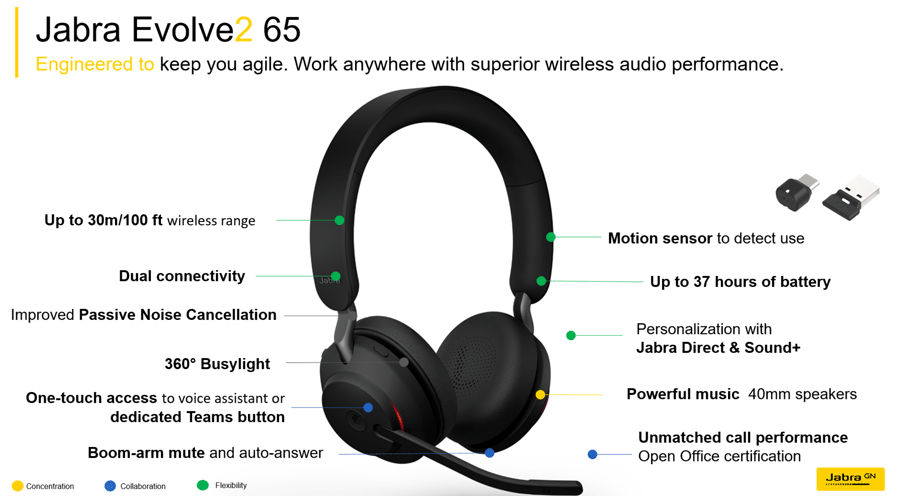 UC-CERTIFICATION – UC-certified means UC-satisfied.
Satisfaction guaranteed isn't something you hear very often these days, but we're bringing it back.
The Jabra Evolve2 65 works with all leading Unified Communications (UC) platforms, for truly seamless collaboration. Furthermore, if your UC platform of choice is Microsoft Teams, the Teams-certified variant is perfectly adapted and optimized to give you the best experience with the platform.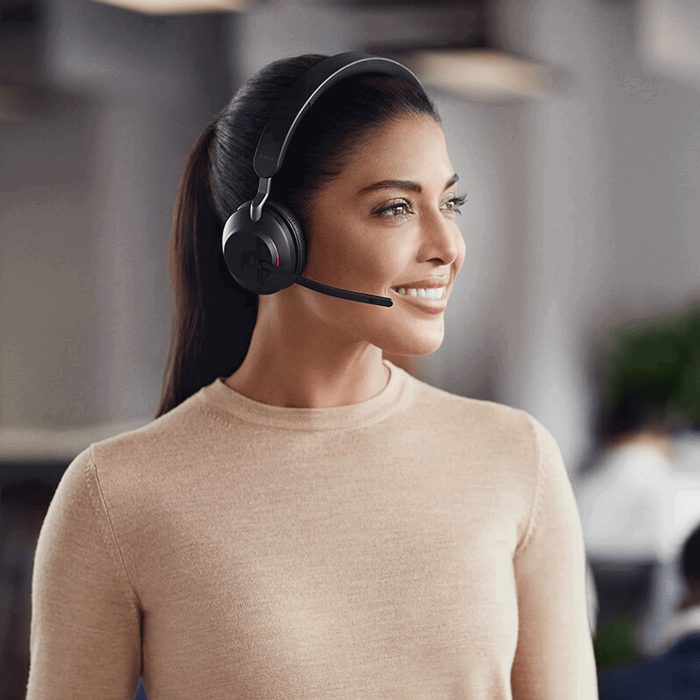 MUSIC – Music so good, you can feel it.
We've built this headset with powerful leak-tolerant 40mm speakers and powered it with our most advanced digital chipset ever. With Evolve, we brought you great music while you work. Above all, with the Evolve2 65 UC, we're taking audio quality to a whole new level. It's a professional headset, but not as you know it.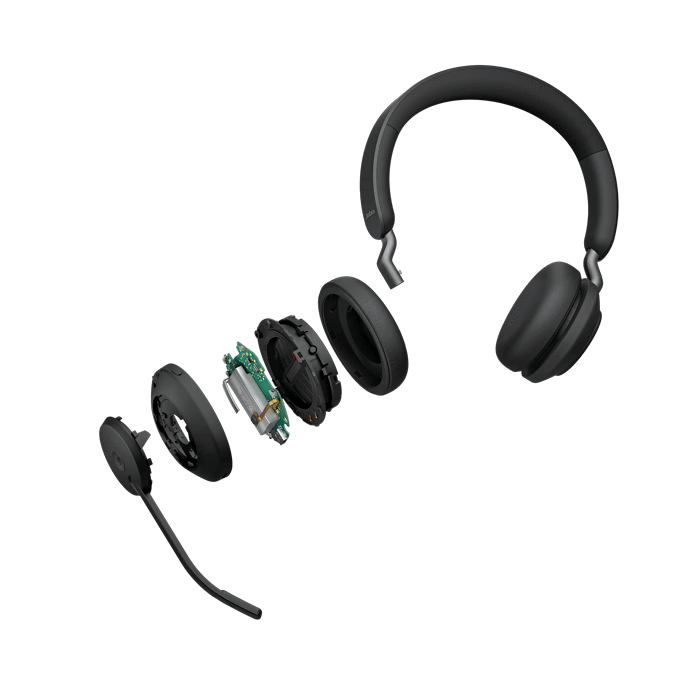 NOISE ISOLATION – Soundproof your ears.
Whether you're working in the office or on the go, background noise can really disrupt your flow. Put on your Evolve2 65 UC and feel the noise around you instantly fade.
As the isolating foam oval ear cushions and pioneering new angled earcup design work to effectively block out your surroundings, giving you passive noise cancellation like you've never experienced. You could say it's like a portable quiet room for your head.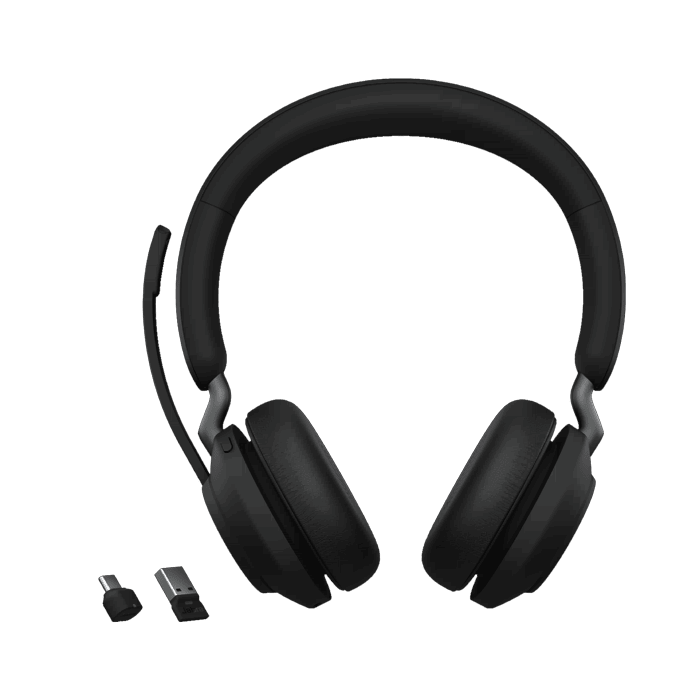 BUSYLIGHT – Don't hide when you're in your stride.
We've taken our busylight to a whole new level, making it visible from any direction. The red light is automatically activated when you're on a call or in a meeting, or you can activate it yourself at the touch of a button.
So, even when you're right in the middle of everything, your busylight will protect you from all angles, and all interruptions. For that reason, it's like having a built-in security guard for your concentration.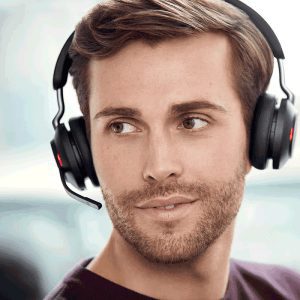 BATTERY – Battery for days.
Whether you're in and out of meetings, walking the corridors, or working remotely, it's good to know your headset can handle the pace. Our advanced battery efficiency technology and that incredible little chipset have helped us to squeeze 37 hours (Jabra estimates) of juice out of this powerful wireless headset. But we've got you covered with the Evolve2 65 UC's handy charging stand as well, just in case.
Full charge: Get 37 hours battery life in 90 minutes
Fast charge: Get 8 hours battery life in 15 minutes
COMFORT – True comfort. True luxury.
We set out to create a wireless headset that would feel so great, you'd forget you were even wearing it. We designed the perfect shape using biometric measurements from hundreds of heads.
Then we added soft memory foam cushions that mold to your ear's natural contours. Finally, we assembled it using durable, premium materials. As a result, when it comes to your headset, true luxury is forgetting it's there.
TECHNOLOGY  – Thinking outside the box.
As far as things in boxes go, this is kind of a big deal. Before you've even unboxed your new Jabra Evolve2 65 uc, you're holding a pioneering piece of tech that's leagues ahead of any other headset.
But because we have one eye on the future, firmware upgrades and value packs are already on the way to boost it even further. Consequently, if you think it's great now, just wait…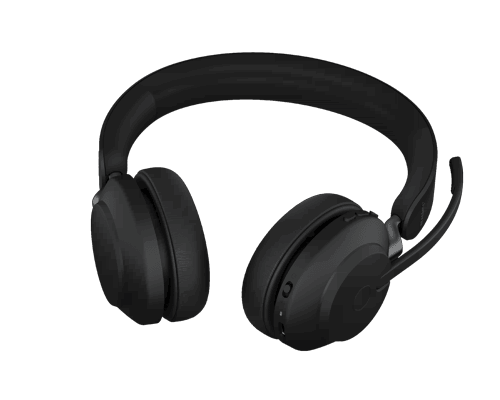 ---
Jabra Evolve2 65 UC Stereo Wireless Headset Benefits:
Noise-isolating design helps you hear better
Works with all smart devices using USB-A or USB-C
3-microphone call technology
Busy light visible from all angles to avoid co-worker interruptions
Call control buttons on headset
Made for voice and music listening pleasure with 40mm speakers
Brilliant audio with our most advanced digital chipset
Soft memory foam cushions for all-day wearing comfort
---
Technical Specifications Jabra Evolve2 65 UC Stereo Wireless Headset:
Audio:
Speaker size: 40mm
Music mode: 20Hz – 20,000Hz
Speak mode: 100Hz-8,000Hz
Microphone frequency range: 100Hz-14kHz
User hearing protection: Jabra SafeTone
Industrial Certifications: Leading UC vendors, Microsoft Teams Open Office
Connectivity:
Connection (mini jack, USB, etc): USB-A/USB-C Bluetooth adapter, Bluetooth
Bluetooth device: Yes
Bluetooth version: 5.0
Operating range: Up to 100ft
Simultaneous Bluetooth connections: 2
Battery:
Talk time: Up to 35 hrs (with busylight off) / 24 hrs (with busylight on)
Music time: Up to 37 hrs
Charging time: Up to 90 min
General:
Weight: Evolve2 65 Stereo headset 176.4 g
Model Number: Jabra HSC110W
Warranty: 2 years
UC Versions
USB-A

SKU: 26599-989-999
UPC: 0706487020134

USB-C

SKU: 26599-989-899
UPC: 0706487020172
Microsoft Teams Versions
MS Teams USB-A

SKU: 26599-999-999
UPC: 0706487020059

MS Teams USB-C

SKU: 26599-999-899
UPC: 0706487020097
---
What Comes In The Box:
Soft Pouch
Evolve2 65 Stereo headset (HSC110W)
Jabra Link 380 BT adapter
3.9ft USB-C to USB-A cable
Quick Start Guide
Warranty leaflets
---
Frequently Asked Questions:
How does Jabra Evolve2 differ from the Jabra Evolve Series?
First of all, Jabra Evolve2 is a new range within the existing Evolve Series. We have re-engineered the products in the new range in every single way. Evolve is the world's leading professional headset series — with the Jabra Evolve2 65 UC stereo we are setting the new standard.
Can I use the Jabra Evolve2 65 UC stereo wireless headset with my smartphone and tablet?
Yes. You can connect your headset to both your computer (with the supplied Jabra Link 380 Bluetooth adapter) and your smartphone or tablet at the same time.
Can I connect my headset using both USB-A and USB-C?
Yes. You can choose between a USB-A or USB-C Bluetooth adapter.
Can I stream music to this device?
Yes. Jabra Evolve2 65 features powerful leak-tolerant 40mm speakers, which deliver outstanding audio for a superior music experience.
Can I pair this headset with iPhone and Android?
Yes. The first time you turn on your Jabra Evolve2 65, it is ready to pair with your mobile device.
Does it work with Mac and PC?
Yes. It works with both Mac and also PC systems.
Does it work with Microsoft Teams?
Yes. Most noteworthy,  Jabra Evolve2 65 comes in two variants – UC-certified and Microsoft Teams-certified.
Does the Jabra Evolve2 65 UC stereo wireless headset come with the Bluetooth adapter?
Yes. The headset is supplied with the Jabra Link 380.
What is the wireless range from my computer/mobile device?
Whether you use the supplied Bluetooth adapter with your computer, or you are connected to a mobile device, you will get up to 30 m/100 ft wireless range whilst on a softphone call or listening to music.
How long does the battery last?
With the Jabra Evolve2 65 UC stereo wireless headset you will get up to 37 hours battery life.
How do I charge the headset?
You can use the USB cable provided to connect to your computer power to recharge, and for even more convenience you can use the charging stand.
Does the headset come with a charging stand?
You have different purchasing options. There is a handy optional charging stand, which is available as an add-on accessory.
What are the benefits of Evolve2 models that are certified for Microsoft Teams?
The Evolve2 also has models that are certified for Microsoft Teams support Microsoft Teams as a plug-and-play experience. The plug-and-play experience includes these benefits:
Automatic selection as the default audio device.
A dedicated Microsoft Teams button to:

Notifications of Microsoft Teams LED flashes purple when

Microsoft Teams meeting ready to join, missed call, and voicemails

Microsoft Teams LED flashes green with an incoming Microsoft Teams call
Invocations

Answering incoming Microsoft Teams calls
Opening the meeting "pre-join" screen
Open missed calls screen
Open Microsoft Teams voicemail screen
Bring up Microsoft Teams client from the background

Voice prompt when the user is wearing the headset
If you are not using Microsoft Teams as your UC client, we therefore recommend choosing the standard UC variant, which is certified for all leading UC platforms like Cisco, Mitel, Avaya and more.
What does "meeting Open Office requirements" mean?
When the Evolve2 65's boom arm is pulled down, it meets premium microphone for open office standards. This qualification is the strictest test requirement of how the headset microphone suppresses surrounding noise and office conversation from multiple directions. It is the ultimate reassurance that your headset will excel in an open office environment.
Does the Jabra Evolve2 65 UC stereo wireless headset have a 3.5 mm jack?
No. The Evolve headsets, for instance, that include a 3.5mm jack are: Evolve2 85, Evolve 80, Evolve 40, Evolve 30.