Push to Talk Headsets
Government agencies, financial institutions, and stock broker bullpens are just a few of the locations that need the ability to control when their headset microphone is transmitting. With extremely sensitive information constantly being discussed, it's imperative to use push to talk headsets which gives you complete control of when your microphone is live and transmitting. Push to talk headset technology works very similar to a walkie talkie system. With a push to talk adapter, you only transit your voice when pressing and holding the button down.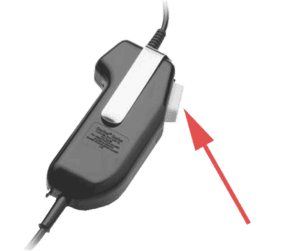 Push to Talk headsets (PTT), also called Push To Transmit, puts your headset in a muted state, until you press and hold a button to activate the microphone. We make finding the perfect Push-to-Talk solution easy with many options below depending on your application.
---
1) Push to Talk Headsets for 911 Dispatch Centers using 2-Prong / 6-Wire:
Government agencies and 911 emergency dispatch centers have special needs when it comes to push to talk headsets. They must provide exceptional sound quality, be able to handle the use and abuse of 24/7 operations and offer numerous wearing options to help users find a comfortable headset for extended shifts. Both wireless and wired amplifier/bases are available to meet your budget needs.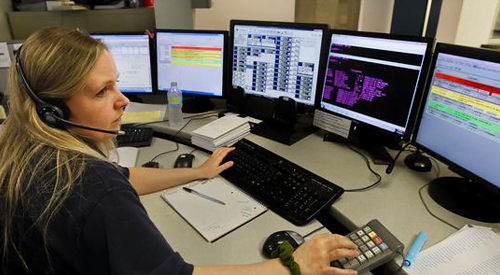 Once you decide on the amplifier/base, choosing a headset comes down to wearing style and user personal preference. Ear models are light-weight and low profile. Headband models block out more background noise. There isn't a right or wrong headset as every environment and user will have their own needs and requirements.
---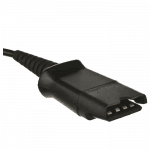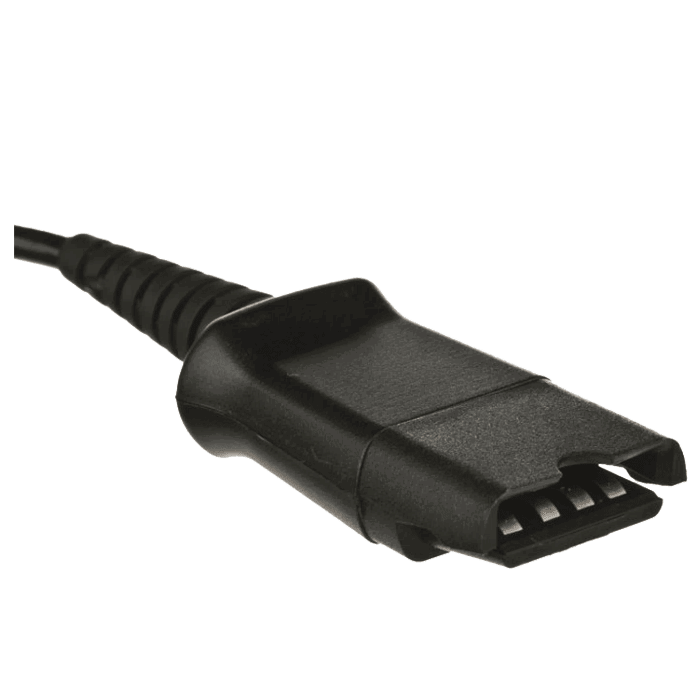 2) Push to Talk Headsets with Inline Amplifier For Wide Variety of Applications:
With an inline PTT amplifier solution, you start with a Poly (Formerly Plantronics) compatible Direct Connect Cable or amplifier and choice of H-series headset. The Direct Connect Cable or amplifier can be compatible with computers, deskphones or cell phones.
Both the Direct Connect Cable or amplifier and H-series headsets with push to talk (PTT) functionality will terminate with a Quick Disconnect (QD) connection. The Poly/Plantronics 216086-03 Momentary PTT Amplifier will connect in the middle and offer seamless push to talk functionality.
Common Direct Connect Cables and amplifiers (Call to determine compatibility for your device):
Inline PTT amplifier:
Common Poly H-Series headsets:
---
3) Push to Talk Headsets for 3.5mm TRRS Devices (Computer & Mobile Devices):
Many computers and mobile devices use a 3.5mm TRRS plug for audio. Jabra manufacturers a 3.5mm cable with a Quick Disconnect (QD) connection that allows you to connect any of their wired QD headsets for a perfect push to talk headset solution. The inline button on the cable will only transmit when the button is pressed and held in. Once the button is released, the headset microphone stops transmitting any sound. This solution allows you to find the perfect headset to meet your wearing preference and perform at its best with any background noise or environmental needs.
---
4) Push to Talk Headsets for USB Devices (Computer & IP Desk Phones):
For users needing push to talk headsets (PTT) for use with computers and IP Desk phones with USB ports, the following options will provide high quality audio with control over your microphone transmission.
Jabra products with inline controls will allow users to program the top button known as 'Cross Button' or 'X' to be a Push to Talk button. Using the Jabra Direct Software, you quickly and easily set the button to PTT functionality. Immediately the button will illuminate red indicating a mute stage. When you press and hold the button down, the illuminating light will turn green, to indicate you have a live and transmitting microphone. Once you release the button, it returns to red and mutes the microphone.
Jabra will have two sets of options to choose from. The first option are headsets that come with a continuous cable with inline controls. The second options listed are headsets with a Quick Disconnect (QD) that will require the Link 260 USB adapter, which has the inline controls. Both work equally as well, and the second option allows users to add Y-training cables and the convenience of leaving the headset on all the time and pulling apart the QD when you need to walk away from your desk.
* The below BIZ 2300 GSA headsets come pre-programmed with PTT functionality.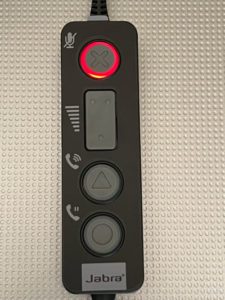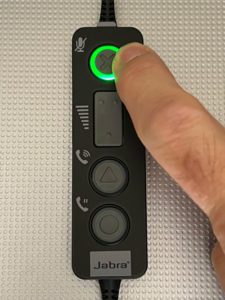 Option 1: Continuous Cable Headsets with Push to Talk (PTT) Inline Controls
Option 2: Link 260 adapter and Headsets with Quick Disconnect (QD) connections
---
Push to Talk Headsets (PTT) Functionality:
When you need a Push to Talk headset or Push to Transmit headset solution, give us a call to make sure you're getting a solution that will meet your needs and be compatible with your configuration. PPT solutions are more complicated than standard headset solutions and we want to assist you in getting the right solution the first time.