Poly (Formerly Plantronics) TriStar H81N-CD Headset – Poly 40203-14 or HP 8K781AA#AC3
Are you interested in the lightest, most stable, over-the-ear style corded headset on the market? For a customized fit and feather light comfort, it's hard to beat the Poly Tristar H81N-CD headset part # Poly 40203-14 or HP 8K781AA#AC3
There are three points of contact with the H81N-CD: above the ear, behind the ear and just inside the ear, so your headset remains stable at all times. In addition, Poly offers a selection of four interchangeable ear buds, providing a customized fit for every individual.
The H81N-CD speaker is designed to rest gently against the inside of the ear, close to the eardrum, increasing your ability to hear and understand each and every word of the conversation.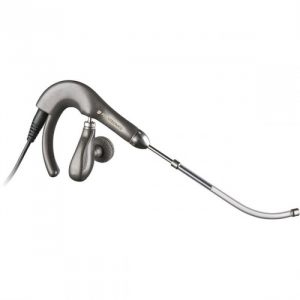 Weighing in at 28 grams, the Poly H81N-CD headset is so comfortable you can put it on and forget it! However, although it is lightweight the H81N-CD is built for commercial use and call centers, with durable junctions and rugged light weight cables.
It also supports the most advanced sound technology available today; SoundGuard Plus and Call Clarity.

3-point design provides unsurpassed stability
Speaker extends and rotates to fit your ear perfectly
Choice of ear buds allows optimal fit for all-day comfort
Noise-canceling microphone for louder environments
Low profile design with nothing to mess your hair
Freeing your hands for typing and writing increases productivity
• FREE clothing clip included for better cord management
• FREE technical support with purchase
• Need help?  Call us and talk to a Real Person!
---
Poly Headset Benefits:
Poly compatibility. H81N-CD TriStar works with all Poly or Plantronics audio processors and USB-to-headset adapters.
Newer phones. Direct-connect solutions are also available for headset-ready phones and agent consoles.
The Poly H81N-CD is an exceptionally lightweight, over-the-ear style.
Three-point design provides unsurpassed stability and all-day comfort.


(Stabilizer cushion sold separately)

Four user-selectable earbuds for a custom fit are included with the H81N-CD TriStar.
Supports Clearline™ audio technology. Ensures precise listening levels, sophisticated hearing protection, and superior audio performance when used with Plantronics audio processors.
Quick Disconnect™ lets you walk away from your phone while still wearing your H81N-CD headset.
10-foot reach (when attached to amplifier or direct connect cable).
Adjustable clothing clip for freedom of movement.
Noise-canceling – The H81N-CD headset filters out background sounds for heightened speech clarity.
Warranty: 2-Years for Unsurpassed Durability
Operating Frequency: Standard Band
Headset Weight: 28 Grams
Compatibility: Poly Amplifier, Adapter Audio Processor or Direct Connect Cable
Wearing Style: Over/In-the-Ear
POLY

SKU: 40203-14
UPC: 017229155909

HP

SKU: 8K781AA#AC3
UPC: 197497780000