You're Not Just On The Call, You're In It – Voyager Focus UC – Poly 202652-101 or HP 8M3V6AA#ABA
NOISE-FREE AUDIO QUALITY THAT MAKES YOU FEEL LIKE YOU'RE THERE — It's not always easy to get things done with so much going on around you, but the Poly Voyager Focus UC headset part # Poly 202652-101 or HP 8M3V6AA#ABA is here to help.
Calls with the Poly (formerly Plantronics) Voyager Focus UC headset feature conversation-focused sound, projecting your voice clear-as-day without background noise. Enjoy working to music? You're in luck, thanks to stunning, immersive audio.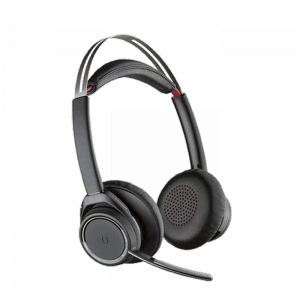 ---
Sound Control
GET GREAT SOUND AND BLOCK OUT NOISE — Revel in distraction-free calling, thanks to our active noise canceling (ANC) technology. And don't worry about unnatural and excessive noise blocking — expect the perfect balance for audio comfort.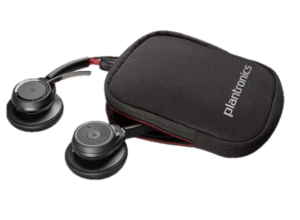 Pair this with Poly's legendary voice tech and you're in for an unparalleled experience.
---
Connectivity
CONNECT WITH EASE —  Offering seamless connectivity to your PC and smartphone, the Voyager Focus UC headset works the way you do. With up to 98ft/30m of wireless range, enjoy mobility while calls and music stay crystal clear, whether you're at your desk, in the conference room or in the kitchen.

---
Smart Mute
CONTROL YOUR MUTE WITH THE FLICK OF A WRIST — Master your conversations on the Voyager Focus UC with intelligent mute and built-in smart sensors. Easily mute/un-mute with the touch of a button, or simply by taking the headset off and putting it back on.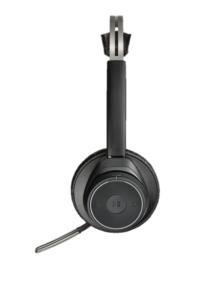 If you try to talk while you're muted, the Dynamic Mute Alert gives you an audible reminder. Convenient, right?
---
In Stereo
ENJOY HI-FIDELITY SOUND — Ready to crank up your music? Let's do this. The Voyager Focus UC headset delivers rich bass, crisp highs, and natural mid-tones in beautiful stereo.
It pauses the music whenever you take the headset off and resumes when you put it on. And thanks to a smart mic boom, your volume and track controls adjust automatically.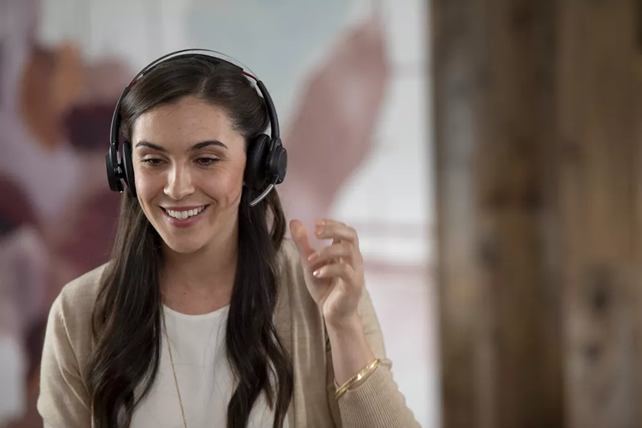 ---
Customize Voyager Focus UC
ADJUST THE SETTINGS TO MAKE IT YOURS — Get the most out of your Poly device with Poly Lens app. Keep software up to date, manage personal settings, use personal health and wellness reminders to stay focused and energized all day. Connecting to Poly Lens gives IT the ability to provide better service and support when you need it.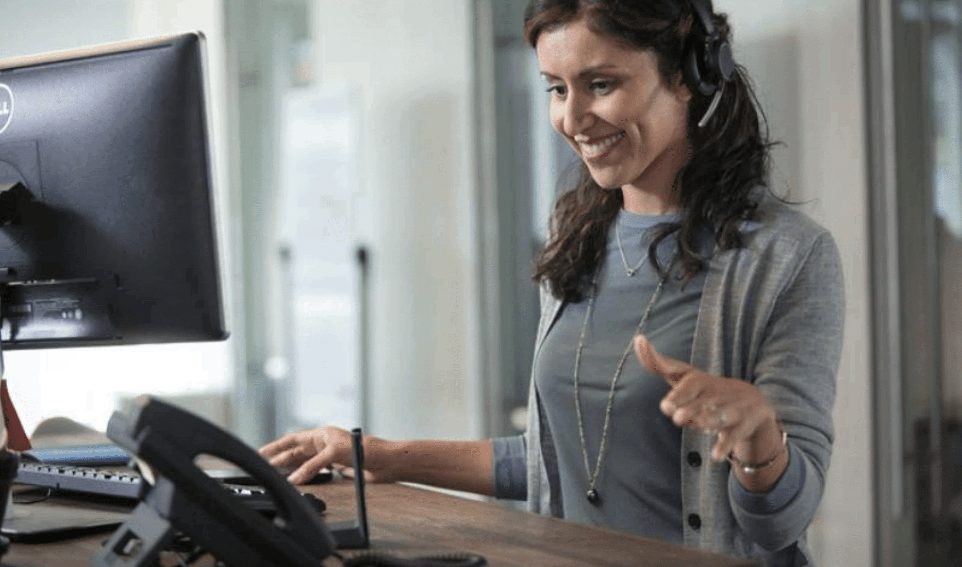 ---
Built For Compatibility
All Poly USB headsets and personal speakerphones are compatible with the most popular voice platforms – we just work. Poly solutions provide excellent audio quality for both you and those on the other end of the call – no matter your platform of choice.

Poly is certified (when offered) with all major communication platforms.
---
POLY LENS
INTELLIGENT INSIGHTS, SCALABLE MANAGEMENT —
Poly Lens software gives IT teams visibility and control over voice, video, and headset devices. Deploy, configure, update, and get valuable insights from one endpoint or thousands using one scalable platform. Poly Lens makes it simple: no heavy IT lifting required.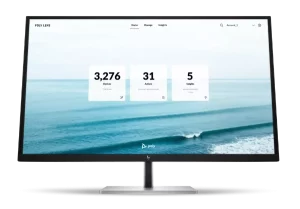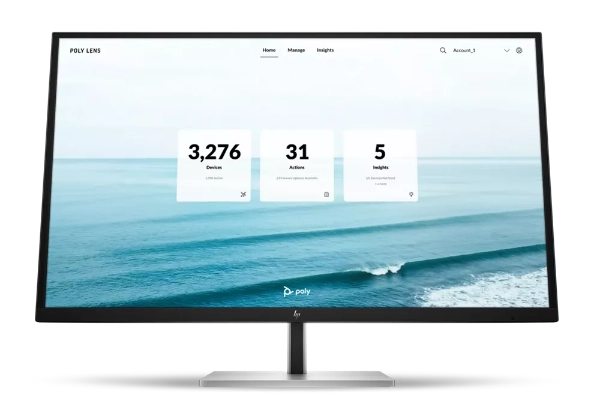 POLY LENS APP
DESIGNED FOR YOU — Get the most out of your Poly devices. Use one convenient app to manage all your compatible devices. Keep software up to date, manage settings, and use the personal health and wellness reminders to keep you focused and energized all day long. With the Poly Lens App, you can customize your devices to work the way you do.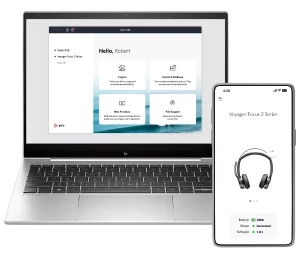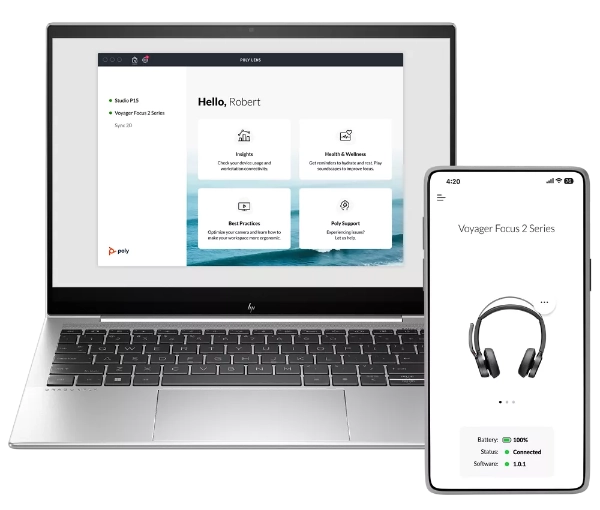 ---
Poly Voyager Focus UC Features:
USB dongle for PC & VoIP softphone applications
On-demand Active Noise Canceling (ANC)
12 hours of talk time (10 with ANC active)
15 hours of listening time (12 with ANC active)
Available in USB-A or USB-C
Headset weighs 155 grams
Up to 150 feet/45 meters of roaming range
Bluetooth v4.1
Automatic music play/pause when headphones are put on/removed
Voice alerts announce mute, connection, talk time levels and more
Cushioned metal headband for durability, comfort and a secure fit
Wideband voice, hi-fi stereo, A2DP, and DSP
Carry case included to easily stow for travel
---
Poly Voyager Focus UC Specifications:
GENERAL
Voyager Focus UC USB-A

POLY

SKU: 202652-101
Part # B825
UPC: 017229173392

HP

SKU: 8M3V6AA#ABA
UPC: 197497914764
Voyager Focus MS USB-A

POLY

SKU: 202652-102
Part # B825-M
UPC: 017229173408

HP

SKU: 8M3V7AA#ABA
UPC: 197497914771
Voyager Focus UC USB-C

POLY

SKU: 211709-101
Part # B825 USB-C
UPC: 017229173453

HP

SKU: 8M3W0AA#ABA
UPC: 197497914801

Warranty
Headset Weight
CONNECTS TO
Laptops via USB adapter
Bluetooth enabled desk phones, mobile phones, tablets, smart watches
IDEAL FOR
Mobile professionals w/ extensive PC/Mac and mobile communications in noisy environments

Featuring Active Noise Canceling (ANC) and smart sensor technology
TALK/LISTEN TIME
Talk time: Up to 12 hours (10 hrs ANC on)
Listening time: Up to 15 hours (12 hrs ANC on)
ROAMING RANGE
Up to 98 ft (30m) w/ adaptive power*
WIRELESS FREQUENCY
AUDIO PERFORMANCE
Active Noise Canceling (ANC)
Wideband (voice)
Hi-fi stereo
A2DP
DSP
HEARING PROTECTION
SoundGuard DIGITAL: Sound leveling for listening comfort and acoustic limiting for protection against sounds above 118 dBA
Anti-startle (during calls): Detects and eliminates any large sudden increase in signal level
Time-Weighted Average: Prevents average daily noise exposure from exceeding 85dBA
*Requires a Class 1 Bluetooth device