Poly (Formerly Plantronics)

EncorePro

HW710 Headset – Poly 78712-101 or HP 805H7AA#ABA
Look no further than the Poly EncorePro HW710 wired headset part # Poly 78712-101 or HP 805H7AA#ABA. With leatherette ear cushions providing you desire all-day wearing comfort and a telescoping noise-canceling microphone for optimal voice quality.
The single-ear version allows you to keep one ear open while comfortably speaking with your callers.
The noise-canceling microphone will reduce background noise, making it easier for your caller to hear your voice. Less information is misunderstood or a need to repeat important details like address and credit card information. This allows conversations to flow smoothly.
With wideband audio, you will take advantage of the latest in audio quality when paired with wideband telephones. This makes your conversations crisp and clear like nothing you've ever experienced before.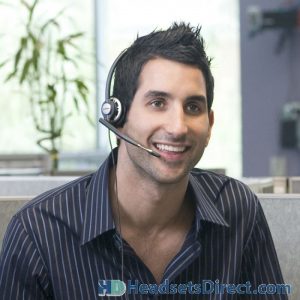 The headset ends in Poly's patented quick-disconnect connection.  This connection is what makes every H-series headset universally compatible for almost any application.
All you need is to determine the compatible amplifier or direct connect cable required for your device. Then simply plug them together and start communicating.  Common devices include multi-line business phones, computers, and PC's using soundboard and USB connections, or even tablets and smart phone.
The possibilities are unlimited for hands-free communications!
Truly the "Best of the Best" in commercial grade corded headsets
Freeing your hands for typing and writing increases productivity
Luxurious comfort means you'll forget you're wearing the HW710
Superior audio quality helps in never asking to repeat information
Quick-Disconnect cord allows you to easily walk away from your desk
Ultra light-weight design using premium nylon composite materials
Plush leatherette ear pads provide all-day comfort with the HW710
Reinforced, lightweight headband provides strength and durability
Extendable microphone ensure precise positioning
• FREE clothing clip included for better cord management
• FREE protective carrying case included
• FREE technical support with purchase
• Need help? Call us and talk to a Real Person!
---
Unprecedented comfort and clarity meets sleek design with the Poly HW710 EncorePro:
     + Premium materials
     + Wideband technology
     + Extendable microphone
SUPERIOR COMFORT AND LIGHTWEIGHT
Plush ear cushions and premium lightweight materials provide hours of comfortable wear.
Never before has a headset fit so comfortably that you'll routinely forget you have it on.  With the leatherette ear cushion and adjustable headset you're sure to find the perfect fit for all day wearing.
WIDEBAND AUDIO
High-frequency wideband support ensures crystal clarity during customer conversations with the Poly HW710.
Hearing better means never miscommunicating important information or needing to ask for something to be repeatedly.  Hear everything correctly the first time!

EXTENDABLE MICROPHONE
Ensures precise microphone positioning so customers hear every word. The noise-canceling microphone of the Poly HW710 extends and is low-sitting. This allows you to position the tip of the microphone at the edge of your mouth for perfect placement.
This allows your caller to hear your voice as it cuts down on background noise around you.
ADVANCED ERGONOMIC DESIGN
Provides superior balance, fit, comfort while wearing on either ear.
Having the flexibility of a headset to be configurable for either ear and also an adjustable headband sets the Poly HW710 far apart from would-be competitor headsets.
NOT SURE WHERE TO START?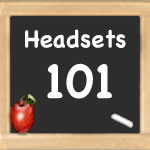 Check out our popular Headsets 101 – Ultimate Guide to Understanding Headsets. We update constantly to keep you informed on using the HW710 EncorePro and any other Poly or headset you're interested in.
With numerous pictures and detailed headset information, you will fully understand what connects where and what's needed for any application you may have.
---
Poly Headset Benefits:
Superior comfort and lightweight. Plush ear cushions and premium lightweight materials provide hours of comfortable wear.
Extendable microphone. The HW710 ensures precise microphone positioning so customers hear every word.
Advanced ergonomic design. Provides superior balance, fit, comfort and can be worn on either ear.
Choose your preferred fit:
– Single earpiece (HW710 Monaural) – can be worn on either ear. Lets you hear the conversation and what's going on around you.
Quick Disconnect™ feature lets you walk away from your phone while still wearing your HW710 EncorePro headset.
Adjustable clothing clip for cord management which removes weight and pulling from bottom cord.
Supports AudioIQ® and Clearline™ audio technologies.
Ensures precise listening level, sophisticated hearing protection and superior audio performance.
Warranty: 2-Years for Unsurpassed Durability
Operating Frequency: High-Frequency Wideband
Headset Weight: 53 Grams
Compatibility: Poly Amplifier, Adapter Audio Processor or Direct Connect Cable
Wearing Style: Monaural / Single Ear
SKU: Poly 78712-101 | HP 805H7AA#ABA

Formerly 78712-01 / HW291N

UPC: Poly 017229128361 | HP 197497173789
HW700 Series
---
Poly EncorePro

HW710 Insider Info:
TECH REVIEW
When we tested the Poly EncorePro HW710 headset internally, the first thing we noticed was it's high-tech, sleek design, and sturdiness.  It looks and feels like a premium headset before you ever put it on.
When placing the HW710 on your head, the leatherette ear cushion is pillow soft against your ear and feels like a tremendous upgrade over the standard foam cushion of other headsets.  Also, when using leatherette ear cushions, you will find they slide easily over your hair, where headsets with foam cushions tend to stick and tangle with your hair.
The HW710 headband is adjustable, allowing for a snug and secure fit.  As for the microphone of the HW710, it really sets itself apart from other headsets, because you can rotate the mic up and down, as well as telescope it in and out.
For optimal performance, you will want to rotate/extend the microphone so it's positioned ¼ of an inch away from the corner of your mouth.
The HW710 noise-canceling microphone uses multiple mics and electronically targets your voice while reducing background noise, so your caller hears your voice clearly over other background noise.
The cable is approximately two feet long and ends in a unique connection called a Quick Disconnect (QD).  The QD will need to plug into a compatible amplifier or cable, depending on your application.
When demonstrating the unit on live calls, the sound quality is amazing.  You get a richness, or fullness, in sound quality like no other headset can produce with the EncorePro HW710.
Being a premium model of the Poly family of EncorePro headsets, it will be more expensive, but if you spend more than a few hours a day on the phone, the extra expense will be well worth the investment, and you'll benefit for years to come.
---
HOW TO INSTALL
When installing the Poly EncorePro HW710, the first task is to properly fit it to your head.  Put the headset on with the ear cushion against your ear.
The opposite side of the headband is called the T-bar, or temple pad.  Position it above your other ear and adjust the headband by sliding it in to make it smaller or out to make it larger.
The microphone needs to be ¼ of an inch (the width of your finger) away from the corner of your mouth when using the HW710.  You can rotate the mic boom up and down, as well as pull the mic outward to extend for perfect positioning.
At the end of the headset cable you will find a connection called the Quick Disconnect (QD).  You will have a matching connection in which to plug the cable, located on your amplifier or cable, depending on compatibility and your application. Make a test call to ensure the unit is working properly.
Also, many users disregard using the clothing clip, when in actuality it plays an important role in making the headset appear very light weight.
By clipping it on or near your shirt collar, the weight of the lower portion of the cord stops at the clothing clip.  You will never feel pulling on the headset or the need to reposition it as you reach and stretch the lower cord.
---
HOW TO STORE
When storing, it's best to place the headband over a hook so it's not just setting on your desk, and this also keeps the cord hanging freely. If left on your desk, the cleaning crew can easily bump it and knock it to the floor, where the cord can find its way into the vacuum.
You also want to let the cord hang free and avoid tightly wrapping it, which over time will damage the internal wires.  We developed a headset hanger to affix to your monitor in an effort to keep you headset safe and out of harms way.  To view click HDI Headset Hanger.
---
HOW TO CLEAN
When cleaning , always use non-alcohol chemicals or wipes.  Using alcohol-based products over time will break down the cords making them very stiff and clumsy to use.
You will want to wipe all plastic components and cables, but avoid saturating any openings where electronic components are in close proximity. This will include the small holes in the speaker casing and at the end of the mic boom where the microphone is located.
The Poly HW710 comes with leatherette cushions, which can also be wiped or replaced as needed.  When cleaning your Poly EncorePro HW710 headset, avoid sticking anything into the end of the Quick-Disconnect connection where the four metal contacts are located. This connection is made to last, and more damage than good will come if you try to clean it.
---
WHO USES THIS MODEL
If you're wanting to purchase a Poly or Plantronics headset, this headset is made for a business professional or call center looking for the best possible quality in a wired headset.
With one ear covered and the other open, the headset keeps you in tune with what's going on around you and makes it easy to converse with others.
The noise-canceling microphone will cut down on background noise, making a great headset for louder environments.
It is priced approximately 30-35% higher than other mid range commercial-grade headsets, so a higher headset budget will be needed.