Poly MDA100 QD Switch for Headsets – Poly 205255-01 or HP 8A7E1AA
Simple to use, easy to manage. The Poly (formerly Plantronics) MDA100 QD Switch part # Poly 205255-01 or HP 8A7E1AA makes your transition to softphones and unified communications seamless.
These intuitive switches helps manage audio from different sources, without changing headsets.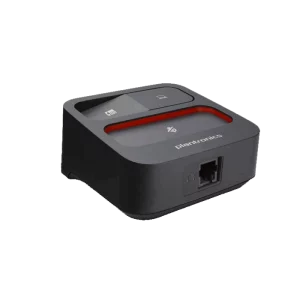 ---
Intelligently Simple
One headset for desk phone and PC calls or applications

Manage your audio from one simple-to-use device
Easy-to-use buttons
Visually see your microphone mute button status
Quick-Disconnect Cord allows you to walk away from your desk
10-foot cord allows users to move freely while on calls
---
Ready for the Future
6-position slide switch ensures long term compatibility with desk phone infrastructure
Works with any Poly H-Series headset
Compatible with PCs, Macs and all major deskphones and softphones supported by Poly Lens
---
Poly MDA100 QD Switch Specifications
Connects To
PCs
Desk phones
Poly H-Series Headsets
Ideal For
Customer service centers who are transitioning from desk phones to softphones and unified communications (UC)
Users are required to manage audio from two sources with a single headset
MDA100 QD Switch Compatibility
EncorePro 300 Series
EncorePro 500 Series
EncorePro 700 Series
Softphone Compatibility
Built for UC applications and softphones from

Microsoft
Avaya
Cisco
Others
Audio Performance
General
Model: MDA700 QD
2 Year Warranty
Poly SKU: 205255-01
Poly UPC: 017229152366
HP SKU: 8A7E1AA
HP UPC: 196337155381
---
What comes in the box:
MDA100 QD Switch
10 ft coil QD cable (26716-01)
RJ9 to desk phone cable (207966-01)
USB to Micro-USB PC Cable (207967-01)
---
Poly MDA100 QD Switch Compatibility Settings:
The bottom of the MDA100 QD has a slide switch with letters A-F. Research your phone's natural Direct Connect Cable for correct compatibility setting.
Compatibility Slide Switch
U10
A-10
U10P
HIS
U10P-S
HIC