Headsets for Yealink Phones – Everything You Need to Know

Headsets for Yealink Phones
Headsets for Yealink phones can help you be more productive and more comfortable during your calls. Yealink is a leading VoIP/IP telephone manufacturer and has done an excellent job integrating telephone headset usage into their standard Yealink desk telephones. Numerous headsets are compatible with Yealink telephones, but finding the correct amplifier or direct connect cable is the key to getting a headset to work properly.
The following guide will explain the compatible equipment you need, including many pictures to simplify the process of finding a Yealink headset for your application.
Last Updated –  October 2023

---
Headsets for Yealink Phones as easy as 1-2-3

---
Understanding This Guide and Headset Connectivity (3 minutes):
---
Step 1: Decide Between 

Wireless

Headsets and Wired Headsets
Wireless Headset Advantages:
More Productive Taking Calls Where You Need To Go
Remote Call Alerts
Answer/Hang up Remotely
No Wires to Manage/Trip Over/Limit Reach
More Advanced Technology/Audio Features Than Corded
Wired Headset Advantages:
Less Expensive Than Wireless
No Batteries/Charging
Simple to Setup and Use
---
Step 2: Understanding Headset Components When Using Yealink Phones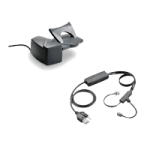 Wireless Headsets for Yealink Phones:
***YEALINK PHONE MUST BE FIRMWARE V86 (V15 for Teams) OR HIGHER FOR YEALINK WIRELESS HEADSETS***
Business grade wireless headsets come in many different wearing styles, with different talk-times (battery life), covering different distances, and technological features. Once you choose the style, talk-time and distance to cover your needs you will have everything you need for basic operation.
The ability to answer remotely with a push of a button on the headset is a benefit most companies opt for. If you purchase Yealink headsets for your Yealink phones, this ability is built in. Nothing additional is required. If you choose Poly or Jabra products, an additional EHS cable (Electronic Hookswitch) or handset lifter will need to be purchased. See our Compatibility Chart below for necessary items.
KEY POINT: Remote call alerts and answering/hanging up remotely are built into Yealink headsets, but Poly and Jabra headsets require an EHS cable or lifter.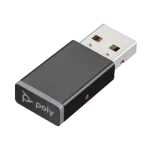 KEY POINT: Newer Yealink phones have USB ports and will allow remote alerts and answering/hanging up without an EHS cable or lifter.
To determine EHS cable/lifter options, use our Yealink Headset Compatibility Chart below. For more info visit: Wireless Yealink Headset Solution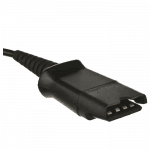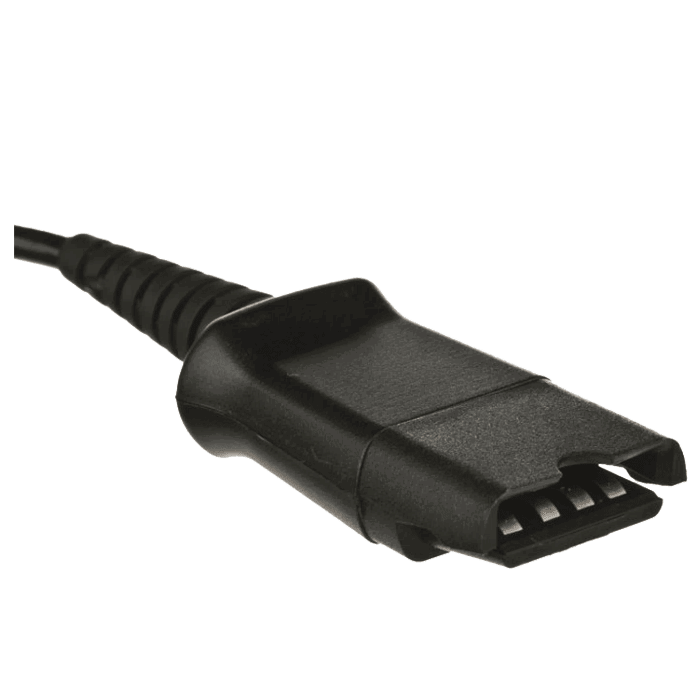 Wired or Corded Headsets for Yealink Phones:
Business grade corded headsets come in many different wearing styles and technological features. You choose the style and features you need to best suit your personal preferences (headband, neckband and ear models) and environment (dual ear and noise canceling capabilities). These headsets will have a Quick-Disconnect at the end of the cord that will connect to a Direct Connect bottom cable or amplifier. Many newer phones with a USB port will now support use of headsets with USB connections.
KEY POINT: A corded headset requires a Direct Connect cable or amplifier
KEY POINT: Newer Yealink phones have USB ports and will allow headsets with USB connections to work perfectly.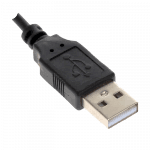 Numerous Direct Connect cables are available, each made for specific phone models. Amplifiers provide the best audio, and are more universal allowing customization of microphone and speaker volumes. To find which Direct Connect cable or amplifier you need for your specific Poly phone, use our Yealink Headset Compatibility Chart below. Combining a headset with a compatible Direct Connect cable or amplifier will provide you with everything you need. For more info visit: Wired / Corded Yealink Headset Solution
KEY POINT: Yealink corded headsets come with the Direct Connect cable
KEY POINT: Poly & Jabra headsets will need a compatible Direct Connect cable purchased separately
---
Step 3: Most 

Common

 Solutions – Add to Cart and You're Good To Go!
Wireless Headset Solutions:
***YEALINK PHONE MUST BE FIRMWARE V86 (V15 for Teams) OR HIGHER FOR YEALINK WIRELESS HEADSETS***
---
Wired or Corded Headset Solutions:
---
Yealink Headsets Compatibility Chart
Information below is provided by the manufacturers and subject to change without notice
We are not responsible for any errors or omissions
NOTE 1: Yealink USB Dongle BT40 (purchased separately) is required for Bluetooth operation.
Update 4/23/20 Yealink has discontinued the BT40. The replacement is the Yealink BT41.
NOTE 2: An EHS module is available from Yealink that supports electronic hook switch control and removes the need for HL10 lifter.
NOTE 3: You can use two headsets when dual headset feature is enabled.
To use this feature, you must physically connect headsets to the headset jack and handset jack respectively.
Once the phone connects to a call, the headset connected to the headset jack will have full-duplex capabilities,
while the one connected to the handset jack will only be able to listen.
              To enable dual headset via web user interface:
               1. Click on Features->General Information.
               2. Select Enabled from the pull-down list of Dual Headset.
               3. Click Confirm to accept the change.
TECH TIP:  Models T19P, T21P, are not in the guide but are similar in design.  They support a headset jack but NOT an EHS adapter.
TECH TIP: We have experienced EHS cables initially not answering remotely, and you need to be at your phone to press the headset button to establish a call.  To resolve this issue:
1) Unplug the EHS cable from the wireless base and telephone.
2) Unplug the power cord from the base and wait 60 seconds.
3) Plug the power cord back into the base and wait for the power indicator lights to come on.
4) Plug the EHS cable into the wireless base and telephone.
That should resolve the issue, and it is now ready for use.
Yealink EHS36 Installation & User Guide
NOTE 4: T55A/T56A/T58A/VP59/MP54/MP56/MP58 supports EHS40 after a firmware update released May 2020.
NOTE 5: Jabra USB/Bluetooth headsets using the LINK 380 USB Dongle are not compatible options. However, connecting using the Link 950 and compatible EHS cable via telephone RJ9 port will be compatible.
---
Headsets for Yealink Phones in Detail
Wireless Yealink Headset Solution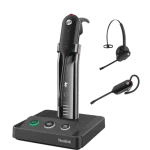 Yealink Wireless Headsets
The WH6 series offers wireless headsets that integrate directly with most Yealink phones, and allow remote answering/hanging up without the need for an additional EHS (Electronic Hookswitch Cable). You can choose between WH62 headband models for better audio and performance, or the WH63 convertible model for multiple wearing option and extremely light-weight.
Poly & Jabra Wireless Headsets
Poly and Jabra deskphone series of headsets will have a standard version that connects only to your Yealink phone. These headsets work well if your only mode of communicating within the office is through your Yealink phone. You will choose between different wearing styles, battery life and roaming distance.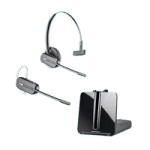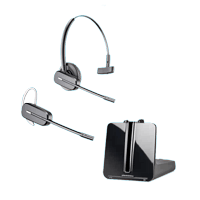 Within the deskphone series you will find headsets that also connect to your PC and/or Bluetooth phone. This allows you to keep one headset charged and ready for use no matter what device someone tries to contact you at. This is a great convenience, combining what normally takes three headsets into one. If you need to join a webinar or listen to online training, you simply press the PC button on the base, and your headset becomes your audio device for your PC instead of blasting the office with your external speakers. The headset is also there for use with your mobile phone. Some models will only connect to your mobile phone while in the office, while others will allow you to travel and use outside of your office. The headset base is what's upgraded to support other communication points (PC & Mobile Phone).
With both Poly and Jabra solutions you can also gain remote answer/hang-up capabilities with an optional EHS cable or handset lifter.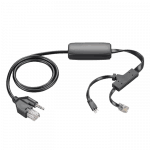 Poly & Jabra Wireless Headset Remote Capabilities
Wireless headsets for Yealink phones give you freedom, and adding a Poly or Jabra EHS (Electronics Hookswitch) cable or Handset Lifter provide greater productivity by allowing you to answer and hang up calls remotely. Both will sense when your phone is ringing and will generate beeps in your headset to alert you to an incoming call. If you choose to take the call, simply press the Call Control Button on your headset to answer the call. Your phone answers the ringing line, and you can begin talking. When finished, simply press the Call Control Button again to disconnect the call. You will need to return to your phone to press the appropriate buttons to dial, transfer a call, or to perform any other phone functions.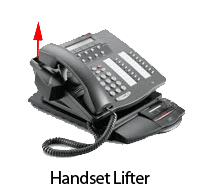 The Handset Lifter is used on most older phones, physically raises and lowers your telephone's handset, simulating you answering a call. The EHS cable electronically establishes calls on phones without the mechanical motor and physical movement of a handset lifter, but otherwise accomplishes the same thing. Having the ability to answer remotely greatly increases your productivity.  You can answer away from your desk and carry on conversations wherever you need to take them. It also allows you to answer calls that would have normally gone to voice mail. This saves you a tremendous amount of time playing phone tag with customers or co-workers.
---
Wired / Corded Yealink Headset Solution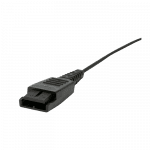 Quick Disconnect Connection
Business-grade headset solutions for Yealink phones require two items; the headset and either a direct-connect cable or amplifier. Headsets, amplifiers and direct connect cables all join together by using a quick-disconnect connection.
This connection allows you to leave your headset on at all times and quickly disconnect from the direct-connect cable or amplifier when you need to walk away from your desk. This connection also allows the use of Y-Training cords when side-by-side training is required. Yealink, Poly and Jabra all have unique quick disconnect connections that don't interconnect with each other.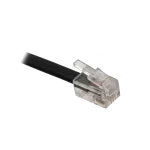 Direct-Connect Cables and Amplifiers
The direct connect cable or amplifier will terminate with an RJ9 telephone modular plug, connecting into the back of the phone, typically labeled with a headset.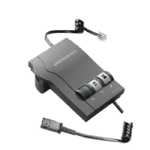 Yealink configured many of their phones to have the amplifier built into the telephone. This eliminated the need for an amplifier and allowed a less expensive direct-connect cable to be used with headsets. The only negative to using a direct connect cable is you lose your ability to control your outgoing voice volume. Although more expensive, an amplifier will always provide the best possible audio, provide compatibility to most phones, speaker volume, microphone volume and mute capabilities.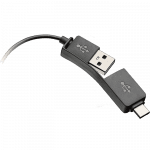 Phones with USB Connectivity
Many newer Yealink phones will also support USB direct connect connections. Headset ports and USB ports will sound and function exactly the same, making the choice of connection purely up to convenance and possible use with other devices.
---
Special Programming for Polycom Headsets (updated 8/3/2022):
Programming Phone for Remote Headset Ringing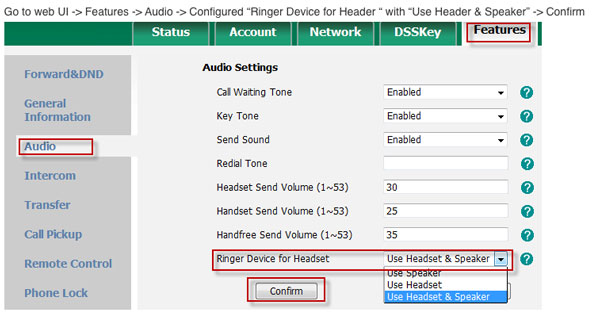 For use with: VP59,SIP-T57W,SIP-T54W,SIP-T53W,SIP-T53,SIP-T48S,SIP-T46S,SIP-T42S,SIP-T41S,SIP-T40G,SIP-T40P,SIP-T29G,SIP-T27G,SIP-T23G,SIP-T23P,SIP-T21(P) E2,SIP-T19(P) E2,SIP-T28P,SIP-T26P,SIP VP-T49G,SIP-T48G,SIP-T46G,SIP-T42G,SIP-T41P,SFB-T58A,SIP-T58A