Talk and Receive Calls Everywhere with the Yealink EHS61 Adapter
The advanced Yealink EHS Headset Adapter | EHS61 provides a technical interface between your Yealink DECT headset and a compatible deskphone (Mitel/Unify/Yealink T2x & T4xG).
The unit is easy to install. Its plug-and-play effectively allows you to remotely control your phone calls, including answering, hanging up, holding, and adjusting the volume.
The Yealink EHS61 has been especially designed to ensure maximum productivity in business applications such as receptions and call centers, and is an ideal choice for the Corporate, Financial, Health, Governmental, Educational, Industrial, and SME/SoHo market sectors.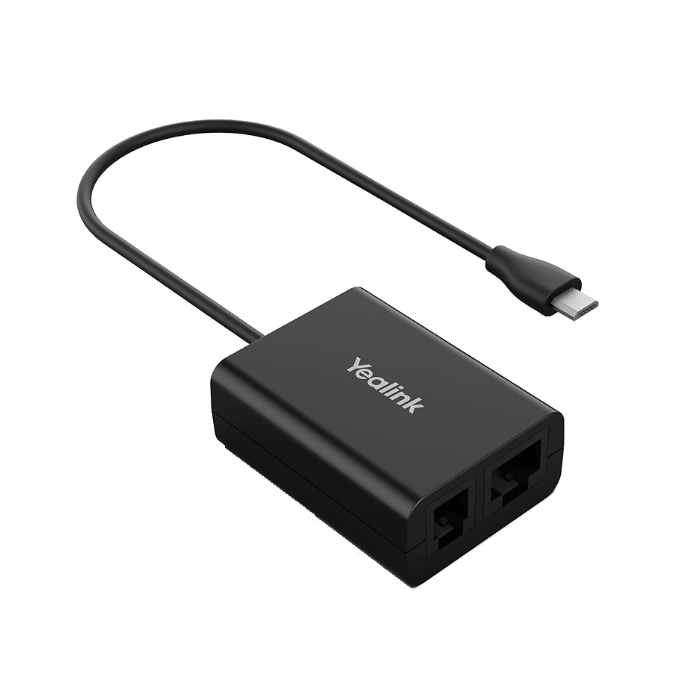 ---
Yealink EHS Adapter Required New Versions of WH62 & WH63 | EHS61 Notes
Only the new hardware of WH62 and WH63 support the EHS61. There are two ways to determine new hardware:
"EHS61 Supported" is marked on the box:
The base of the headset is marked with EHS61 Supported and a V1 logo:
---
EHS61 Adapter Phone Connections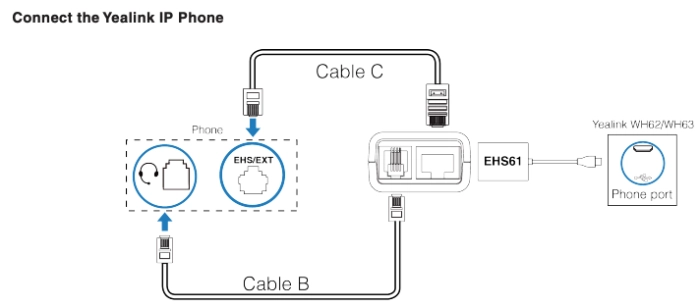 ---
Main Features
Compatible with Yealink wireless headsets (newer versions of WH62/WH63)
Perfectly compatible with Mitel/Unify/Yealink T2x/T4xG IP phones
Plug-and-play
Incoming calls are signaled in the headset earpiece
Control calls through remote wireless headset:

Answer calls
End calls
Adjust volume
Physical Features
1 x Micro USB port for Yealink wireless headset (WH62/WH63), cable length 20cm.
1 x TR9-5 (8 pins) to RJ9 (4 pins) & TR9-5 (8 pins) to RJ45 (8 pins) cable to connect Mitel & Unify phones, EHS61 and headset port through the included cable.
1 x RJ9 (4 pins) to RJ9 (4 pins) & RJ45 (8 pins) to RJ12 (6 pins) cable to connect the Yealink desk phone and EHS61 through the included cable.
---
Phone Model Compatibility
Mitel
5370, 5380
5370ip, 5380ip
6735i, 6737i, 6739i
6753i, 6755i, 6757i, 6757i CT
6771, 6773, 6775
6773ip, 6775ip
6867, 6869
6865i, 6867i, 6869i
6920, 6930
7434ip, 7444ip
Unify
OpenScape IP35G/55G
OpenStage 30, 40, 60, 80, 410, 420, 500, 600
CP400 SIP, CP600 SIP, CP700 SIP
CP600E SIP, CP700X SIP
CP110, CP210
CP400T, CP200T
Yealink
T27G, T29G
T40P, T40G
T41P
T42G
T46G
T48G
T49G
---
Included in box
EHS61
Cable A (for connecting Mitel & Unify phones)
Cable B (for connecting Yealink desk phones)
Cable C (for connecting Yealink desk phones)
User Guide