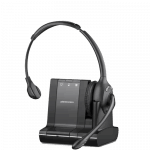 For Savi 700 series model information:
Plantronics W710 – Single-Ear Wireless Headset
Plantronics W720 – Dual-Ear Wireless Headset
Plantronics W730 – Over-the-Ear Wireless Headset
Plantronics W740 – Convertible Wireless Headset
Answer a Call:
The easiest way to answer an incoming call from the desk phone, mobile phone, or computer is to press the headset call button when you hear an incoming call.  Alternatively, you can answer an incoming call by pressing the base button for the line that is ringing.
If you don't have remote call control through a lifter (HL10) or cable (EHS), manually remove desk phone handset before each call.  Remote answer/end capability for the PC is a software feature and dependent on a compatible softphone.  If you do not install the software or don't have a compatible softphone, you will need to press the headset call button first then answer the call using the softphone application.  The Plantronics software can be downloaded at Plantronics Downloads & Apps.
Flash – Answer a Second Incoming Call with your Headset:
If you are on a call and a second call comes in from one of the other devices, you can "flash" (answer) to the second call by pressing the headset volume up button for 1.5 seconds.  This will put the first call on hold while answering the incoming call.  You can flash to answer multiple incoming calls from the PC, however only one call is supported at any given time on the mobile phone or desk phone.  You will need to manage multiple calls on the desk phone or mobile phone on the devices themselves.
Important: Flashing does not allow you to answer multiple calls at a time on a telephone, for example you can't answer line 1 and then flash to line 2, etc.  You have to either hang up or go back to your phone to put on hold, transfer, etc. It's for calls from multiple devices.
Answer a Call While Listening to Music or Audio:
If you are listening to music on a supported media player and a call comes in, the base will pause the music when you answer your call and resume the music when your call is over.  Plantronics software must be installed for this feature to function.  The Action to Media Player settings are defined in the preference tab of the Plantronics Control Panel.
Answer a Call with Your Mobile Phone:
If you answer an incoming mobile call using the answer button on the mobile phone, the audio will remain in the phone.  If you answer an incoming call using the headset or base, the audio will be in the headset.
Reject a Mobile Call:
When you receive an incoming mobile phone call, the mobile on the base will flash green.  To reject the call, hold the base mobile button down for 3 seconds.