Power Through The Noise With Savi 8210 Office
Hearing every word clearly on a work call isn't just a nice-to-have. It's a must-have. With the Poly Savi 8210 Office wireless headset, everyone can tune out noise and stay focused. Looking stylish and feeling comfortable is inevitable. Having the freedom to roam and talking a long time on a single charge means work gets done. Even away from the desk.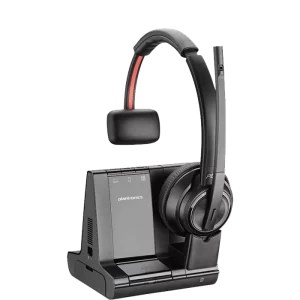 ---
Flexible — Multiple Connectivity Options
Today's enterprise and contact center professionals work on a range of devices—from PCs and Macs to mobile phones and desk phones. Savi 8210 Office headset bases have 3-way connectivity—computer, desk phone and mobile phone—for convenient conferencing on up to two devices at once.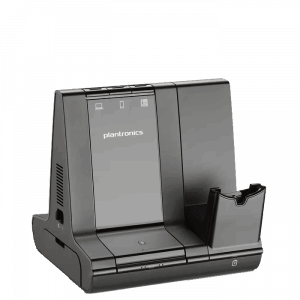 ---
Stay Charged — Take The Savi 8210 Office Further
The Savi 8210 Office headset is ready when needed with up to 13 hours of talk time on a single charge. Everyone can move, multitask and get more done. Convenient voice prompts notify them of mute status, wireless range limit and more.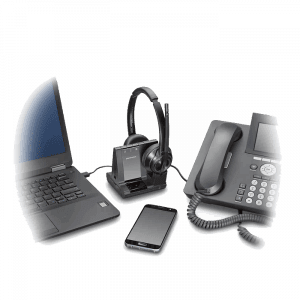 ---
Savi 8200 Office & UC Series Headsets Offer More Choices — Better Adoption
Some people like a stereo headset. Some lean towards mono. Others prefer to keep their options open. The Savi 8200 Office & UC Series headsets are real crowd pleasers—with mono, stereo and convertible options. For training and group collaboration, people can conference up to four headsets onto a single base.
---
Poly Lens – Intelligent Insights, Scalable Management
Poly Lens software gives IT teams visibility and control over voice, video, and headset devices. Deploy, configure, update, and get valuable insights from one endpoint or thousands using one scalable platform. Poly Lens makes it simple: no heavy IT lifting required.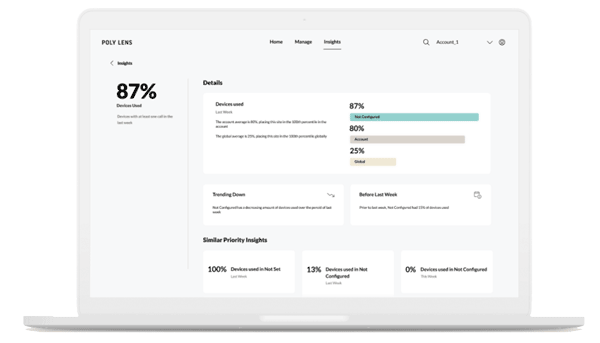 Poly Lens APP – Designed For You
Get the most out of your Poly Savi 8210 Office Wireless Headset devices. Use one convenient app to manage all your compatible devices. Keep software up to date, manage settings, and use the personal health and wellness reminders to keep you focused and energized all day long. With the Poly Lens App, you can customize your devices to work the way you do.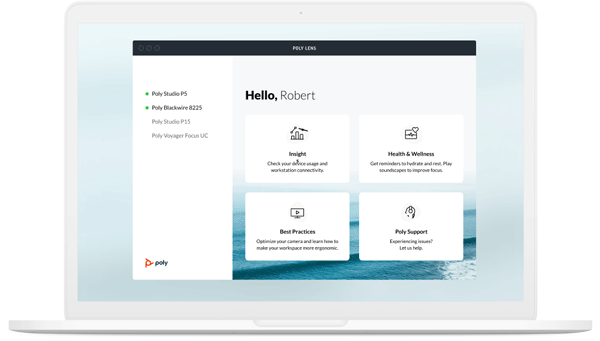 ---
Built For Compatibility
All Poly USB headsets and personal speakerphones are compatible with the most popular voice platforms – we just work. Poly solutions provide excellent audio quality for both you and those on the other end of the call – no matter your platform of choice.

---
Poly Savi 8210 Office Headset Features:
Seamless management of PC, mobile and desk phone calls.
Noise canceling microphone with close conversation limiting
One-touch controls — Call answer/end, volume up/down and mute (on/off)
Voice alerts for mute status and out of range
Adaptive power system allows you to automatically downshift to low power when the headset is close to the base to save battery life and maximize density
Flexible microphone boom to optimize voice quality
Conference two of your three devices together— PC to desk phone or mobile to PC
Ringer in the base with volume controls (off, low, medium, high)
Limit the transmission of nearby conversations with the close conversation limiting feature (configurable in Poly Lens)

2-Year Warranty
UC Version
Part# S8210 also 8210 also W8210 also S8210 CDM
POLY

SKU: 207309-01


UPC: 0017229163393

HP

SKU: 7S445AA#ABA
UPC: 197497168921

Savi 8200 Series
Microsoft Teams Version
Part# S8210-M also 8210-M also W8210-M also S8210-M CDM
POLY

SKU: 207322-01
UPC: 017229163430

HP

SKU: 7S447AA#ABA
UPC: 197497168945

Savi 8200 Series
---
Poly Savi 8210 Office Headset Specifications:
Talk/standby time
Up to 13 hours talk, up to 50 hours standby time
Headset wireless range
Up to 590 ft/180 m (line of sight); 180 ft/55 m (typical office environment)
Battery capacity
Battery type
Rechargeable
Replaceable
Lithium ion polymer
Poly Savi 8210 Office Wireless Headset Charge time
Wireless technology
Bluetooth v4.2 (Savi 8200 Office)
Audio profiles
Advanced Audio Distribution Profile (A2DP)
AVRCP
Bluetooth Hands-Free Profile (HFP)
Bluetooth Headset Profile (HSP)
Codecs
G726, G722, Broadvoice32, OPUS/CELT 16kS, OPUS/CELT 48kS
Receive frequency response
Full-band stereo media audio 20 Hz-20 kHz
Wideband stereo telephony 100 Hz-6.8 kHz
Speaker sensitivity
Speaker impedance
Speaker size
Hearing protection
SoundGuard DIGITAL: protects against sound levels above 118dBA;
G616 anti-startle (during calls) detects and eliminates any large sudden increase in signal level
Time-weighted average prevents average daily noise exposure from exceeding 85dBA.
Microphone technology
Noise canceling with close conversation limiting
Microphone frequency response
Headset weight of the Poly Savi 8210 Office Wireless Headset
Call controls
Call answer/end
Mute
Volume +/-
Power on/off
Voice Alerts
Included headset base
All-in-one base combines charger with 3-way connectivity to computer, desk phone and mobile phone
Application supported
Warranty
---
What Comes In The Savi 8210 Office Box:
Poly Savi 8210 Office headset
Base unit
Micro to USB PC cable
A/C charger and pins
Charging cradle
Telephone Interface cable