Poly APN-91 EHS Cable (NEC) – Poly 89280-11 or HP 85Q59AA
The Poly (formerly Plantronics) APN-91 Electronic Hook Switch (EHS) cable part # Poly 89280-11 or HP 85Q59AA communicates electronically with your desk phone giving your wireless headset call control. The APN-91 allows ring alerts to sound in your headset as well as answer and end calls remotely.
This cable eliminates the need for a HL10 handset lifter. This cable works with NEC desk phones.
Poly has several EHS adapters, each being unique to a specific telephone and wireless product.
We strongly suggest confirming compatibility with us before purchasing.
TECH TIP: EHS Compatibility/Installation Guide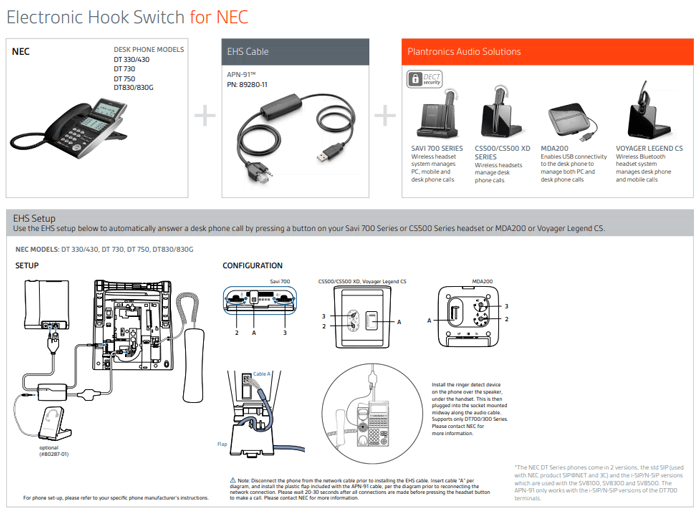 ---
Poly APN-91 Compatibility:
Headset Compatibility
CS500 Series

Current: CS540, and all -XD variants
Discontinued: CS510, CS520, CS530

Savi Series

Current: 7210, 7220, 7310, 7320, 8210, 8220, 8245, and all -M variants
Discontinued: W710, W720, W730, W730, W740, W745 and all -M variants
Supports Hookswitch on revision >5.1

Voyager Series:

Office: 4210, 4220, 4245, 5200 and all -M variants
USB: When used with Voyager Office Base and all -M variants
Supports Hookswitch on revision >5.1
NEC Phone Compatibility:
NEC DT330, DT430
DT730, DT750 (only compatible with the i-SIP/N-SIP versions of the DT700 terminals),
DT830, DT830G DTL-12D
DTL-24D, DTL32D, DTL-8LD
---
Poly APN-91 EHS Specifications
Model: APN-91
Poly SKU: 89280-11
HP SKU: 85Q59AA
Warranty: 1 year