BETTER CONNECTION, BETTER UC PERFORMANCE
For a headset to be UC-certified, most UC vendors require superior connectivity, which is guaranteed by a Bluetooth adapter. Jabra Link 380 Bluetooth adapter is available in two variants, one for Microsoft Teams-certified devices and one for UC-certified devices. So whatever platform you're using, you can be sure you're getting the gold standard in connectivity.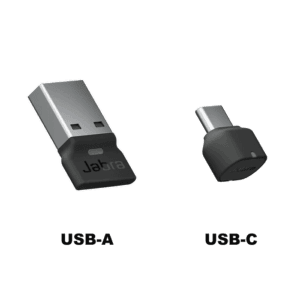 ---
THE FREEDOM TO ROAM
You need a stable wireless connection if you want to be able to walk and talk. Without a Bluetooth adapter, your device's connection might get patchy over a relatively short distance. Jabra Link 380 is discreet and flexible, giving you maximum mobility and freedom of up to 30m/100ft wireless range. Enjoy multiple device pairing and a design that doesn't add extra load to your laptop.
---
MAXIMUM CONTROL, MINIMUM EFFORT
Technology is better when it's easy to use. Jabra Link 380 is plug-and-play – no need to install separate software drivers. It's easy to manage through Jabra Direct, so you can push over-the-air software updates to all users in an instant, and there's even a handy LED light which tells you the status of the headset, whatever computer or software you're using.
---
SOUND THAT WON'T LET YOU DOWN
Whether you're sitting at your desk or not, your sound quality shouldn't change. With A2DP Bluetooth 5.0 profile and HD Voice, Jabra Link 380 gives you rich sound quality, even when you're away from your computer, allowing you to enjoy crystal-clear conversations and stream music in incredible HiFi sound quality. Link 380 keeps your headset sounding great, whatever you're doing.
---
Jabra Link 380 Technical Specifications
UC Versions
USB-A: 14208-26 / Jabra Link 380a UC
USB-C: 14208-25 / Jabra Link 380c UC
Microsoft Teams Versions
USB-A: 14208-24 / Jabra Link 380a MS
USB-C: 1420822 / Jabra Link 380c MS
General info
Box content: Jabra Link 380 Bluetooth adapter (UC or MS), Paper bag, Leaflet
Weight: USB-A: 4.3 g/0.151 oz | USB-C: 4 g/0.151 oz
Material: PC/ABS
Certifications:

Certified for all Unified Communications-leading platforms (UC version)
Certified for Microsoft Teams (MS version)

Warranty: 1 year
Jabra Model Number
Ease of use
Visual indicators: Multicolor LEDs indicate pairing, connection and on-call status plus other details
Connectivity
Officially supported devices: Jabra Evolve: 65, 65e, 65t, 75, Evolve2: 65, 75, 85, Speak: 710, 510
Connection (computer & mobile devices): Bluetooth/USB 2.0 type A or type C plug
Softphone support (call control): Refer to www.jabra.com/compatibilityguide for latest information
Deskphone (USB) support: Not Supported
Wireless technologies
Bluetooth standard: Bluetooth 5.0 – Bluetooth Low Energy (BTLE)
Wireless range:

Up to 30 m/100 ft (when paired w/ a Bluetooth wireless technology class 1 device)
Up to 10 m/33 ft (when paired w/ a class 2 device)

Simultaneous Bluetooth connections: 2 (Up to 8 Jabra devices remembered in the pairing list. Can be cleared with Jabra Direct)
Bluetooth audio bandwidth: Narrowband, HD Voice, A2DP
Supported Bluetooth profiles: HFP 1.7, DIP 1.3, A2DP 1.3.1, AVRCP 1.6.0
Software support & compatibilities
Settings and firmware update: Compatible with Jabra Direct for Windows and Mac.
OS Compatibility (as audio device): Windows 7 32-bit and 64-bit. Windows 8.1 32-bit and 64-bit, Windows10 32-bit and 64-bit – MAC OS X – Opensuse Leap 64bit latest version – Ubuntu 64bit latest version – eLux latest version – HP ThinPro latest version
Extended info
Operating temperature: -10° C to +60° C/14° F to 140° F
Storage temperature: -10° C to +65° C/14° F to 149° F
---
What the LED is indicating on the Jabra Link 380 Adapter: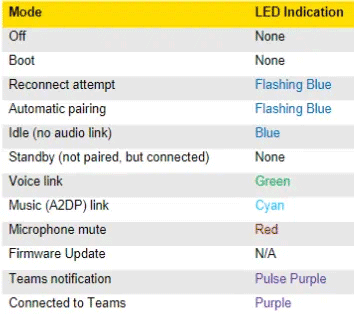 ---
How to pair the Jabra Link 380 adapter using Jabra Direct?
Prerequisites
Jabra devices that include the Jabra Link Bluetooth adapter have been pre-paired out of the box.
To pair an additional Jabra device with the Jabra Link Bluetooth adapter, or to re-pair a Jabra device with the Jabra Link Bluetooth adapter, follow these steps.
Insert the Jabra Link Bluetooth adapter into a USB port on your computer.
Make sure the Jabra Bluetooth device is turned on and within range.
Put the Jabra Bluetooth device in pairing mode (as you would do when pairing it with a mobile device).
Open Jabra Direct.
Click Bluetooth.
In Available Bluetooth devices, click Search.
The device that you want to pair with the Jabra Link Bluetooth adapter will be displayed in Available Bluetooth devices.
Click Connect to pair.
The paired Jabra Bluetooth device will then be displayed in Paired devices.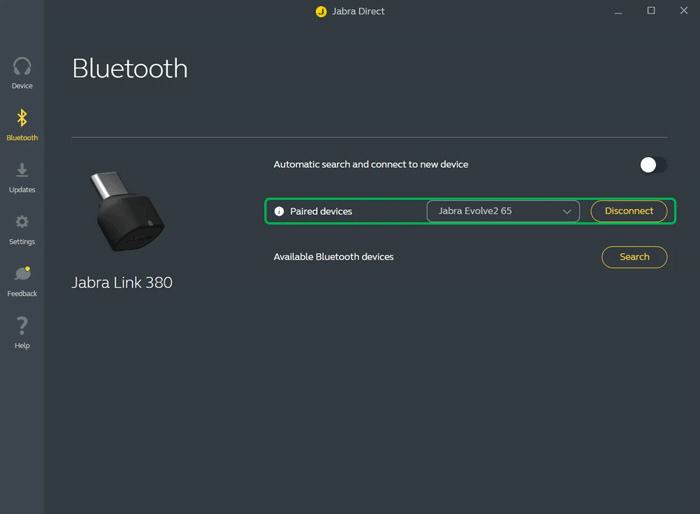 Note
You may need to select the Jabra Link Bluetooth adapter as the playback and recording device in the audio settings of your computer before you can use the newly paired devices with the computer.
Images and text are for guidance purposes only. Actual images and text may vary depending on the connected device and updates to the software.