Replacing the Plantronics CT12 with the Plantronics CT14 cordless telephone headset
Problem: Several years ago I purchased a Plantronics CT12 cordless headset phone that I use in my home office and I love it. However, my CT 12 is getting old, and I am considering getting a two line phone for my office. Is there a unit similar to mine that will work with a two line phone?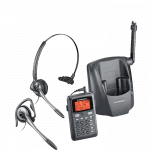 Solution: Well, I have both good news and bad news for you. The good news is that Plantronics developed an updated cordless headset phone called the CT14. The Plantronics CT14 cordless telephone provides the user with about 300 feet of roaming distance (the size of a football field), compared to the older units with only 150 feet of roaming distance. Plus, it has been upgraded from a 2.4 GHz frequency to the 1.9 GHz voice dedicated 6.0 DECT technology, which means less chance of interference. In addition, our new improved cordless headset phone provides twice the talk time as the older CT12 model! The Plantronics CT14 cordless telephone offers the ability to place your caller on hold and use Call Waiting, Caller ID and Telephone Messaging, providing you subscribe to those services through your phone company. If you have these features, you may not need that second phone line. Plantronics also improved the design of the mobile phone pad that you clip to your waistband or belt. You will find the display is easier to read, the buttons on the dial pad are a little larger and the clip on the back of the phone pad is sturdy, but smooth, offering a more comfortable and secure fit.
The bad news for some of our customers is that the CT14 is designed specifically for single line phone systems. There is only one multi-line phone system that the CT14 cordless headset phone is compatible with, and that is the Avaya Partner phones. If you happen to have an Avaya Partner multi line phone system, this unit works just great with it, and the price is very reasonable for the convenience of being totally mobile. There are two features that the CT14 does not have that the CT12 did: (1) the CT12 came with a "Firefly Headset" so the tip of the microphone would light up to let people know you were on the phone and (2) it also offered a speed dial feature. Although the CT14 does not have speed dial, you can put approximately 70 contacts in the CT14 dial pad phone book. Consequently, if you have been happy with the CT12 you should be quite impressed with the CT14, because you are doubling your roaming distance and talk time, plus the new design makes it even easier to use! For more information on this, or other options for home office use, call Headsets Direct at 800-914-7996 and one of our customer service specialists will be happy to help you.