One of the great features you'll want to be sure and use with your Savi WO200 wireless headset is its ability to add up to 3 additional headset users to a call.  Think of it as a conference call with headsets but instead of everyone hoovering around a telephone that's on speaker, you can now use Savi headsets and have perfect volume levels while you and your staff are hand-free, roaming your office and collecting information as need for your call.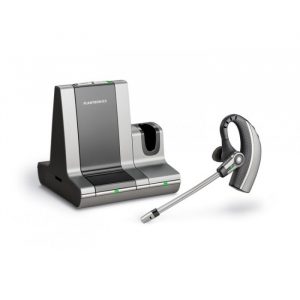 Step 1 – Start your call on your WO200 (This will be the master headset).
Step 2 – Place a 2nd WO200 into your bases charging cradle.
(If using a different Savi model, on the guest Savi headset, press the headset Volume Button Up "+" for 3 seconds until the Indicator Light on the side of the headset turns solid green)
Step 3 – Press your Subscription Button for less than one second on the master WO200. The Subscription Light will flash yellow and green.
Step 4 – The light will turn solid yellow, you will also hear a tone in your master WO200.
Step 5 – You now have 5 seconds to press your Call Control Button on the master WO200 headset to accept your guest.  Repeat steps 2-5 for adding additional headsets.
–
To exit or Disconnect – Your guests can exit the call by pressing their Call Control Button. When the master WO200 Call Control Button is pressed to end the conference call, all guests will be disconnected.
–
Having the ability to conference multiple headsets on a call or simply added an extra headset to a call for training purposes demonstrate the versatility and Next Generation features of the Plantronics WO200 wireless headset.  If you have any questions about the Plantronics WO200 wireless headset or any other headsets, please contact give us a call.