Problem:  I have a Plantronics wireless headset and I would like to get a Plantronics HL10 handset lifter so that I can answer my calls when I am away from my desk.  How do I know if the lifter is compatible with my phone & headset?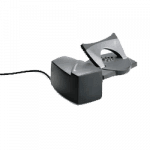 Solution:  The Plantronics HL10 lifter is compatible with most of the Plantronics wireless headsets, and it will work with most phone systems that are compatible with our wireless headsets.  However, there are a few exceptions to this rule and it has to do with the physical design of your telephone.
The Plantronics HL10 is designed to lift the upper portion of the telephone handset so that you can answer the phone when you are away from your desk.  A few phone manufacturers came out with some "unique" designs that cause problems.  For example:
If your phone has the hook switch button located on the bottom end of the telephone handset, you won't be able to take a call using this lifter because it lifts the top part of the handset-where most phones have the hook switch button located.
If your phone sits at a steep vertical angle, hangs on a wall, or does not have a "cup" to hold the bottom portion of the handset, then each time the HL10  lifts the top part of the handset up- – – the handset falls backwards.   (So you can imagine the consequences if your phone is hanging on the wall!)
Phones that have a curve on the left side of the phone base can also pose a small problem, because the HL10 lifter can't attach as secure to a curved surface as it does to a straight edge.  However, the HL10 comes with an extender arm accessory  that can be used on these phones (like Nortel) which help the lifter to work.
But if you have a good old fashioned "average" looking phone, the HL10 will work great, and make your life a lot easier!