Poly APT-31 EHS Cable (Avaya/Tenovis) – Poly 37820-11 or HP 85Q84AA
The Poly (formerly Plantronics) APT-31 Electronic Hook Switch (EHS) Cable part # Poly 37820-11 or HP 85Q84AA for remote desk phone call control (answer/end). This cable eliminates the need for a HL10 Handset Lifter. This cable works with Tenovis desk phones and may work with additional manufacturers.
Replacement Note: The APT-31 EHS cable replaces the APT-30 cable and features compatibility with the Plantronics On-line Indicator accessory.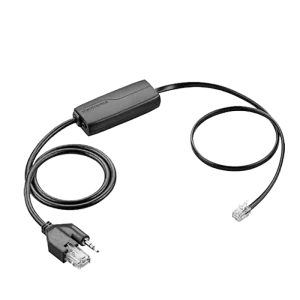 Poly has several EHS cables, each being unique to a specific telephone and wireless product.
We strongly suggest confirming compatibility with us before purchasing.
TECH TIP: EHS Compatibility/Installation Guide
---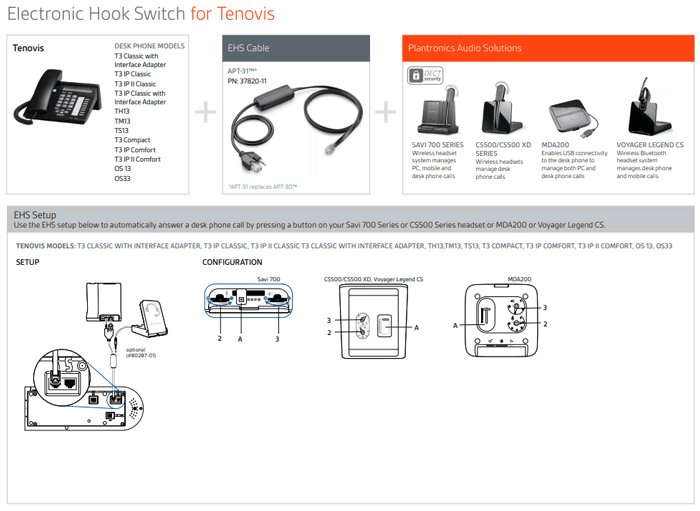 ---
Poly APT-31 EHS Compatibility:
Headset Compatibility
CS500 Series

Current: CS540, and all -XD variants
Discontinued: CS510, CS520, CS530

Savi Series:

Current: W8210, W8220, and all -M variants
Discontinued: W710, W720, W730, W740, W745, and all -M variants
Tenovis Phone Compatibility
T3 classic, T3 IP classic, T3 IP II classic
T3comfort, T3 IP comfort, T3 IP II comfort,
T3 compact
TH 13, TM 13, TS 13
OS13, OS 33
Note 9 = Only when connected to PABX Integral 5
Note 10 = Only when connected to PABX Integral 55
---
APT-31 EHS Specifications:
Model: APT-31
Warranty: 1 year
Poly SKU: 37820-11

Formerly 37820-01 – APT-30
UPC: 0017229137349

HP SKU: 85Q84AA