Poly APC-45 EHS Cable (Cisco) – Poly 87317-01 or HP 85Q57AA
The Poly (formerly Plantronics) APC-45 Electronic Hook Switch (EHS) cable part # Poly 87317-01 or HP 85Q57AA communicates electronically with your desk phone giving your wireless headset call control. The APC-45 EHS allows ring alerts to sound in your headset as well as answer and end calls remotely.
This cable eliminates the need for a HL10 handset lifter. This cable works with Cisco desk phones and may work with additional manufacturers.
Poly has several EHS adapters, each being unique to a specific telephone and wireless product.
We strongly suggest confirming compatibility with us before purchasing.
TECH TIP: APC-45 EHS Compatibility/Installation Guide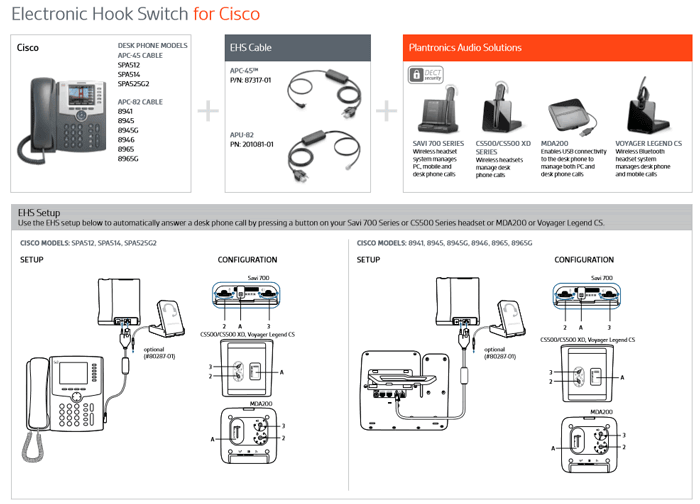 ---
Poly APC-45 Compatibility:
Headset Compatibility
CS500 Series

Current: CS540, and all -XD variants
Discontinued: CS510, CS520, CS530

Savi Series

Current: 7210, 7220, 7310, 7320, 8210, 8220, 8245, and all -M variants
Discontinued: W710, W720, W730, W730, W740, W745, and all -M variants

Voyager Series
Cisco Phone Compatibility
SPA512
SPA514
SPA525, SPA525G, Star2Star SPA525G21
---
Special Programming For Cisco Telephones:
Phones should be running firmware version 7.5.2b and above to support EHS cable. APC-45 cable needs to be plugged into the 2.5mm headset port of the phone.
The Poly APC-45 EHS should be selected in the web interface (CISCO Call Manager) under Voice–>User–>Audio–>EHS option–>Poly/Plantronics
Note 1: APC45 works in SIP mode and SCCP mode only from firmware 7.5.4. In firmware versions prior to that APC45 will work in SIP mode but not in SCCP mode for SPA525.
Cisco SPA phones sends a one time three beep ring alert. It does not send continuous ring alerts. Cisco engineering is aware of this issue and do not plan to fix it unless there is a customer escalation. EHS type should be set to Plantronics under the Voice – User – Audio EHS option.
---
Poly APC-45 EHS Specifications:
Model: APC-45
Poly SKU: 87317-01
HP SKU: 85Q57AA
Warranty: 1 year