• FREE portable charging case provides up to 14 hours of additional talk time
• FREE desktop stand provides an elegant charging and storage solution

• Need help?  Call us and talk to a Real Person!
Introducing Plantronics Voyager Legend UC, the newest headset in the Voyager family 
+ The World's Smartest Headset
+ Unsurpassed Audio Clarity and All-Day Comfort
+ Smart Call Routing
+ Precision Audio
+ Caller Announce & Voice Commands
Simply Intuitive – Smart Sensor technology reacts when you put the Voyager Legend headset on, letting you quickly take a call without a click. If you're already wearing it, Voyager Legend announces who's calling and waits for you to say "Answer" or "Ignore." Simply tap the voice command button and ask to check battery level, connection status, and more. With technology this nimble, Voyager Legend is the first truly intelligent Bluetooth® headset.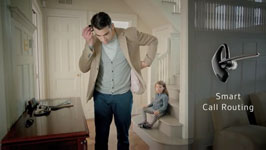 Smart Call Routing – Intuitively directs calls to your phone or headset, pauses music for incoming calls, and allows you to automatically answer by simply placing the headset on your ear.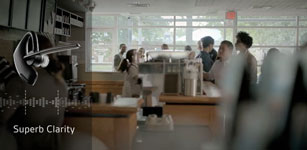 Precision Audio – Multi-microphones optimize your voice and minimize noise caused by wind, movement, and background sounds.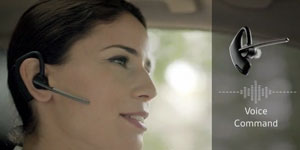 Caller Announce & Voice Commands – Announces incoming caller's name and lets you say "answer" to accept the call or "ignore" to decline. Just say "answer" to take a call. Tap the voice button to check battery level, connection status, or dial Vocalyst to hear emails, newsfeeds, and more.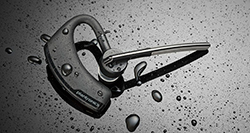 Moisture Protection – You can rely on the Voyager Legend to work as hard as you do, through rain, sweat and the inevitable coffee spill. Voyager Legend headsets are protected against sweat and moisture damage by P2i technology. The nano-coating is applied during the manufacturing process, resulting in invisible liquid repellent properties that also makes the headset more reliable, wherever your busy life takes you.
APPS & MORE: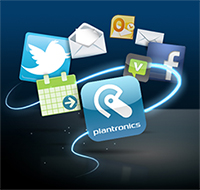 Find MyHeadset™ app for Android™ helps locate your headset
Send a tone to hear headset nearby or track last usage on a map using BackTrack™ feature. If you have Android™ OS 3.0 or later, you can view an on-screen headset battery meter in the notification bar. Learn more about Plantronics apps at Download Now
MyHeadset Updater
Change language, sensor, and other settings on your headset using your USB cable, laptop, and the easy Plantronics MyHeadset Updater online tool. Update your headset today
---
Insider info: Smart Sensors detect whether or not you are actually wearing the headset, the sensors are located in the ear loop and the speaker.  The Smart Sensor technology works the same way as the touch (capacitor) sensors in devices like the iPad / iPhone touch screens.  When the headset is brought close to the ear (like a finger near a touch screen), the sensor detects the conductive skin and the sensors communicate this change in state to the headset processor.  The Voyager Legend B235 has a special design so that handling the headset and putting it into your pocket or purse is less likely to cause a false detection.
---
Plantronics Voyager Legend UC B235 (Mobile + Computer) Features:
Manage PC and mobile device calls from a single headset with the B235
Smart Sensor technology for a seamless and intuitive user experience
Automatically answers calls simply by placing on your ear
Automatically transfers calls between mobile phone and headset
When on a mobile or PC call, softphone presence is automatically updated
Eliminates accidental dialing by locking call button when headset is not worn
Portable Bluetooth® mini USB adapter for always-ready PC connectivity
Includes portable case and desktop stand for anywhere charging
Portable charging case provides up to 14 hours of additional talk time
Desktop stand provides an elegant charging and storage solution for the Voyager Legend UC B235
Precision tuned triple-mic with enhanced DSP for superior noise cancellation
The Voyager Legend UC offers three layers of wind noise protection
PC Wideband delivers heightened speech clarity
Use your voice to answer incoming calls and for a host of other commands
Enhanced voice alerts tell you connection status, talk time remaining and more
Caller Name Announcement for incoming mobile calls (PBAP)
Integrated A2DP lets you listen to streaming media from your mobile phone or tablet
SoundGuard® technology provides protection against audio spikes
iPhone® and Android® (3.0 or newer) headset battery meter*
Built-in sensors provide contextual information, creating a long-lasting, adaptable platform
Comfort-tested for extended wear featuring sweat-proof coating (P2i)
Up to 7 hours talk time, 11 days standby
Plantronics Spokes™ software provides:
Call control across multiple softphones
Battery status meter appears as an icon in the PC System Tray
1 Year Warranty
SKU# 87670-01
UPC: 017229137684
Tech Tip: How to pair the Plantronics Voyager Legend
Available in two versions;
Standard Voyager Legend UC
Voyager Legend UC-M optimized for Microsoft® Lync™ 2010 to streamline calling with UC software
*Android battery meter requires installation of the MyHeadset App
---
Voyager Legend Voice Alerts List:
"Power on/off"
"Answering call"
"Talk-time (x) hours"
"Battery low"
"Recharge headset"
"Lost connection"
"Phone 1 connected/Phone 2 connected"
"Pairing"
"Pairing incomplete, restart headset"
"Mute on/off"
"Volume maximum/minimum"
"Voice recognition on/off"
"Redialing last outgoing call"
---
Voyager Legend Voice Commands List:
"Am I connected?"
"Answer"
"Call information"
"Call Vocalyst"
"Cancel"
"Check battery"
"Ignore"
"Pair mode"
"Redial"
"What can I say"