Plantronics Blackwire 7225 USB Boomless Headset:
The Plantronics Blackwire 7225 USB headset helps you tune out distracting noises so you can tune in to your work. It features Active Noise Canceling (ANC) technology to minimize distracting external sounds. The boomless design has with four omni-directional microphones that separate your voice from background noise. Along with PC-based calls, it's great for listening to music and multimedia in hi-fi stereo. Dynamic Mute Alert lets you know when you talk while muted. Use the intuitive controls for answering/ending calls, adjusting volume, and muting. Plus folding ear cushions and a carrying case make it easy to take on the go. With the Blackwire BW7225, keep the focus on work — and distractions at bay.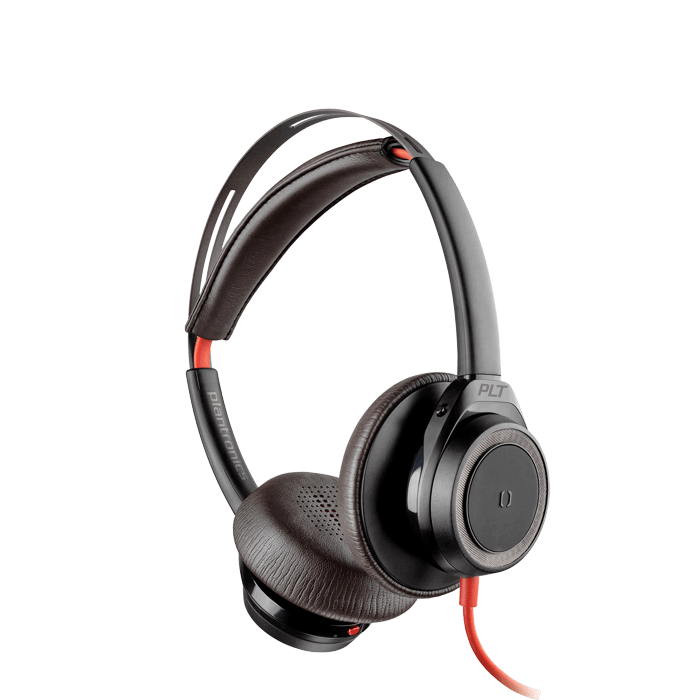 ---
Plantronics Blackwire 7225 Headset with ANC to help you work better:
+ Innovative, boomless microphone design
+ Active Noise Canceling (ANC)
+ Hi-Fi stereo headset
WORK IN – NOISE OUT
The Blackwire 7225 USB headset is great for keeping you focused in noisy office environments. Featuring Active Noise Canceling technology, a noise-canceling mic, and hi-fi stereo performance, the Blackwire 7225 minimizes external noises while ensuring that PC-based calls and multimedia come through crystal clear. With the Blackwire 7225, distractions go down and productivity goes up.
UNMATCHED SOUND CLARITY
Offering PC wideband, active noise canceling, boomless mic, and hi-fi stereo sound, the Blackwire 7225 wired headset provides a truly outstanding audio experience – making it ideal for conference calls, webinars, listening to music, and watching videos with dynamic hi-fi stereo sound. Wideband audio and Digital Signal Processing mean incoming calls are crystal clear — and so is your voice, thanks to the noise-canceling mic. The Dynamic EQ feature optimizes your voice quality when on calls and automatically adjusts the EQ settings when you're listening to music or multi-media.
ACTIVE NOISE CANCELING
With the Plantronics Blackwire 7225, you get the latest Active Noise Canceling (ANC) technology that reverses surrounding sound waves to cancel low frequency noise in order to isolate and minimize ambient noise, providing truly immersive audio that allows you to focus on what matters. Close out the noise, stay in the zone.
SOFTWARE-ENABLED FUNCTIONALITY
With Plantronics Spokes software, get the added value of:
Call control across multiple softphones
Headset control panel allows for customization of settings, including call notification and related options
UC presence automatically updated when on a call; not only on PC calls, but also when on mobile calls*
---
Plantronics Blackwire 7225 Headset Features:
Call Management Simplified:

Convenient call answer/end, mute, and volume controls
Dynamic Mute Alert

Outstanding Audio:

Active Noise Canceling technology helps block out distracting sound
Hi-fi stereo (dual ear) wearing style for more immersive audio
Dynamic EQ feature optimizes voice quality on calls and EQ settings for music playback
Premium PC wideband audio
Four omni-directional microphones for boomless design
Digital Signal Processing (DSP) for a more natural voice sound
SoundGuard® Digital: Acoustic limiting for hearing protection

Comfort & Portability:

Ultra-soft ear cushions provide enhanced comfort
Take it on the go with folding ear cushions and included carrying case
Choose from Black or White

Industry leading service and support:

Two (2) year limited warranty

Variants include universal USB-A or USB-C
USB-A (Black) SKU# 211144-01 / UPC: 0017229162815
USB-C (Black) SKU# 211145-01 / UPC: 0017229162822
USB-A (White) SKU# 211154-01 / UPC: 0017229162839
USB-C (White) SKU# 211155-01 / UPC: 0017229162846