Plantronics Wireless Headsets
By using a headset you achieve two major benefits; first is ability to be hands free for writing and typing, making you much more productive. Second is the ability to work more comfortably without cradling your telephone handset against your shoulder causing neck and shoulder pain. When you opt for Plantronics wireless headsets you gain the aforementioned benefits, but now you have the freedom to roam your office while carrying on phone conversations. This takes your productivity up another huge notch by not being tethered to your desk with cord limitations. While continuing your calls, you now have the ability to approach a co-worker for assistance, walk to the file cabinet for necessary documents, or simply pace about your office. Imagine the health benefits of getting out of your chair for extended periods of time during conversations, while many other users find calls become more fluid with the ability to pace about the office.

Most Plantronics wireless headsets will give you up to 350 feet of roaming distance with 6 to 13 hours of talk time. This easily gets you through the busiest of any work day, and with the addition of an electronic hook switch (EHS) cable or handset lifter, you also gain the benefit of remote call alerts, answering/hanging up your calls remotely, and automating the process of call handling. Wearing styles will include over the ear, over the head with a speaker on one ear, and over the head binaural which covers up both ears.

With over the ear models, you are opting for a lightweight unit with minimal sacrifice in battery talk time. Models will include cushions, ear gels, or earbuds that fit in the outer portion of your ear. The circuitry and battery rest behind or against your ear for all-day wearing comfort. This makes for a low-profile unit that is preferred if you don't want to mess your hair, or if a major portion of your day is talking to customers or co-workers face to face.

With over the head wireless headsets, you're getting a slightly heavier, more durable unit with better sound quality, because you have a full-sized speaker resting against your ear. This also helps create a better seal, so you hear your caller more clearly while blocking out background noise. With binaural (dual ear) headsets, you will block out even more background noise making it much easier to focus on your caller. With headband models, you also have the capacity for larger batteries giving you the most battery talk time available.

As technology advances, the wireless headsets of today are far superior of those less than a few years ago. The sound quality is so clear, callers will never know you are roaming your office if you don't tell them.
Plantronics Wireless Headsets
Determine which wireless headset wearing style you prefer: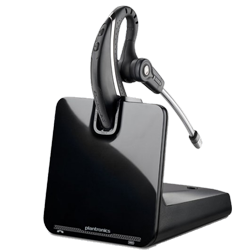 1) Over-the-ear.
With over-the-ear, you will find them to be lighter weight and more discrete. This is an advantage if you regularly speak with customers face-to-face and don't want them distracted with a large headset circling your head. Ear models will typically use an ear gel or small bud with a cushion that rests in the outer portion of your ear canal. The circuitry and battery will be located behind your ear on most models making for a snug and secure fit. One major consideration with ear models are the batteries may not be replaceable. This will cause you to replace the entire headset after a few years of use, but in most situations is well worth it, because you find the fit superior to other wearing styles. You will have a noise-canceling mic with your headset that allows your caller to hear you clearly. You can also rotate the earpiece and microphone to allow you to wear it on either ear.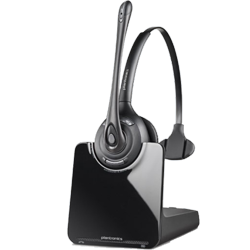 2) Over-the-head (single ear).
With monaural, you have a headband over the head with a speaker on one ear. This gives you great sound quality, with a full-sized speaker and cushion against your ear. It also creates a barrier to help block office noise and others talking around you, so you hear your caller more clearly. The better you hear your caller, the less incorrect information you will take down in notes and orders and fewer times you will need to request information be repeated. With a single-ear headset, this leaves your other ear open to your office, so you can stay in touch with what's going on around you. This lets you easily talk with co-workers and over hear conversations of which you need to be a part. A headband-style headset will always give you the most secure fit and allows for larger batteries, giving you longer talk times. Batteries are easily replaceable, as they lose talk time after a few years. The headset will include a noise-canceling microphone, which will cut down on background noise making your voice crisp and clear to your caller. As with all monaural headsets, you can rotate the microphone, so you can wear the headset on either your right or left ear.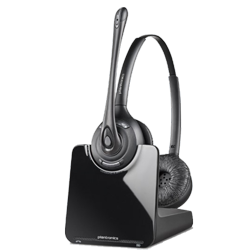 3) Over-the-head (dual ear).
With binaural, you have a headband over the head with speakers on both ears. This gives you the same great sound quality and separation as a single ear, but by covering both ears, you balance the sound making it easier to hear your caller. Also with both ears covered, you are less distracted with others talking and noise in your office allowing full concentration on your caller. This style of headsets works best in loud environments and will actually reduce the overall noise in your office, because people are not trying to talk over each other. You can still use a dual-ear wireless headset in a quiet environment to allow better focus, but you may occasionally need to slide one speaker behind your ear, if you need to talk with a co-worker. With a dual-ear headband, you will find the fit very secure, and with larger batteries, you will have all-day talk time. Batteries are replaceable after a few years of use and can be changed in less than a minute. A noise-canceling microphone allows callers to hear you over background noise and will rotate, allowing you to position the mic on either your right or left ear.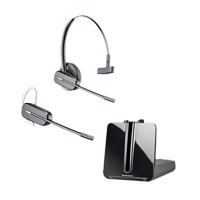 4) Convertible gives you multiple wearing options.
With a convertible, you will have over-the-ear options and a single-ear headband included, allowing you to try different wearing styles as you look for the most comfortable fit. A behind-the-neck option is also included on some models and sold separately with others. If you're new to headsets or need to share headsets, a convertible makes for an excellent option with its versatility. Ultimately you will find a fit that feels comfortable for all-day wearing. Convertible headsets work well in quiet-to- average office environments when it comes to background noise. The louder your environment, the more you will need to consider covering both ears. Batteries will typically last you through a normal business day and can be replaced as they start to lose charge time after a few years of use. The microphones will be noise canceling, so callers hear you loud and clear over any background noise in your office.


Your next decision is DECT or Bluetooth technology for your wireless headset:
1) DECT headset technology is the standard for most business-grade Plantronics headsets. The DECT headset frequency is set at 1.9 GHz, which is a dedicated part of the wireless spectrum. This gives you great audio quality and less chance for interference. Most models allow up to 38 units in one area before you experience distance loss or audio anomalies (If using more than 38 units in one area, you will need to consider mixing in -XD models using the 900 MHz frequency to allow an additional 54 units to work in the same area). You can expect a range up to 350 feet, giving you the freedom to roam your office and truly multitask while continuing your phone conversation. And as for security, you have the peace of mind knowing your calls are encrypted, so you can talk freely when discussing sensitive material.
2) Bluetooth technology is occasionally used in the business environment, mainly in situations where one headset is used for multiple applications. An example would be a wireless headset that works on your desk phone, as well as your mobile phone. Bluetooth operates at the 2.4 GHz frequency, which is also a common Wi-Fi network frequency. You can expect a range up to 33 feet which gives you the freedom to roam around your desk, if you simply don't want to be tethered to a cord.


Your last decision is whether to use your headset with a desk phone only or desk phone, PC and mobile phone:
1) Basic headsets connect to desk phones. In the early 2000's the first wireless headsets were developed for use on standard, corded, business telephones. This gave us a huge productivity boost, as we could multitask and take conversations with us as we conversed with co-workers or grabbed necessary files/documents.
2) Premium headsets connect to all office communication devices. As technology has advanced, so has our ways to communicate. Many office workers now use their mobile phone as much as their desk phone. And with the wave of moving to the cloud and VoIP, users are using headsets more than ever with softphones on their computer. The latest, and more advanced generation of wireless headsets will allow you to use one headset for your desk phone, mobile phone, and computer. For a slight increase in price, you now only have one headset to manage and charge every night to cover all your communication avenues.
In summary, any headset will provide users the ability to be hand free while writing and typing. When you invest in wireless headsets, you also gain the ability to roam your office while talking. This makes you more productive as you can multitask during conversations. Examples include; walking to a coworker to ask questions, perusing the file cabinet as you obtain necessary documents or pertinent information, or simply organizing your desk/office as you put folders and documents back in their rightful place. With the advancement of technology, your customers will rarely be able to tell you're on a wireless headset, if you don't tell them. They will typically last 2-5 years, putting you in the same mindset as how often we upgrade our mobile phones for the latest features and longer battery life.