Long-Range Wireless Savi 8245 UC DECT™ Offers Crystal-Clear Calling For Home or Office – Poly 211203-01 or HP 7W6B6AA#ABA
Hybrid workers: True wireless freedom has arrived. The portable, comfortable Poly Savi 8245 UC wireless headset  part # Poly 211203-01 or HP 7W6B6AA#ABA combines long-range DECT™ technology with USB plug-and-play convenience. Tune out nearby noise and keep every conversation secure, private, and clear with close conversation limiting noise cancellation. Wherever you work, these light home- and office-ready headsets keep you sounding your best all day long.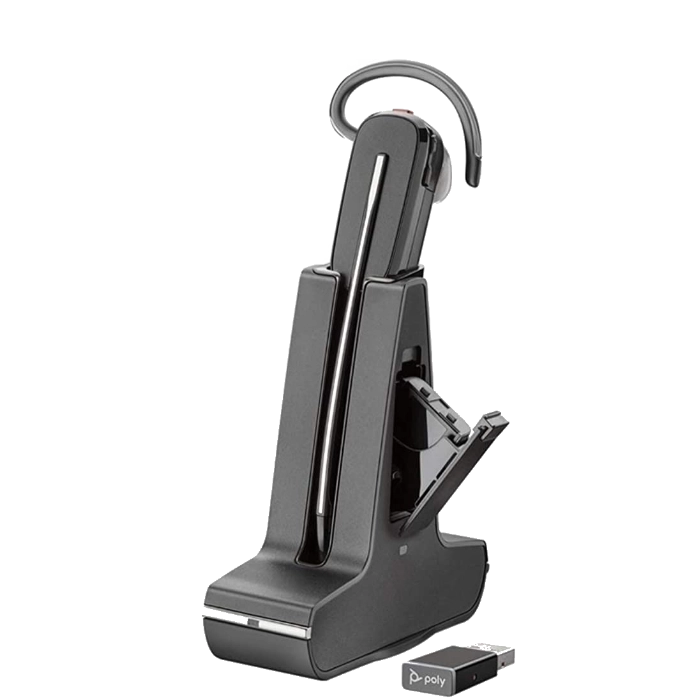 ---
Wireless Freedom With DECT™ Technology – Get A Strong Signal, Even Away From Your Desk
With the Poly Savi 8245 UC wireless headset you will stay productive while enjoying the freedom to move around. Long-range interference-free wireless DECT™ technology makes sure your calls are super clear, even up to 450 ft (line of sight) away from your desk.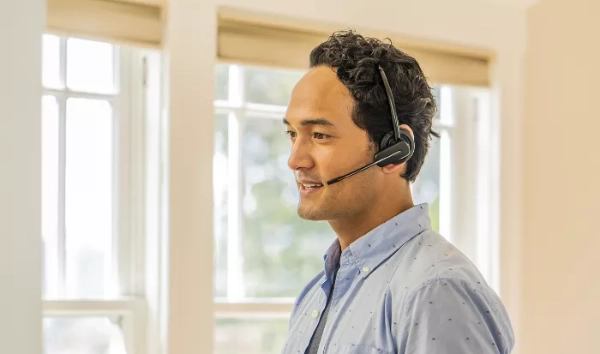 Savi 8200 Office & UC Series Offers Phenomenal Audio Experience – Unparalleled Sound Without Background Noise
Sound your best anywhere thanks to a noise-canceling microphone with close conversation limiting.
---
Choice Of Wearing Styles – Fits Your Definition Of Comfort
Every headset user has a different head — that's why the Poly Savi 8245 UC wireless headset come with 3-in-1 convertible wearing options to help you find your perfect fit.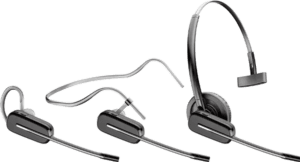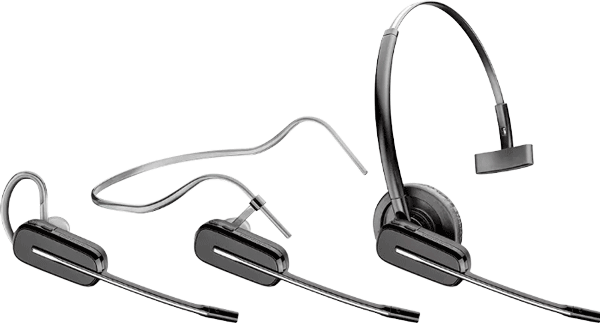 ---
Talk Way Longer – Never Worry About Running Out Of Power, Even On Marathon Calls
Enjoy the freedom of unlimited talk time, thanks to the Savi 8245 UC's included hot-swappable battery.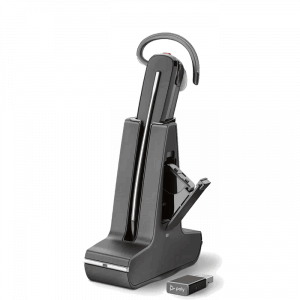 ---
Built For Compatibility
All Poly USB headsets and personal speakerphones are compatible with the most popular voice platforms – we just work. Poly solutions provide excellent audio quality for both you and those on the other end of the call – no matter your platform of choice.

Poly is certified (when offered) with all major communication platforms.
---
Poly Savi 8245 UC Wireless Headset Features:
Plug-and-play connectivity to PC/Mac via universal D200 USB-A dongle and USB A-to-C adapter
Noise-cancelling microphone with close conversation limiting
Call controls include call answer/end, mute (on/off), volume +/-
Endless talk time with swappable battery
Flexible microphone boom
Over-the-ear lightweight style weighs only 21 g
Convertible wearing style to fit you perfectly
Mute status out of range voice alert
Microsoft version available
450 ft (line of sight) of roaming distance
Includes 2 batteries allowing one to charge while other is in use
DECT 6.0 technology
2 Year Warranty
---
Poly Savi 8245 UC Wireless Headset Specs:
UC Version
POLY

SKU: 211203-01
UPC: 017229165021

HP

SKU: 7W6B6AA#ABA
UPC: 197497169041
Microsoft Version
POLY

SKU: 211204-01

Use in lieu of Savi 8240 UC

UPC: 017229165038

HP

SKU: 77T36AA#ABA
UPC: 197029593245
Connect To
PC via included D400 DECT™ USB dongle with USB A-to-C adapter if needed
Wireless
Technology: DECT™ 6.0
Range:

Typical office environment up to 130 ft/40 m
Line of sight up to 450 ft/137 m
Battery
Battery Capacity:140 mAh
Battery Type: Lithium ion polymer
Talk Time: Unlimited
Charge Time: 3 hours
Talk/Standby Time
Rechargeable
Replaceable
Lithium ion polymer
Receive Frequency Response
Wideband – 100 Hz-6800 Hz
Multimedia- 20 Hz–20 kHz
Hearing Protection
SoundGuard DIGITAL protects against sound levels above 118dBA
G616 anti-startle (during calls) detects and eliminates any large sudden increase in signal level
Time-weighted average prevents average daily noise exposure from exceeding 85dBA
Microphone & Technology
Noise canceling with close conversation limiting
Headset Weight
Poly Savi 8245 UC (3-in-1 Convertible, over-the-ear): 21 g/0.04 lbs
Headset Controls
Call answer/end
Mute
Volume +/-
Power on/off
Voice & Other Alerts
Poly Savi 8245 UC Wireless Headset Accessories (Included)
Spare battery
Headband
Neckband
Fit kit with ear loops and ear buds
D400 USB-A Dongle
USB A-to-C Adapter
Manageability
Certification
Microsoft Teams (Teams version only)
Warranty