Flagship Video Phone for Desk and Room
Based on Android 9.0 OS, Yealink VP59 Zoom Phone Appliance provides a supreme Zoom user experience. With an 8-inch adjustable multi-point touch screen and easy Zoom interactive experience, all of these make collaboration easier than ever.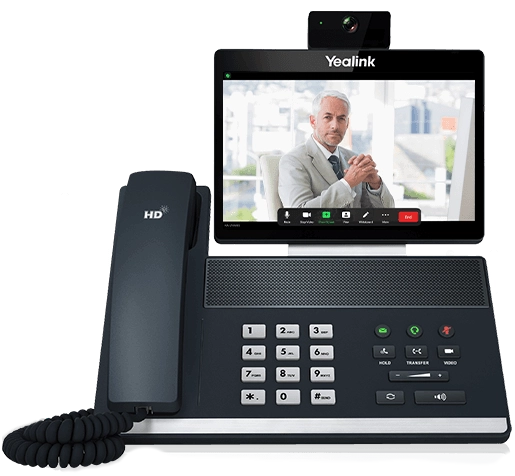 Presenting a standalone voice solution and an unparalleled audio clarity, the VP59 is armed with Yealink's Optima HD Voice technology and Yealink Noise Proof technology. The VP59 provides the added flexibility for executives and professionals with its Bluetooth/Wi-Fi connectivity and the ability of USB headset connection.
Compatible with wireless microphone and USB camera, and support HDMI-duplicated Output, making it easy to be deployed in huddle room.
---
Seamless Zoom Phone and Meetings Experience
Certified as Zoom Phone Appliance, the Yealink VP59 provides both Zoom Phone and Meetings capabilities, enabling users to collaborate effortlessly with premium video, audio, and content sharing features.
The 8-inch adjustable multi-point touch screen and the native Zoom user interface provide a rich visual presentation and easy menu navigation. The VP59 Zoom phone comes with enriched and simplified collaboration capabilities including whiteboard, content sharing, in-meeting chat and so on.
The built-in Bluetooth 4.2 and dual band Wi-Fi boast great functionality and expansibility. With HDMI output features, users are able to enjoy larger screen by connecting to a display.
The integrated functionalities along with consistent Zoom experience help reduce the learning curve and improve the efficiency of interaction.
---
Ready and Easy to Meet with Superb Audio and Video
Armed with Yealink Optima HD Voice technology and Yealink Noise Proof technology to present an marvelous audio clarity. Hardware Offloading technology ensures the 720P of P2P video and 720P of content sharing. Just work and talk freely and no need to worry about any noise or fuzzy sounds.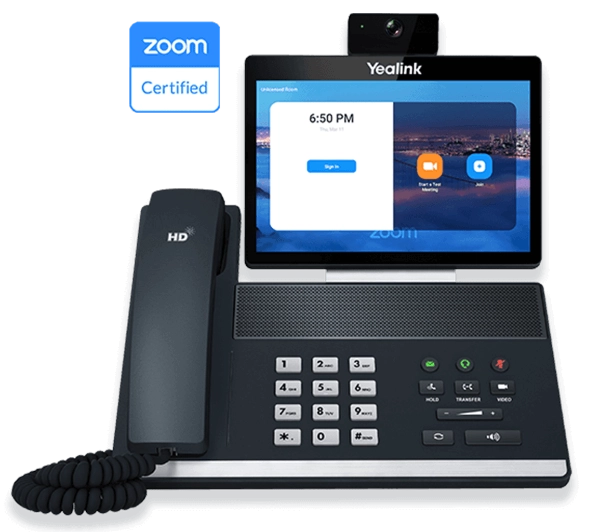 ---
More Expansion Possibilities for Various Spaces and Scenarios
Enabled for HDMI output feature, the VP59 is able to offer optimized visual experience by connecting to a TV or a monitor. The VP59 can be utilized to turn a huddle space into a video meeting room with a UVC30 camera and a CPW90 wireless microphone, working together as an ideal video conferencing solution (*coming soon).
With the Bluetooth/Wi-Fi connectivity, the VP59 also empowers hybrid workflows with increased mobility and flexibility in communication.
---
Efficient Provisioning and Management
The Yealink VP59 is coupled with Yealink efficient auto-provisioning mechanism, including phone deployment and configuration. Administrators can take advantage of centralized  deployment, management and updating. Moreover, the VP59 Zoom phone supports several device management platforms, including Zoom/Yealink Device Management Platform.
---
Yealink VP59 Zoom Phone Appliance Features:
General Features
Android 9.0 OS
8″ capacitive adjustable touch screen
Native Zoom user interface
Audio Features
Optimal HD audio, Yealink Noise Proof Technology
Full-duplex hands-free speakerphone with AEC
Support expansion with Yealink Wireless Mic CPW90 (Optional)
Video Features
2 MP HD camera with privacy shutter
Supports extending USB camera-Yealink UVC30 Room (optional)
Connectivity
Built-in Bluetooth/Wi-Fi
Dual USB ports, supports USB headsets and extending camera
HDMI port for connection to monitor or TV
Dual-port Gigabit Ethernet, PoE support
Advanced Features
Exchange calendar integration
Supports Zoom/Yealink Device Management Platform
---
Yealink VP59 Zoom Phone Appliance Specifications:
General
Part # VP59-Zoom
SKU: 139611
UPC: 00693881830327
Warranty:
Audio Features
HD voice: HD handset, HD speaker
Hearing aid compatible (HAC) handset
Yealink Noise Proof Technology
Full-duplex hands-free speakerphone with AEC
VAD, CNG, AEC, PLC, AJB, AGC
Video Features
2 MP camera with privacy shutter
Horizontal field of view: 84″
Vertical field of view: 54″
Adjustable camera
Plug-and-play
Call Handling Features
Incoming/Outgoing P2P call
Cloud PSTN call
Call hold/mute/transfer/forward
Synchronized call logs
Visual voicemail
Conference Features
Exchange calendar integration
Meeting call controls: Mute/unmute, hold/resume, hang up, add/remove participant
Meeting details
Start meeting
Join meetings
Presence and Contacts
Presence integration
Presence status control: available, busy, DND
Set status message
Corporate directory access
Phone Features
Sign in with user credentials
Sign in via website
Time display
Phone lock/unlock
Emergency calls
Accessibility
Screensaver
Wi-Fi connectivity
Supports Bluetooth/USB headsets
Display and Indicator
8″ 1280 x 800 capacitive touch screen IPS LCD
10 points multi-touch surface
LED for call and message waiting indicator
Multilingual user interface
Native Zoom interface
Interface
Dual-port Gigabit Ethernet
Power over Ethernet (PoE) (IEEE 802.3af), class 3
Built-in dual band Wi-Fi:

Network standard: IEEE802.11a/b/g/n/ac
Transmission rate: Up to 433Mbps (dynamic)
Frequency range: 2.4GHz/5.0GHz

Built-in Bluetooth 4.2
1 x USB port (2.0 compliant) for USB headsets
1 x USB port (3.0 compliant) for extending camera with USB 3.0 cable
1 x RJ9 (4P4C) handset port
1 x RJ9 (4P4C) headset port
1 x HDMI output port
1 x Security lock port
Management
Configuration: browser/phone/Auto provisioning
Provisioning priority management
Yealink Redirection and Provisioning Service (RPS)
QoE (Monitoring Reports)
Reset to factory, reboot
Package tracing export, system log
Screenshot via URL
View license status
Supports Zoom Device Management Platform
Supports Yealink Device Management Platform
Network and Security
IPv4/IPv6
IP assignment: Static/DHCP
HTTP/HTTPS web server
Time and date synchronization using SNTP
Transport Layer Security (TLS)
HTTPS certificate manager
IEEE802.1X
Physical Features
Color: Classic Grey
External  Yealink AC adapter (sold separately):

AC 100-240V input and DC 12V/1A output

USB output currency: 5V

⎓

500mA
Power consumption (PoE): 7W-10.2W
Power consumption (PSU): 6.24W-9W
Dimension (W*D*H*T)

273mm x 226mm x 285mm x 42mm

Operating humidity: 10-95%
Operating temperature: +14 – 122°F
Package Content
Yealink VP59 IP phone
Handset with handset cord
Ethernet cable
Stand
Quick Start Guide