Poly Sync 40+ USB/Bluetooth Speakerphone for Conference Calls
Remarkable sound wherever it's needed for better-than-ever calls. Business moves fast. Joining virtual meetings should be fast, too. Poly Sync 40+ USB/Bluetooth smart speakerphone lets users get straight to work. Hassle-free with remarkable sound-perfect for flexible and huddle workspaces. The Poly Sync 40+ is Zoom certified for a seamless Zoom communication experience.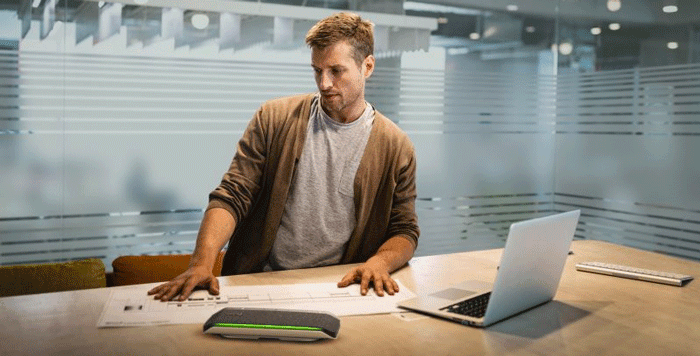 ---
Hear And Be Heard – Never Miss A Word With Multiple Microphone Array And Full Duplex Audio
Multi-microphone array focuses on what's being said and helps keep echo and noise out of meetings. Full duplex audio lets conversations flow naturally, even when users talk over each other.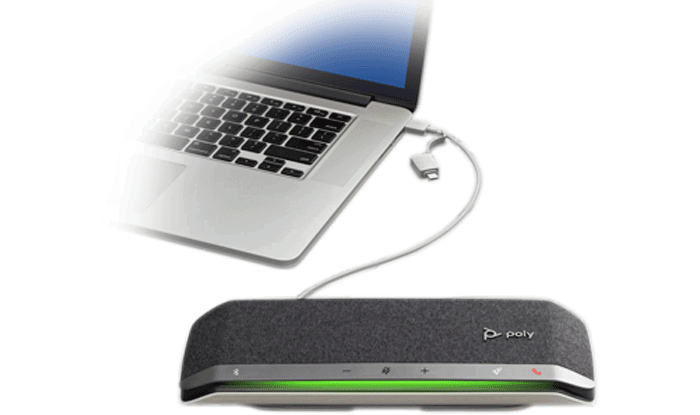 ---
Simple For IT. No Complex Setup, No User Training, No Headaches For IT
Just deploy and you're done – the Poly Sync 40+ is so simple to use, no user training is required. For IT, inventory tracking and updates are made easy with remote device management.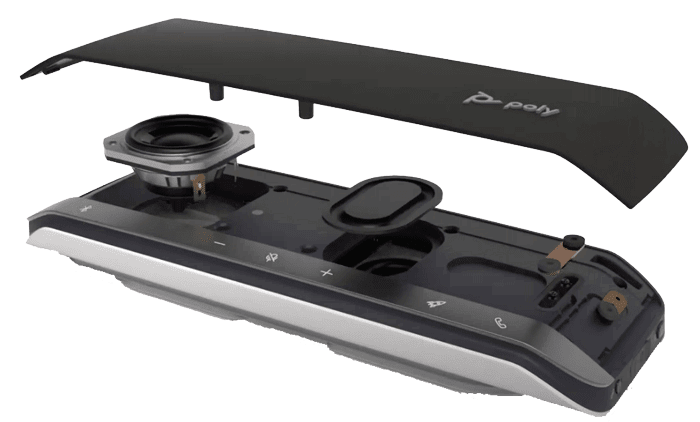 ---
Expanded Meeting Spaces – Turns Small Spaces Into Professional Sounding Conference Rooms
Wirelessly pair two units together for your larger meeting space needs. Your device will be ready to go for up to 30 hours of talk time.

Gets Better With Updates –  Maximize Your Investment
Easy to stay on top of any updates via Poly device management solutions (some solutions are sold separately).
---

---
Poly Sync 40+ Speakerphone Features:
High-performance integrated speaker
Multi-microphone steerable array
Lithium-ion battery
USB and Bluetooth Connectivity
BT600 Bluetooth adapter
Programmable button
IP64 dust and water resistance
Smartphone charger
Dedicated teams button (on Microsoft Teams version only)
Zoom certified
Status lights
Future updates available via Poly HUB software*
UC Version
Part # SY40+
Poly SKU: 218765-01
HP SKU: 772C5AA
Microsoft Teams Version
Part # SY40+-M
Poly SKU: 218764-01
HP SKU: 77P36AA
*Some solutions sold separately
Visit our Audio Conferencing Page for other meeting size options
---
Poly Sync 40+ Speakerphone Specifications:
Connects To
PC via combined USB-A and USB-C cable; wirelessly via included BT600 Bluetooth adapter; smartphone via Bluetooth
Compatible With
User interface Features
Touch sensitive user controls for:

Call answer/end
Mute
Volume +/-
Programmable function button
Bluetooth pairing
Microsoft Teams (Microsoft Teams versions only)

Push button user controls for:

Power On/Off
Wireless daisy chain

Two highly visible status light bars for 360 degree status indication
Combined integrated USB-A and USB-C cable
One USB-A port for smartphone charging
Kensington lock slot
Wireless Features
Bluetooth v5.1
Supported Bluetooth profiles: A2DP, AVRCP, HFP, HSP, BLE
Wirelessly connect two Sync 40 units together for larger meetings rooms (when connecting to PC or smartphone via Bluetooth)
Private/shared Bluetooth modes for personal/common meeting use
Audio Features
Three microphone steerable array
Microphone pickup range: 8 ft
Ideal for room sizes up to 5m x 5m
Microphone frequency response: 100 Hz to 6.7 kHz
Full duplex audio
Noise and echo reduction
Loudspeakers 1 x 50 mm high-performance music speaker
Loudspeaker frequency response: 75 Hz to 20 kHz
Bass reflect with dual passive radiators
Battery
Type: Lithium-ion
Capacity: 5000 mAH
Talk time: up to 30 hours
Charge time: 5 hours
Dimensions
Weight
Cable length
Environmental
IP64 dust and water resistant
Applications Supported
Plantronics Hub desktop and mobile versions. Plantronics Manager Pro suites: Asset Management and Adoption
Platform certification

Microsoft Teams focus room certified*
Microsoft Teams Room certified (pending)*
Zoom
Compatible with a wide range of platforms
*Microsoft Teams version only
Accessories (Optional)
Charge stand
Secure desk mount
BT600 USB Bluetooth adapter
---
FAQ's:
What is the Poly Sync Family?
The Poly Sync Family is a new range of USB/Bluetooth® smart speakerphones designed for personal, huddle and small conference use.
What makes them smart speakerphones?
The Poly Sync Family provide more than just remarkable audio—they include numerous smart features making them easy to use. Features include multiple microphones, a programmable button, and the ability to charge smartphones.
Do the Poly Sync products replace any existing products?
The Poly Sync 40 is a huddle room speakerphone and will replace the Calisto 7200.
What are the differences between the Poly Sync products?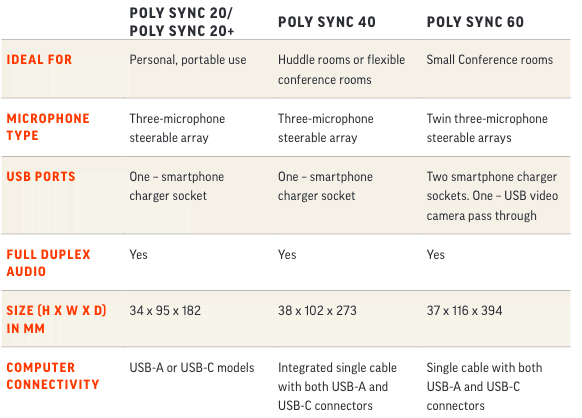 What makes the Poly Sync Family stand out?
The Poly Sync Family has been designed with remarkable audio for both ends of the call ensuring nothing is missed and meetings stay productive. They are easy to use, have a consistent user interface, and users bring their own devices so meetings start quicker without IT help.
What is a three-microphone steerable array?
Compared to traditional USB speakerphones with a single 360-degree microphone that pick up sound from all directions—the Poly Sync Family uses a three-microphone array that can be steered (directed) towards the talker as they move around the room —and hence focuses on the talker and not the noise that may be in the room.
What is a Bass reflex system with dual passive radiators?
The bass reflex systems use a hole in the Poly Sync enclosure to enable sound from the rear of the speaker diaphragms to increase the low frequency response compared to a sealed enclosure. The passive radiators further enhance the low frequency response by adding passive diaphragms, making voice and multimedia sound more natural.
How does the Poly Sync 40+ connect to computer and smartphone?
The Poly Sync 40+ does have a single USB cable with both USB-A and USB-C connectors. For wireless connection to the computer, a BT600 Bluetooth adapter is included. Connection to the smartphone is via Bluetooth.
How is the Poly Sync 40+ different than the Poly Trio Series of conference phones?
The Poly Sync 40+ is a USB/Bluetooth speakerphone that require users to bring their own devices into the meeting room and use the conference/UC applications on their device. The Poly Trio Series are always on open SIP conference phones.
What function can be chosen for the programmable button on the Poly Sync 40+?
The Poly Sync 40+ includes a programmable button that can be configured for one of several different functions, including: last smartphone number redial, play/pause media streaming from smartphone, system status check, etc.
Is the Poly Sync 40+ a portable device?
The Poly Sync 40+ is a battery operated device that can be moved around the room to the optimum location but does not include a carry case.
Can a smartphone be charged from the Poly Sync 40+ speakerphone?
The Poly Sync 40+ includes an internal battery and USB socket that can be used to charge a smartphone.
What UC applications and platforms is the Poly Sync 40+ compatible with?
The Poly Sync 40+ connects to user devices via either USB or Bluetooth and is compatible with the applications running on these devices. Microsoft Teams versions are also available and feature a dedicated Teams button for instant access of the Microsoft Teams desktop application.
Does the Poly Sync 40+ include the BT600 Bluetooth adapter to allow wireless connection to the computer?
Yes, it is included. All models in the Poly Sync Family can connect to the computer via the included USB cable and to a smartphone via Bluetooth.