Dual Ear Headset With Extended Range and DECT Security
Noisy workspace? No problem. Invest in getting more done with the Poly (Formerly Plantronics) Savi 8220 UC wireless headset. Tune out nearby noise and keep every conversation secure, private, and clear with close conversation limiting noise cancellation.
Give yourself the freedom to roam up to 590 feet with 13 hours of talk time. Wherever you work, the Savi 8220 UC wireless headset will help you be your best all day long.
There is a staggering need for quality, noise-free communications in the enterprise today. Statistics show that 94% of employees believe that they'd be able to do more in a less noisy environment. (Plantronics Noise in the Workplace Global Study, 2017.)
The Savi 8220 UC wireless headset is a perfect solution to enable focus and mobility to walk away from the noise. Also, the Savi 8220 UC wireless headset is the only DECT stereo headset with active noise canceling (ANC), in the market today.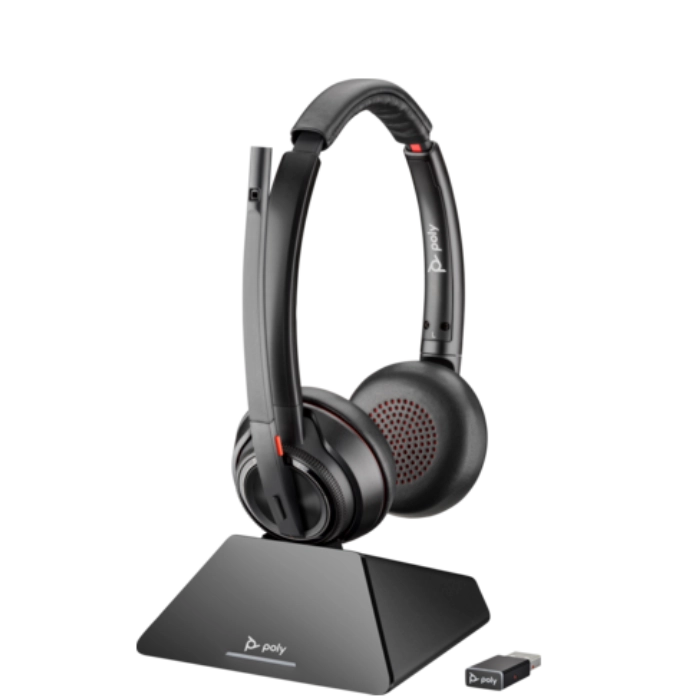 ---
Power Through The Noise
Hearing every word clearly on a work call isn't just a nice-to-have. It's a must-have. With the Poly Savi 8220 UC wireless headset, everyone can tune out noise and stay focused. Looking stylish and feeling comfortable is inevitable. Having the freedom to roam and talking a long time on a single charge means work gets done. Even away from the desk.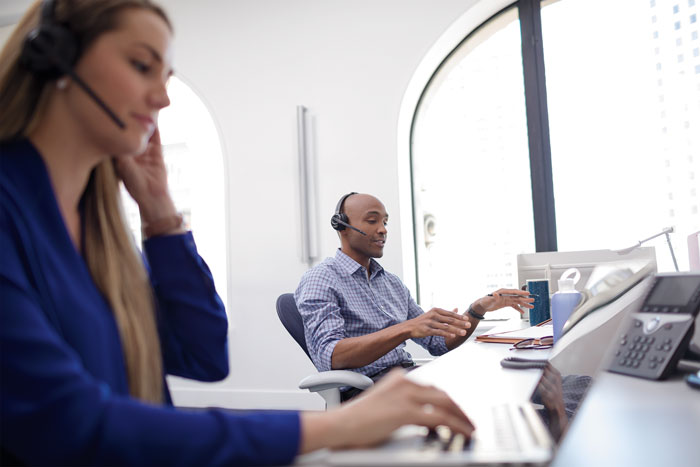 ---
Clear Conversation
People sound their best, even in noisy environments, wearing DECT™ stereo headsets with active noise canceling to block out noise around the speaker. For sensitive conversations, where extra privacy is needed, they can turn up the Close Conversation Limiting feature.
Take It Further
Poly Savi 8220 UC wireless headsets are ready when needed with up to 13 hours of talk time on a single charge. Everyone can move, multitask and get more done. Convenient voice prompts notify them of mute status, wireless range limit and more.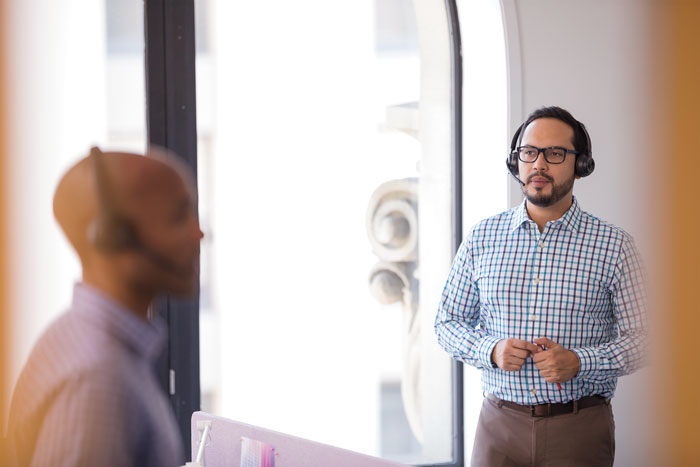 ---
Savi 8200 Office & UC Series Headsets Offer More Choices – Better Adoption
Some people like a stereo headset. Some lean towards mono. Others prefer to keep their options open. The Savi 8200 Office & UC Series headsets are real crowd pleasers—with mono, stereo and convertible options. For training and group collaboration, people can conference up to four headsets onto a single base.
Custom Experience
The IT team can choose the settings to customize your headsets with Poly Lens for desktop. Select language preference, and feature settings, and keep devices up-to-date with the latest firmware. Plantronics Manager Pro provides remote management, headset inventory and usage monitoring—so IT can stay on top of it all easily.
---
Poly Lens – Intelligent Insights, Scalable Management
Poly Lens software gives IT teams visibility and control over voice, video, and headset devices. Deploy, configure, update, and get valuable insights from one endpoint or thousands using one scalable platform. Poly Lens makes it simple: no heavy IT lifting required.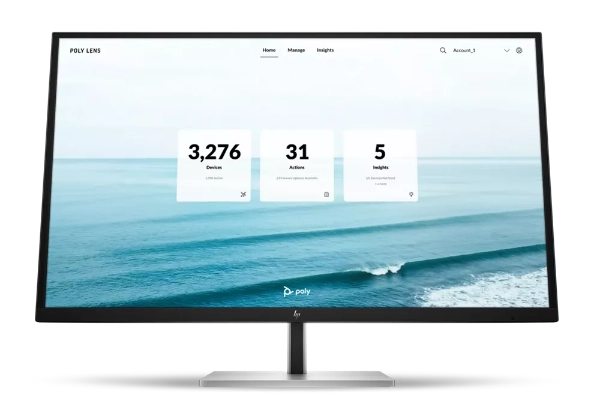 Poly Lens APP – Designed For You
Get the most out of your Poly devices. Use one convenient app to manage all your compatible devices. Keep software up to date, manage settings, and use the personal health and wellness reminders to keep you focused and energized all day long. With the Poly Lens App, you can customize your devices to work the way you do.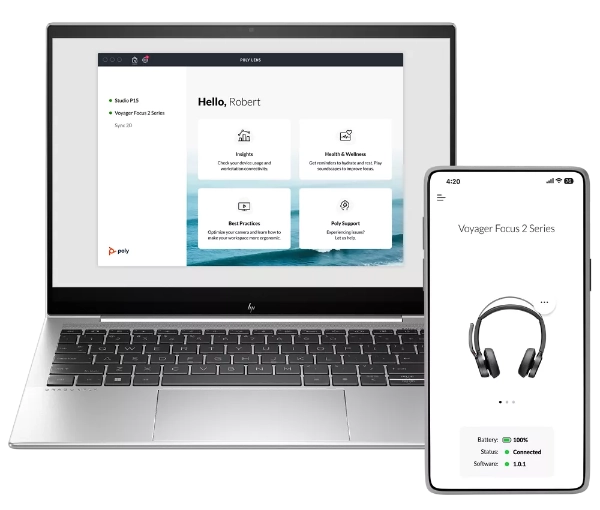 ---
Poly Savi 8220 UC Wireless DECT Headset Benefits:
Connect up to 4 headsets for training or call resolution
Enterprise-grade DECT audio for premium listening experience and eliminate Wi-Fi interference
Active Noise Canceling blocks out background noise
Covering both ears allows complete focus on your caller
One touch controls – call answer/end, volume up/down and mute
13 hours of talk time gets you through the busiest of work days
590 ft of distance give you mobility throughout your office
The Poly Savi 8220 UC Wireless Headset weights 160 grams
Adaptive power system optimizes for range and talk time
---
Poly Savi 8220 UC Wireless Headset Features:
Enjoy an enterprise-quality audio experience by listening to music and media in premium hi-fi DECT stereo (S8220)
Active noise canceling (ANC) tunes out background noise, ensuring great audio quality and fewer interruptions (S8220)
DECT Security certified; uses the latest standards in DECT wireless security
Adaptive power system allows you to automatically downshift to low power when the headset is close to the base to save battery life and maximize density
Limit the transmission of nearby conversations with the close conversation limiting feature (configurable in Poly Lens)
Poly+ software-as-a-service that is sold separately, enables your IT team to gain insight into every Poly headset being used company-wide
1 Year Warranty
UC Versions
S8220 UC-A (USB-A)
POLY

SKU: 209215-01
UPC: 017229171152

HP

SKU: 77T33AA#ABA
UPC: 197029593184

S8220 UC-C (USB-C) | 209825-01

***Discontinued ***
Microsoft Versions
S8220-MA (USB-A)
POLY

SKU: 209214-01
UPC: 017229171145  (USB-A)

HP

SKU: 77Y82AA#ABA
UPC: 197029609915

S8220-MC (USB-C) | 209814-01

***Discontinued ***
---
Poly Savi 8220 Headset Specifications:
Talk/Standby Time
Up to 13 hours talk – Up to 50 hours standby (Savi 8210 and Savi 8220)
Headset Wireless Range
Line of sight – Up to 590 ft/180 m
Typical office environment – Up to 180 ft/55 m
Battery Capacity
490 mAh (Savi 8210)
700 mAh (Savi 8220)
Battery Type
Rechargeable
Replaceable
Lithium ion polymer
Charge Time
Wireless Technology
DECT™ (Savi 8200 UC Series)
Receive Audio Performance
Active noise canceling (ANC) (Savi 8220)
Receive Frequency Response
Wideband – 100 Hz-6800 Hz
Multimedia – 20 Hz–20 kHz
Hearing Protection
SoundGuard DIGITAL protects against sound levels above 118dBA
G616 anti-startle (during calls) detects and eliminates any large sudden increase in signal level
Time-weighted average prevents average daily noise exposure from exceeding 85dBA

*Requires Poly Lens software to enable SoundGuard DIGITAL features*
Microphone and Technology
Noise canceling with close conversation limiting
Weight
Savi 8220 (Stereo): 160 g
Call Control For Poly Savi 8220 UC Wireless Headset
Call answer/end
Mute
Volume +/-
ANC on/off (Savi 8220)
Power on/off
Voice and Other Alerts
Application Supported
Warranty
---
What Comes In The Savi 8220 UC Box:
Savi 8220 UC Headset
Desktop charger
D400 USB adapter
USB-A to USB-C adapter