Poly DA75 USB Adapter For Use With Quick-Disconnect Headsets – Poly 218266-01 or HP 786C6AA
The Poly DA75 USB adapter part # Poly 218266-01 or HP 786C6AA keeps your call center employees sounding clear at home or in the office with easy USB-A or USB-C connections. Audio is adjusted to each specific headset, offering pro-grade call quality. Durable enough for 50,000 disconnects, and gentle enough to preserve your hearing, the DA75 adapter upgrade any Poly QD headset to a new standard of excellence. Flexible and future-proof, only from Poly.
Built-in USB-A and USB-C connectors
Full backwards compatibility for any Poly QD headset
Intelligent headset recognition
Remote firmware and cloud system updates
---
Poly DA75 USB Adapter Benefits
Work hassle-free across new and legacy equipment with USB-A and USB-C connectors right on the cable
Answer soft-phone calls from any PC, no matter what kind of USB port you have
Get more out of your legacy headset, and your investment, with full backwards compatibility
Walk away from your desk with a click: Poly Quick Disconnect technology works with any Poly QD-equipped headset

---
Poly DA75 Is Making The Hybrid Call Center Work
Smart digital headset adapters that make home/office working a breeze. Want your call center employees sounding crystal-clear from home or office? The Poly DA Series USB-A and USB-C compatible digital adapters adjust audio to each specific Poly headset, offering pro-grade call quality. You'll even get full access to everything Microsoft Teams has to offer. This level of flexibility and sheer quality could only come from Poly.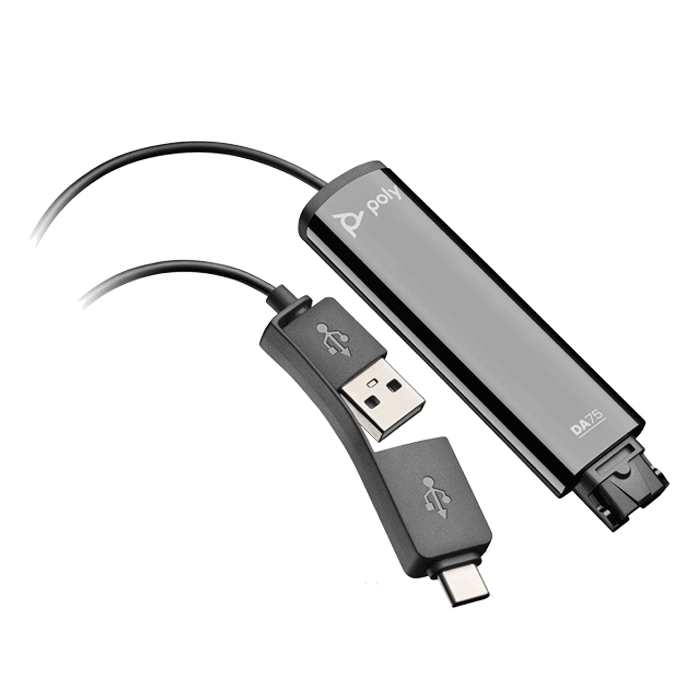 ---
Flexible & Future Proof
Support hybrid working with a connection to Poly's new & legacy equipment. Preserve your investment in current and legacy tech with the Poly DA75. Not only does this digital adapter include USB-A and USB-C access right on the cable, it is also backwards compatible with all your new and legacy Poly headsets and accessories.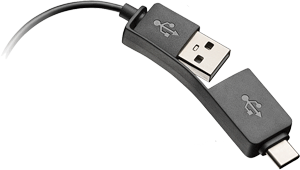 ---
Peak User Experience



Completely optimized: better audio quality, durability, even user-friendliness. Call clarity isn't just a dream. Poly DA Series offers intelligent headset recognition that dynamically tunes audio performance to your headset. Stay distraction free with the DA75.
---
Poly DA75 USB Adapter Features:
Upgraded durability
USB-A and USB-C on the same cable
Intelligent headset recognition
Works with any Poly QD adapter for unlimited compatibility
SoundGuard Digital to protect users hearing
Weight: 30g / 0.06lb
Cable Length: 51.2 in
POLY

SKU: 218266-01
UPC: 017229175112

HP

SKU: 786C6AA
UPC: 197029650054

Firmware updates available using Poly Lens