Plantronics H41N Mirage Benefits:
The Plantronics H41N Mirage headset is barely detectable when worn. The Mirage's sculped, ergonomic design offers all-day comfort and superior audio.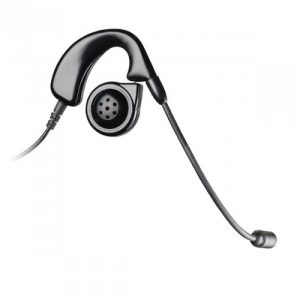 • Plantronics H41N Mirage Headset frees your hands for typing and writing increases productivity
• Over-the-Ear for lightweight and low profile design
• Flexible microphone for perfect mic placement
• Noise canceling microphone so callers hear you better when loud
• Quick Disconnect allows you to easily walk away from your desk
• The Plantronics H41N weighs only 22 grams
• No headband to mess your hair or give you a headache
• The H41N is wearable on your right or left ear
• Speaker swings in/out for quick and easy placement over your ear 
• FREE clothing clip included for better cord management
• FREE eyeglass clip included
• FREE technical support with purchase

• Need help?  Call us and talk to a Real Person!
---
Light-weight and low-profile design has lead to the tremendous success of the Plantronics H41N Mirage: 
     + Light-weight
     + Over-the-Ear
     + Noise-canceling microphone
LOW PROFILE
Do you desire a headset that is stylish and unobtrusive, with a comfortable ergonomic design? Plantronics has created the H41N Mirage to meet all of your expectations! The H41N is popular because it is discreet, it offers an over the ear design with a sleek, sculpted shape. There is no over-the-head band to ruin your hair or give you a headache by the end of the day.
LIGHT-WEIGHT DESIGN
Furthermore, the entire H41N headset weighs 22 grams, so you hardly know you're wearing it. Just imagine an outside receiver that rests gently against your ear, swivels at a touch, yet consistently provides exceptional sound quality. The Mirage H41N offers all of these attributes and more!
MICROPHONE POSITIONING
The H41N Mirage has an adjustable noise-canceling microphone, allowing you to easily find the optimal position so your caller hears you perfectly while it cuts down on background noise around you.
NOT SURE WHERE TO START?
Check out our popular Headsets 101 – Ultimate Guide to Understanding Headsets which is constantly being updated to keep you informed on using the Plantronics H41N Mirage and any other Plantronics headset you're interested in.  With numerous pictures and detailed headset information, you will fully understand what connects where and what's needed for any application you may have.
---
Headset Features:
Lightweight, convenient over-the-ear design provides easy on/off flexibility.
Ergonomically sculpted shape fits comfortably behind either ear.
Adjustable speaker rests lightly against the ear.
Superior Sound. SoundGuard® technology provides natural voice tone and removes loud tones, as well as occasional noises and crackles on the line.
Quick Disconnect™ lets you walk away from your phone while still wearing your headset.
10-foot coil cord and adjustable clothing clip for freedom of movement.
Available with Voice Tube (H41) or noise-canceling (H41N) microphone:
Voice Tube—Plantronics' trademark design; light weight and unobtrusive, delivers great sound quality in all but the noisiest environments.
Noise-canceling—Filters out background sounds for heightened speech clarity.
Warranty: 2-Years for Unsurpassed Durability
Operating Frequency: Standard Band
Headset Weight: 22 Grams
Compatibility: Plantronics Amplifier, Adapter Audio Processor or Direct Connect Cable
Wearing Style: Over-the-Ear
Model # 26851-02