Where's Your Meeting Room Today?
This is the Jabra Speak2 75 speakerphone, your personal pocketable device for the coffee-table-conferencing, dining-room-dialing, hotel-hot-desking meeting rooms of a hybrid world.
It's the next generation of professional, portable speakerphone, packed with the very latest technology.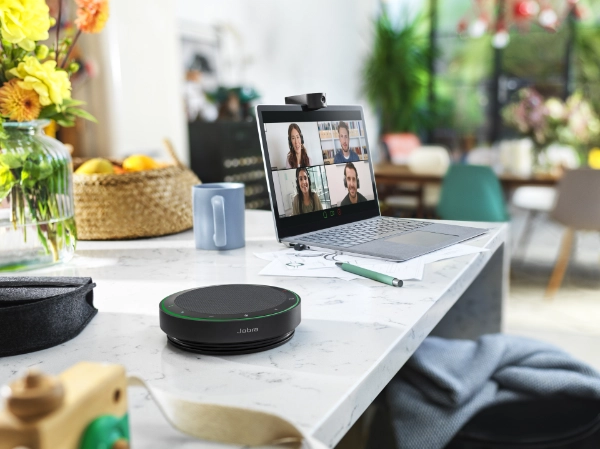 With our advanced super-wideband audio*, precision microphone performance, and technology that refines the subtle tones in your voice, today's meeting room could be a huddle room, the couch, or a campervan on the beach (you can get WiFi on the beach, right?)
*Super-wideband audio experience requires UC client support, and device support
---
A Speakerphone That Displays Your Voice Quality
Speak2 75 lets you see at a glance how well your voice is being picked up, at all times, wherever you are in the room, because it's the only speakerphone to feature a custom-designed Microphone Quality Indicator.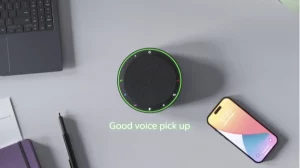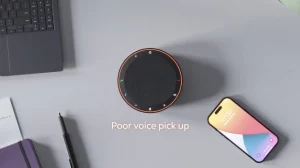 This intuitive 360-degree light ring shows you clearly when you're coming across loud and clear, and when you need to huddle in a little closer.
It's like having your own personal voice coach in every meeting.
---
Voice Leveling – Your Caller Hears Everyone At The Same Volume
Booming Barbara will always be louder than Reserved Roger, but that doesn't make what she has to say any more important. We know how vital it is to give everyone an equal seat at the virtual table, so we engineered Speak2 75 speakerphone with our latest cutting-edge Voice Level Normalization technology.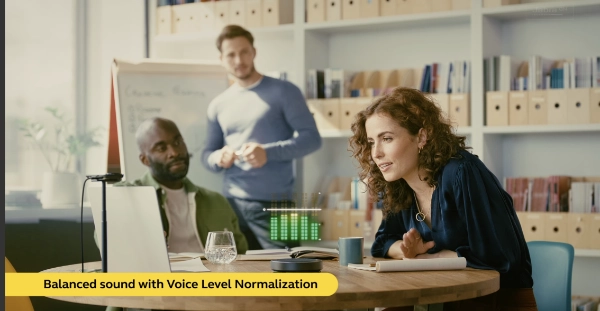 It means everyone in the room will always be heard whether they speak quietly with confidence, or raise their voice to make their point. Everyone can be themselves and speak naturally, so you can all focus on the topic in hand rather than fiddling with volume controls.
---
W i d e s c r e e n For Your Ears
Forget everything you think you know about portable speakerphones. We're tearing up the rule book with super-wideband audio*, and an advanced full range 65mm speaker.
"Say what?"

Well, that's not a question you'll need to answer, because this advanced tech puts you (and your big ideas) front and center in every meeting, unscrambling the widest range of frequencies in your voice's natural range, for a dramatically more powerful audio experience.
Crystal-clear calls and rich, powerful music. What's not to love?
---
Let It Flow
You know those sounds you make to show you're listening and engaged? Some speakerphones don't allow both sides of the conversation to speak and be heard at the same time, so those little 'ooohs' and 'aaaahhhs' of encouragement fall on deaf ears. Or worse, interrupt the flow for everyone.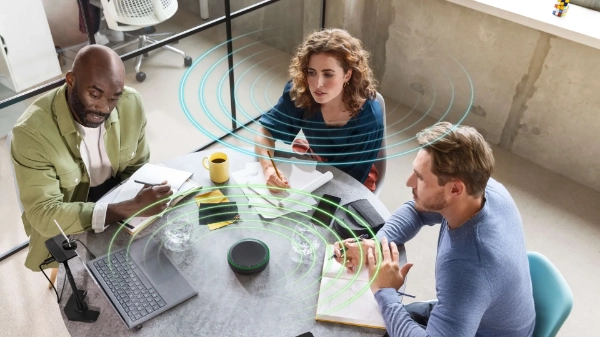 We think conversations are better when they feel natural, so Speak2 75 is engineered with advanced full duplex audio, with a supercharged chipset that goes way beyond standard speakerphone performance.
So your conversations can flow freely in both directions, just like they would in person.
Don't neglect the mute button though. Nobody wants to hear you eating your lunch.
---
Most Valuable Player – Jabra Speak2 75
With four state-of-the-art beamforming microphones, and the very latest digital signal processing algorithms, it's safe to say the Jabra Speak2 75 speakerphone is truly at the top of its game.
Wherever you put it – a table, a desk, a floor – it'll effortlessly field sound from all directions, harnessing every change in voice tone, so every nuance is picked up (because it's not what you say, but how you say it).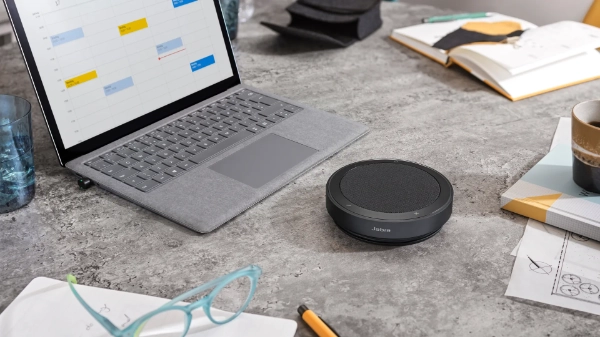 All while our innovative noise reduction technology deftly bats away distracting background bother like tippy-tappy keyboards and extra-crunchy chips.
The result is an outstanding audio experience that's truly unmatched.
When it comes to prioritizing your voice, we're not playing around.
---
Chuck Us A Puck
The iconic, much-loved 'puck' shape (as nicknamed by our ice hockey-loving customers) of the original Speak Series gets a serious makeover with Speak2 75. It's modern and minimal, with brushed aluminum detailing and premium custom-designed speaker fabric, engineered to deliver the most optimal audio experience.

It's also small and durable enough to chuck into your bag. We wouldn't recommend playing ice hockey with it though.
---
As Robust As Your Discussions
We've made sure Speak2 75 is built to handle anything a busy hybrid working day throws at it – from messy kitchens to deep work bags – with IP64-rated protection from water and dust.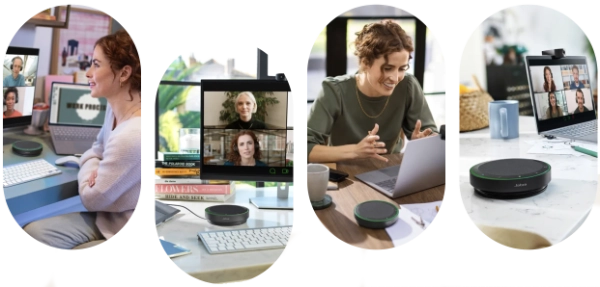 So you can use it anywhere, without worrying. Even if your hybrid working week takes you to a different place every day.
---
One Small Step To Start. One Giant Leap In Battery Life.
Just plug-and-play and you're off faster than you can say "you're on mute". And you can go wireless with up to 32 hours battery (yep – 32 whole hours – even Janice's meetings aren't that long). You'll need to recharge before your Speak2 75 does.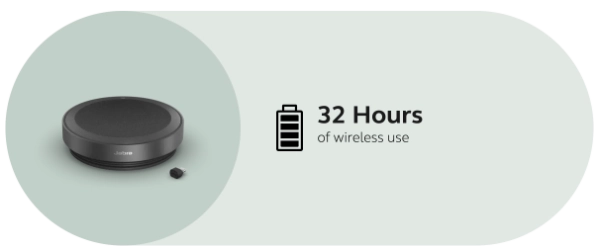 And to make setup even more of a snap, your Speak2 75 also comes with Microsoft Swift Pair and Google Fast Pair.
---
Your Flexible Friend
We're in a sort of USB twilight zone. Some people have fancy new USB C computers, and some haven't traded in their trusty USB A model yet. So to save you tearing the office apart looking for an adapter, we made it so Speak2 75 can connect to both.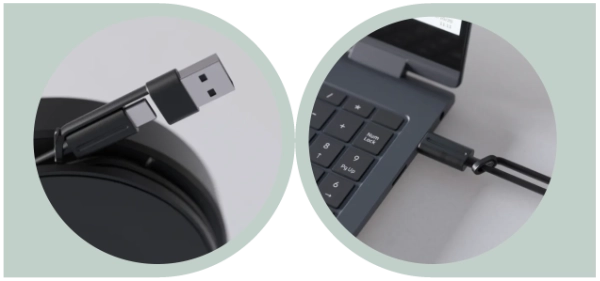 It's the first speakerphone in the category to have both connectors on a single cable, so it'll work now, and when you decide to make the upgrade to a faster, funkier machine.
And since we're givers, we'll also keep you ahead of the game with regular firmware updates, via our Jabra Direct and Xpress software, and you can customize your settings with the Jabra Sound+ app.
---
Designed With The Planet In Mind
We recognize that technology hasn't always been inherently sustainable, but we're working hard to put that right. To help protect our planet, we consider sustainability carefully at every stage of product development.
The casing of Speak2 75 is made with over 33% sustainable materials*, and has a number of built-in parts that can be repaired or replaced. All of this adds up to better sustainability and longer speaker life – and more high-quality, productive calls for you and your team for years to come.
*Sustainable materials include post-consumer recycled, post-industrial recycled or bio-based materials
---
Jabra Speak2 75 Speakerphone Overview
Microphone quality indicator. Intuitive color-coded light ring shows how well your voice is being picked up by the microphones
Fabric speaker cover. Offers better sound quality and a softer aesthetic.
Designed for durability. IP64-rated protection from dust and water. Perfect for hybrid working.
Full-range 65mm speaker and Super wide-band audio. Fill up the room with incredible sound and hear every subtle nuance of what's being said
Brushed aluminum detailing gives a sleek, attractive finish.
USB-A & USB-C as standard. The only speakerphone in it's class to feature both USB-A and USB-C connectors on the same cable.
---
Jabra Speak2 75 Speakerphone Specifications
General Info
Box Contents

Speakerphone
Link 380 Bluetooth adapter (variant dependent)
Carry Pouch
Safety information
Warranty card

Main Unit Dimensions (ØxH)

132.5mm x 35mm | 5.22in x 1.38in

Main Unit Weight
IP Rating**

IP64 – rated protection from dust and water

UC Version w/ Bluetooth adapter

USB-A:  Jabra Speak2 75 UC – Link 380a, Dark Grey | 2775-419
USB-C:  Jabra Speak2 75 UC – Link 380c, Dark Grey | 2775-429

MS Teams Version w/ Bluetooth adapter

USB-A:  Jabra Speak2 75 MS Teams – Link 380a, Dark Grey | 2775-319
USB-C:  Jabra Speak2 75 MS Teams – Link 380c, Dark Grey | 2775-329

Jabra Model Numbers

Speakerphone – PHS060W
Bluetooth adapter – END050W/END060W

Warranty
Certifications and compliance***

Microsoft Teams (variant dependent) | Microsoft Teams Rooms (variant dependent) | Microsoft Swift Pair
Alcatel-Lucent | Avaya | Cisco | Unify MFI
Zoom Rooms | Zoom
Google Meet | Google Fast Pair
Amazon Chime
Audio
Ideal room sizes

Up to 4.5m x 4.5m | 14.76 ft x 14.76 ft

Microphone

Number of Microphones: 4
Type: Digital MEMS
Frequency Range: 150Hz – 14000Hz
Pick Up Range: Up to 2.5m | 8.2 ft

Full duplex audio
Signal-to-noise ratio (SNR)
Speaker Size
Peak Audio Output
Speaker Bandwidth

Music Mode: 80Hz – 20000Hz
Speak Mode: 150Hz – 14000Hz

Acoustic Echo Cancellation (AEC)
Reverberation Reduction
Voice Level Normalization (Automatic Gain Control, AGC)

Yes (for incoming and outgoing audio)

Super-wideband (SWB)****
Noise Reduction on Calls
Microphone Quality Indicator (enabled in Jabra app)
Software & Apps
Jabra Direct
Jabra Sound+
Jabra Xpress
Battery
Talk Time
Cord Charging: Integrated USB-C cable with USB-A adapter

Charging Time (USB C/A 1 A): Up to 2.5 hrs
Charging Time (USB C/A 0.5 A): Up to 5 hours

Battery Type:
Capacity: 4700mA
Connectivity
USB-A or USB-C, Bluetooth (for smartphone/tablet only)
Bluetooth adapter: USB-A | USB-C
Operating range (Bluetooth)
Simultaneous Bluetooth Connections
Integrated USB cable length
Bluetooth®
Bluetooth version 5.2
Link Adapter
Bluetooth profiles

A2DP, AVRCP, BLE (for MS Swift Pair, Google Fast Pair), HFP, HSP
*Variant Dependent
**Avoid exposing the USB cable or adapter plug to moisture or liquids and never charge or power up if the USB cable or adapter plug is wet or moist.
***Certified for USB connection or Jabra Link 380 Bluetooth adapter connection. Standard Bluetooth connections are not certified.
****Requires a USB connection and all connected meeting participants to have a super-wideband supported device and conferencing app.