The Future of Hybrid Work is Unfolding
Introducing the Jabra Evolve2 65 Flex foldable wireless headset. 8 am meeting at home. Catch-ups from your local café. In-person presentation in the afternoon. When work has you hopping from place to place, you need a headset that's as flexible as you are.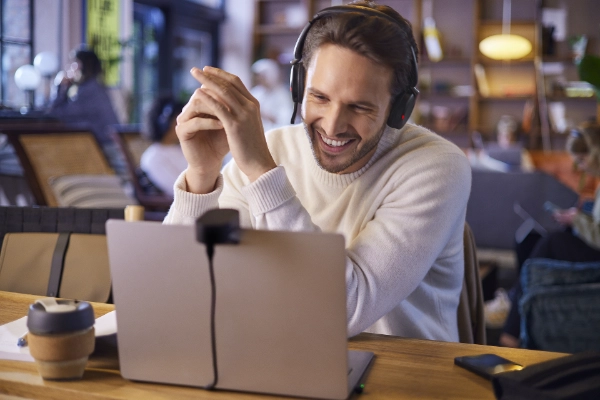 Evolve2 65 Flex has serious get-up-and-go. It's the most portable professional headset, with flexible work-friendly features including best-in-class Hybrid Active Noise Cancellation (ANC), noise-cancelling microphones, and game-changing Jabra AirComfort technology to help you stay focused and comfortable anywhere.
And the best bit? The revolutionary hinged design folds flat and compact, slipping easily into its protective pouch, to perfectly fit in your bag and your nomadic work schedule.
Unfold a more flexible way to work, with Evolve2 65 Flex.
---
The Strong, Silent Type
Want to work wherever you want without noise getting in the way? Done!
Evolve2 65 Flex helps you work in whatever loud location you want, thanks to an advanced chipset and premium noise-cancelling microphones that deliver a powerful Hybrid Active Noise Cancellation (ANC) performance that's the best in its class*.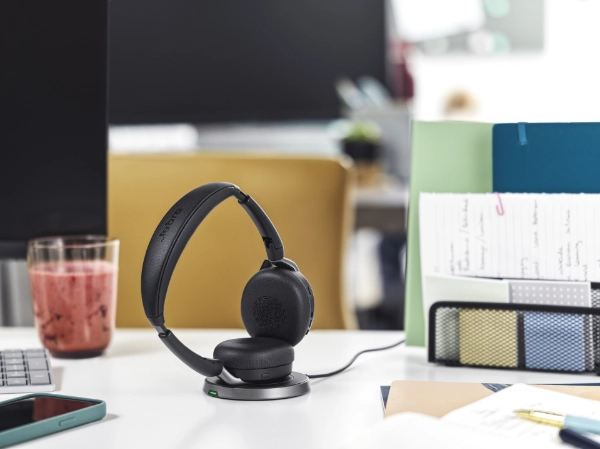 And because the memory foam earcups fit closer to your ears, they seal out even more distracting sounds. Leaving you to get on with your work in peace.
Put the world on pause, with Evolve2 65 Flex.
* Class is defined as competitors in the same price range. Refer to jabra.com/commercial-claims.
---
Give Your Voice Center Stage
Typical. That crucial work call you've been waiting for has finally come through. But you're stuck in less than professional surroundings.
Don't sweat it. Evolve2 65 Flex slices through background sounds to keep you sounding sharp and super slick on calls and virtual meetings, no matter where you are.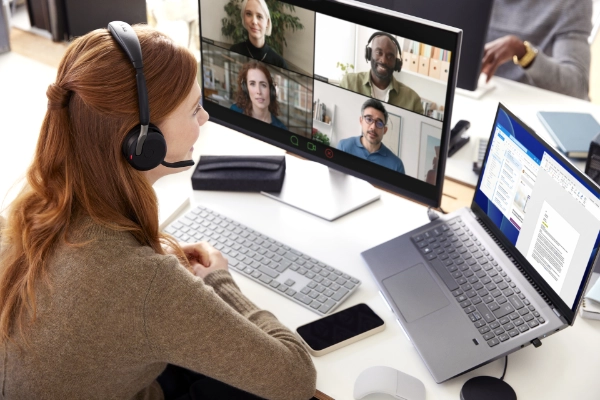 A specially-designed digital algorithm, powerful chipset, and Jabra ClearVoice microphones join forces to block out noise from shop queues, yapping pets, and skull-shaking roadworks, so the focus stays on every word you say.
Now you can keep it professional wherever you choose to talk.
---
A Breath of Fresh Air
Working long hours is a total breeze with Evolve2 65 Flex.
That's because we've added our game-changing Jabra Air Comfort technology to its streamlined fold-and-go design.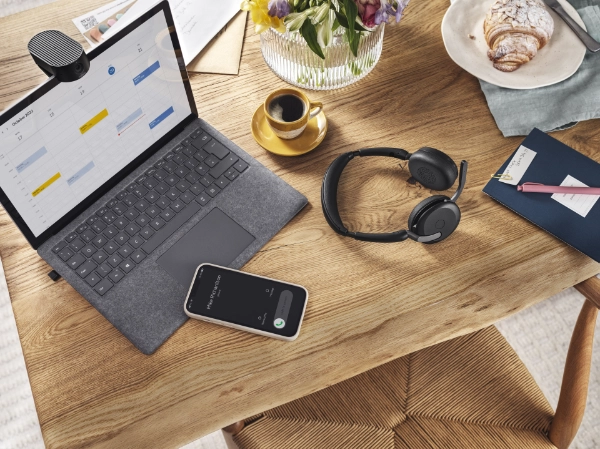 Specially engineered to take the pressure off, our unique technology layers ultra-soft perforated foam inside the collapsible headband for a gentle cushioning effect.
Meanwhile, the flexible earcups rotate to move whenever you do. Making you feel incredibly comfortable, no matter how long your headset is on.
Are you ready to get some Air?
---
Light Up Your Focus
Need some peace to tick off your to-do list? Evolve2 65 Flex has a little something that can help.
Its 360° busylight glows red, sending out an easy-to-see "STOP" sign so that everyone around you knows when you need a bit of focus time.
Give off all the right signals, with Evolve2 65 Flex.
---
Jabra Evolve2 65 Flex Foldable Headset — Designed for the Hybrid Life
We wanted to help you fit in wherever your hybrid day takes you. So we made sure Evolve2 65 Flex stands out for all the right reasons.
Its new streamlined silhouette doesn't just look sleek, it gives you serious get-up-and-go, thanks to our innovative hinged headband that folds flat, so it's easy to take with you wherever you're headed.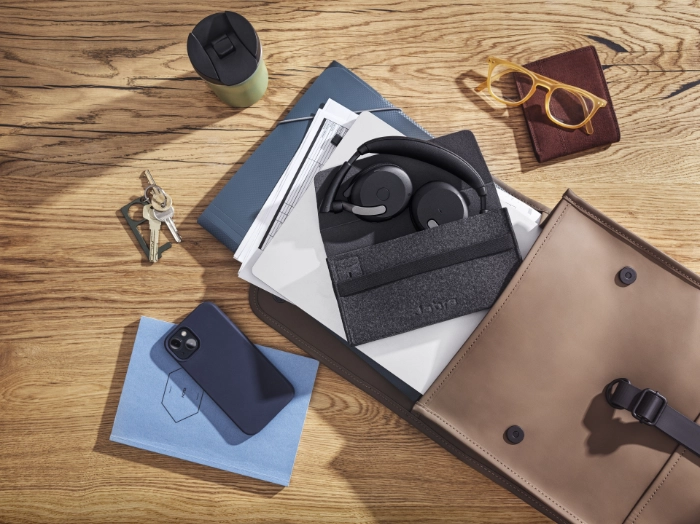 And because the boom arm is shorter and flips up to hide away, you can sound ultra-professional in the office and still be able to listen to music in your downtime – without looking like you're about to launch into a pitch presentation.
Smart-casual? Evolve2 65 Flex has it nailed.
---
All-Access Pass
Hybrid work takes you, your colleagues, and your clients all over the place, which means most of your meetings are no longer face-to-face.
Evolve2 65 Flex is certified for all leading virtual meeting platforms – including Google Meet, Microsoft Teams, and Zoom – so you can enjoy better quality virtual catch-ups however you want to get in touch.
Plug-and-play setup gets things going instantly, and a wireless range of up to 30m/100ft gives you even more freedom to do things your way. And with dual connectivity letting you switch between devices, it's easy to jump from listening to music on your phone to taking an incoming video call on your laptop without missing a beat.
Staying flexible just got a whole lot easier.
---
Jabra Evolve2 65 Flex Foldable Headset Overview:
Revolutionary Jabra AirComfort technology
Cushioned headband filled with perforated layers of super-soft foam and rotating flexible earcups that move with you to create out-of-this-world comfort
Certified for leading virtual meeting platforms
Works with all leading virtual meeting platforms, including Microsoft Teams, Google Meet and Zoom for seamless connection, superior audio, and enhanced collaboration
Certified for Microsoft Teams
Certified for Microsoft Teams to give you smoother access to your collaboration platform of choice
Integrated Microsoft Teams button
Join meetings instantly with the integrated MS Teams button1
Integrated call control button
Gets to calls quicker with on-headset call control
Integrated 360° busylight
Integrated 360° busylight automatically lights up during calls to instantly send out a "do not disturb" message
Collapsible headband
A revolutionary hinged design means you can fold the headset flat, making it instantly compact and portable
28mm custom speakers
Get incredible sound quality for your calls and music with 28mm custom speakers
Hybrid Active Noise Cancellation
Powerful noise-blocking technology gives noise the silent treatment for a best-in-class* performance
Voice-isolating Jabra ClearVoice microphone technology
Premium microphone technology improves voice transmission for professional sound on all your calls
Boom arm with mute function
Lift up to mute calls, and lower when you want to talk
*Class is defined as competitors in the same price range. Refer to jabra.com/commercial-claims.
1Microsoft Teams Variant only
---
Jabra Evolve2 65 Flex Foldable Headset Specifications:
UC Version
USB-A

SKU: 2699-989-989-01
UPC: 0706487025016
Part # Evolve2 65 FX UC-A

USB-C

SKU: 26699-989-889-01
UPC: 0706487025030
Part # Evolve2 65 FX UC-C
Microsoft Teams Version
USB-A

SKU: 26699-999-989-01
UPC: 0706487025023
Part # Evolve2 65 FX MS-A

USB-C

SKU: 26699-999-889-01
UPC: 0706487025047
Part # Evolve2 65 FX MS-C
General Info
LED features and functions

Busylight, desk stand docking indication, incoming call

Form factor
Headset weight
Headset dimensions

200mm x 108mm x 155mm | 7.87in x 6.1in x 4.25in

Jabra Model Numbers

Headset – HSC190W
Charging Stand – WH-WI-022
Bluetooth Adapter – END050W

Warranty
Box Contents
Jabra Evolve2 65 Flex headset
Link 380 Bluetooth adapter
USB cable (1.2m/3.9ft)
Carry pouch
User documents
Wireless Charging Pad
Audio
Active Noise Cancellation (ANC)
HearThrough
Speakers

Size: 28mm
Max input power: 30 mW
Frequency range: 20Hz – 20000Hz
Bandwidth (Music Mode): 20Hz – 20000Hz
Bandwidth (Speak Mode): 20Hz – 20000Hz

Audio Codecs Supported
Microphone

Type: 2 Analog MEMS / 4 Digital MEMS
Sensitivity: -38 dBv/Pa (analog microphone)/-26 dBFS/Pa (digital microphone)
Frequency range: Analog 20Hz – 10000Hz | Digital 20Hz – 10000Hz

User Hearing Protection

PeakStop™
Jabra SafeTone™
G616

Certifications & Compliance

Microsoft Teams (variant dependent), Alcatel-Lucent, Avaya, Cisco, Unify, MFi, Zoom Rooms, Google Meet, Amazon Chime, Google Fast Pair
Software & Apps
Compatibility

Jabra Direct
Jabra Sound+
Jabra Xpress

Fast Pair (Android only)
Battery
Music time: Up to 32 hours (with ANC off)/Up to 21 hours (with ANC on)
Talk time: Up to 20 hours (with ANC/busylight off)/Up to 15 hours (with ANC on/busylight on)
Charging time: Up to 120 minutes
Battery level after 30 min of charging: Up to 45%
Corded charging: USB-C
Sleep mode
Connectivity
USB-A
USB-C
 Bluetooth

Bluetooth® profiles: A2DP v1.3, AVRCP v1.6, HFP v1.8, HSP v1.2, PBAP v1.1, SPP v1.2
Bluetooth® version: 5.2
Operating range: Up to 30m | 100 ft
Paired devices: Up to 8 Bluetooth devices
Simultaneous Bluetooth connections: 2
Extended
Operating temperature: -5°C to 45°C | 23°F to 113°F
Operating temperature for wireless charging: 0°C to 40°C | 32°F to 104°F
Storage temperature: -10°C to 55°C | 14°F to 131°F
Accessories
Jabra Evolve2 65 Flex ear cushion: 14101-89
Jabra wireless charging pad: 14207-92
Evolve2 65 Flex carry pouch: 14301-58
---
FAQ
Who is Evolve2 65 Flex for?
Evolve2 65 Flex is the ultimate headset for the most hybrid of workers – the get-up-and-go people who can't predict where they'll be working on a daily basis. With its revolutionary fold-and-go design, sleek profile, extra- thin ear cups, hidden boom arm, and wireless charger.
The Evolve2 65 Flex is the perfect companion for those who want to make every place their workstation – whether that's at home, the office, or a noisy café.
How does Google fast pair work?
We know your time is valuable, so we've made Evolve2 65 Flex easy and lightning-fast to use. When Evolve2 65 Flex is placed next to an Android device, and in Bluetooth® pairing mode, the user will get a pop-up notification on the Android device, for one simple tap to pair the headset. Think of it as ready, headset, go.
All supported Android devices (running Play services 11.7+ with compatibility back to Android 6.0) can use Fast Pair. This includes all your current and future Android phones (6.0+) associated with your Google Account. For the advanced personalization feature and 'Find My Device' integration you need an Android device with Android 10 or later.
How big is the Jabra Evolve2 65 Flex foldable headset when folded?
Small in size, big on professionalism, Evolve2 65 is incredibly slim measuring only 37mm height, 18.8 length 9.9 width. It is the most portable headset compared to its competitors in this price range.
What is the Jabra ClearVoice Microphone system?
If you find yourself in a noisy location, we wanted to make sure you'll still be heard perfectly. Jabra ClearVoice is a proprietary, state-of-the-art technology that combines a multi-microphone system with beamforming and superior algorithms, designed by Jabra. It meets the 'premium microphone for the open office' requirements adjusting a precise balance between cancellation of background noise and other people's voices with speech clarity enhancement.
Jabra ClearVoice is designed to meet the needs of the most demanding users, allowing them to make calls and attend meetings in even the noisiest environments – even when chatty colleagues or loud family members are talking right next to them.
What does "meeting Open Office requirements" mean?
For those times when the meeting room is double-booked and you have to take that call in a less than quiet part of the office, Evolve2 65 Flex allows you to still hear, and be heard.
When the Evolve2 65 Flex's boom arm is pulled down, it meets premium microphone for open office standards. This qualification is the strictest test requirement of how the headset microphone suppresses surrounding noise and office conversation from multiple directions. It is the ultimate reassurance that your headset will excel in an open office environment.
What is Jabra Air Comfort technology?
Back-to-back meetings can mean being in your headset all day, so we've created something to take the pressure off even when you've got your headset on. Jabra Air Comfort is a new comfort technology that features redesigned earcup cushions with a new pattern and material that distributes pressure on the ear more evenly.
We've also changed the inside of the ear cups with a softer, more responsive material that helps to relieve pressure on the ears.
The headband features a new perforated design that distributes pressure more evenly on the top of the head so you'll feel like you're not even wearing a headset during your long meetings. Our engineers spent years perfecting Jabra Air Comfort technology so you can look forward to a new level of feel-good factor during meetings and calls.
What does "made for iPod/iPhone/iPad" mean?
"Made for iPod/iPhone/iPad" means that an electronic accessory has been designed, checked and approved to connect to iPhone, iPad, and iPod models. You don't just have to take our word for it – it's been certified by the developer to meet Apple performance standards.
What is MySound for music?
How do you make your favorite track sound even better? MySound is a Jabra Sound+ feature in which an audio test is performed to create a personalized audio profile. Your MySound profile is then used to calibrate your Evolve2 65 Flex to optimize your music listening experience.
Can I connect my headset using both USB-A and USB-C?
Yes. You can choose between a USB-A or USB-C Bluetooth adapter.
Can I pair this headset with iPhone and Android?
Yes. The first time you turn on your Jabra Evolve2 65 Flex, it is ready to pair with your mobile device.
Does it work with Microsoft Teams?
Yes. Jabra Evolve2 65 Flex comes in two variants – UC-certified and optimized for Teams.
What is the benefit of the Teams variant of the Evolve2 65 Flex?
If you like Teams now, just wait 'til you see how much better it gets with a certified device in a Teams variant. We're talking remote meeting control, enhanced connectivity, and support from both Jabra and Microsoft (if you need it, which we're pretty confident you won't).
Does the headset come with a charging stand?
There is a handy charging stand.