Jabra Evolve 75 SE Business Grade Headset
Engineered to free your concentration, the Jabra Evolve 75 SE Stereo headset is the professional wireless headset for freedom in the open office.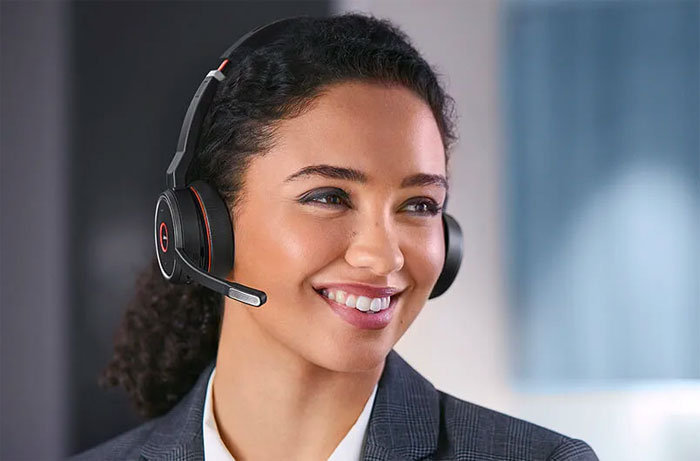 ---
World-class speakers and HD voice.
HD voice combined with world-class speakers deliver outstanding audio with crystal-clear clarity for your calls and music, whether you need to collaborate or concentrate during your day.
Get in the zone. Stay in the zone
Concentrating in a busy open office environment can be a challenge. With the on-ear design and superior Active Noise Cancellation (ANC) technology of the Evolve 75 SE, staying on-task has never been easier.
---
Busy has a color.
Close the door to your imaginary office with an integrated busylight that lights up red when you're in the middle of something. Your colleagues will know not to interrupt, and you'll know you can get your work done in peace.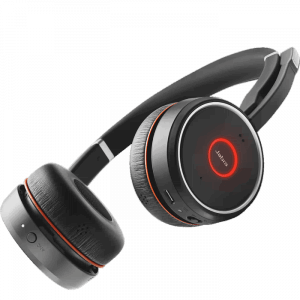 ---
Listen, talk, and walk with no limits.
Stay connected to two devices at the same time. Walk around the office up to 100ft/30m away from your device. Keep going all day long with 18 hours of battery life. The Evolve 75 SE gives you the ultimate freedom to work your way.
---
UC-certified means UC-certified.
The Jabra Evolve 75 SE is available in both a UC-certified variant and a Microsoft Teams-certified variant, for truly seamless communication.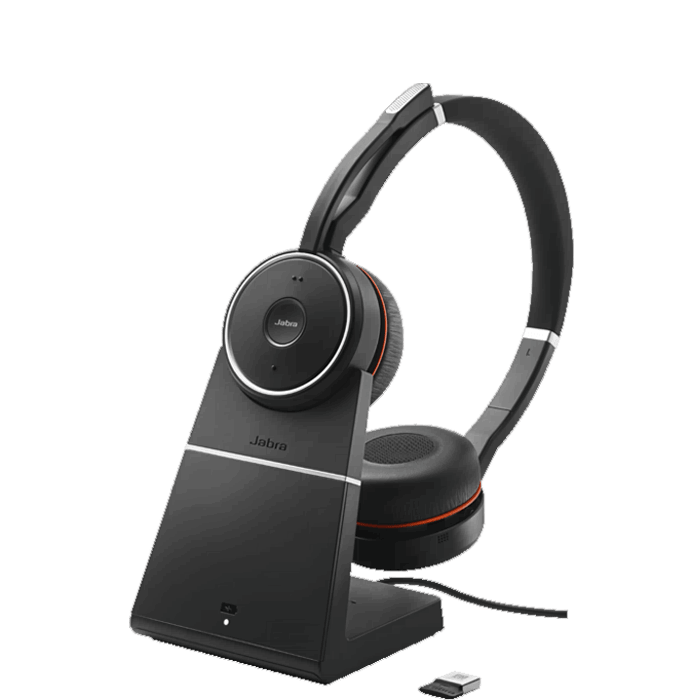 ---
Comfortable design for all-day use.
Intuitive headset with leatherette ear cushions and on-the-ear design enables all-day use with superior comfort for the open office environment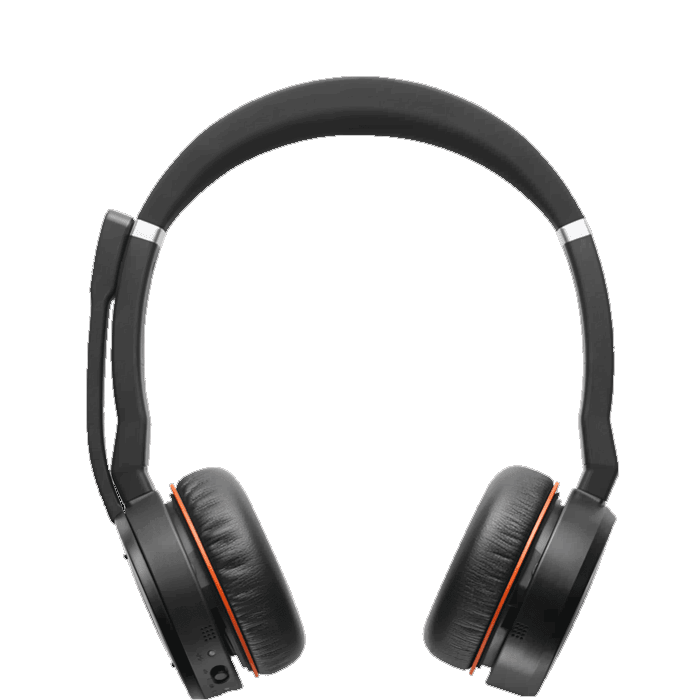 ---
At one with the universe (of phones and platforms)
The Jabra Evolve 75 SE is future-proof and compatible with all softphone and web clients, from Microsoft Teams to Mitel.
Providing your staff with optimized and trusted devices that work seamlessly with your UC platform is key to productivity, audio quality and having fewer IT issues. Jabra has tested their devices with a long list of platforms, and offers a Microsoft Teams certified variant.

---
Jabra Evolve 75 SE Stereo Headset Benefits:
Distance to cover most offices with 100 feet of Bluetooth wireless range
Passive noise cancellation helps you hear better
Active noise cancellation uses a hybrid 4 mic ensuring 17dB
18 hours of talk time to get you through the busiest days
Connect up to 2 devices with one headset
Integrated busy light reduces interruptions
Connect USB cable and charge while using the headset
Listen-in feature lets you hear your colleagues without having to take off your headset
Bluetooth connectivity for easy connection to smart devices and PC's
Made for voice and music listening pleasure with HiFi stereo sound
Soft leather feel cushions for all-day wearing comfort
Tuck the boom arm into the headband when not on a call
---
Technical Specifications:
Audio:
Active Noise Cancellation: Hybrid 4 mic ensuring 17dB (perceived cancellation in an office environment)
Passive Noise Cancellation: Yes
Listen-in Feature: Don't miss important announcements or questions from your colleagues. Press the left ear cup to hear the outside world without having to take off your headset.
Speaker size: 40mm Ø
Speaker sensitivity: 117dB @1 mW-1kHz
Speaker max input power: 30 mW
Speaker frequency range: 20Hz – 20,000Hz
Speaker bandwidth — music mode: 20Hz – 20,000Hz
Speaker bandwidth — speak mode: 150Hz – 6,800Hz
Microphone type: Medium-length boom arm with noise cancelling uni-directional ECM microphone
Microphone sensitivity: -17dBFS / Pa
Microphone frequency range: 100Hz – 10,000Hz
Audio codecs supported: SBC
User hearing protection: Jabra SafeTone™
Certifications:

Regulatory approvals: CE, FCC
Industrial Certifications: Avaya, Cisco, Google Meet, Microsoft Teams, Zoom
Battery:
Battery type: Rechargeable lithium ion battery
Talk time:

ANC/busylight off: Up to 18 hours
ANC on/busylight off: Up to 14 hours

Music time:

ANC off: Up to 17 hours
ANC on: Up to 13 hours

Charging time: Max. 120 minutes
Standby time: Up to 15 days
Connectivity:
Connection (computer and mobile devices): USB-A Bluetooth adapter, Bluetooth
Bluetooth device: Yes
Bluetooth version: Bluetooth 4.2, Class 1
Supported Bluetooth profiles: A2DP (v1.2), Hands Free Profile (v1.6), Headset Profile (v1.2), AGHFP (v1.6)
Operating range: Up to 30m/100ft
Bluetooth pairing list: Up to 8 devices
Simultaneous Bluetooth connections: 2
Security: Pairing, Authentication and Encryption (Bluetooth standard)
General:
Box Content: Evolve 75 SE headset, charging stand, Jabra Link 380 Bluetooth adapter, protective travel case, USB cord (allowing for use while charging), Quick start guide
Headset form factor: On-ear headband
Weight: 177g/ 6.25 oz
Headset dimension: 155×64.5×184.5 mm / 6.1×2.5×7.3 in
Warranty: 2 years from purchase date
Software: Jabra Direct/Xpress
LED features and functions: Integrated red lights on both ear cups are activated automatically when on a call or manually activated by the user when busy, to act as a 'do not disturb' sign.
Jabra Model Numbers

Headset – HSC040Wa
Link 380 – END050W

UC Version

Part #: J Evolve 75 SE Ster
SKU: 7599-848-199
UPC: 0706487022954

Microsoft Teams Version

Part #: J Evolve 75 SE-M Ste
SKU: 7599-842-199
UPC: 0706487022947

Accessories

Charging stand SKU: 14207-40
---
Jabra Evolve 75 SE Stereo Headset FAQ:
Can I use the Evolve 75 SE with my smartphone and tablet?
Yes. You can connect your headset to your PC with the Jabra Link 380, and a mobile phone at the same time.
Can I stream music to this device?
Yes. Evolve 75 SE has world-class speakers that are built for both voice and music.
Can I pair this with iPhone and Android?
Yes. The first time you turn on your Jabra Evolve 75 SE, it is ready to pair with your mobile phone.
Does it work with Mac and PC?
Yes. It works with both systems.
Does the headset come with the Bluetooth adapter?
Yes, the headset is supplied with the Jabra Link 380.
What is the wireless range from my laptop?
If you use the USB adapter provided in the box, you will get up to 100ft/ 30m of wireless range from your laptop whilst on a softphone call or listening to music.
How do I charge the headset?
You can use the USB cord provided in the box to connect to your laptop power to recharge, or you can use the charging stand.
Does the headset come with a charging stand in the box?
Yes, the SKUs we offer include the charging stand in the box.
What is the difference between UC models and models that are certified for Microsoft Teams?
The models that are certified for Microsoft Teams support Microsoft Teams as a plug-and-play experience includes these benefits:
Automatic selection as the default audio device.
Features to answer and end calls, adjust volume, and mute.
If multiple certified audio devices are present, certified models also offer call prioritization. Microsoft Teams will correctly send the audio to the device that was used to answer an incoming call.
If you use a model that is certified for Microsoft Teams with a different computer telephone softphone) client, the product should work the same as a UC model regarding audio and features, such as answer and end call, adjust volume, mute).
If you are not using Microsoft Teams, use the standard UC model.
Does it have a 3.5 mm jack?
No. Evolve headsets that include a 3.5mm jack: Evolve 30, Evolve 40, Evolve 80.