Everybody's Talking – Introducing Jabra Engage 55 Convertible USB Headset
Have better conversations, both at home and in the office, with Jabra Engage 55 Convertible Wireless Headset. This intuitive headset is designed for those who spend most of their day in calls or virtual meetings, giving you an extensive wireless range and the highest levels of security, for maximum peace of mind.
Whether you're working from home or a busy office, Jabra Engage 55 will keep you sounding professional for every single conversation, no matter what's happening around you.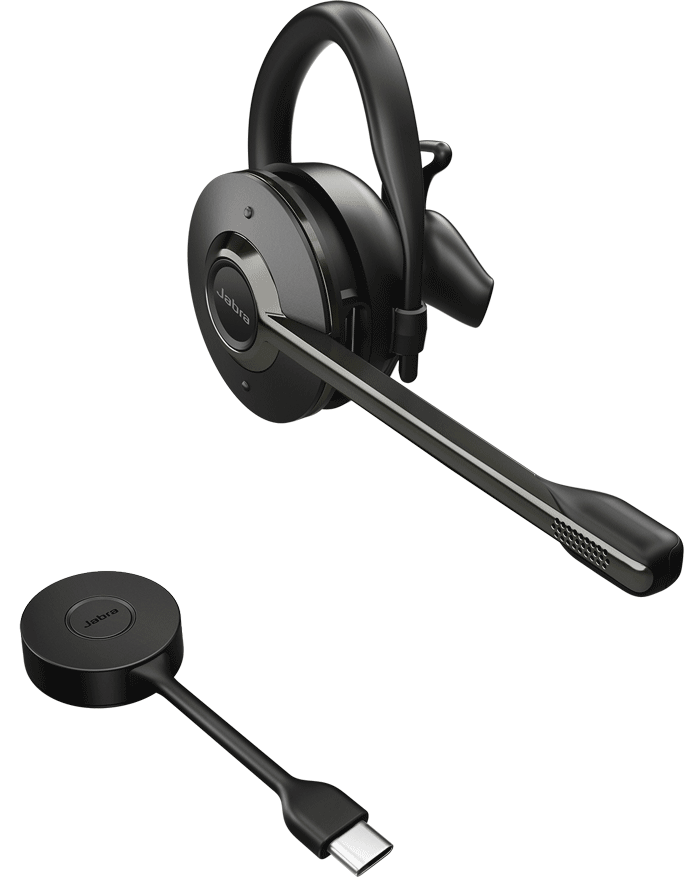 Wireless Range – Free Range (Conversations, Not Chickens)
Whether you're working from home or in the office, it's nice to have the freedom to move around. Jabra Engage 55's compact USB DECT adapter delivers a wireless range of up to 150m/490ft from your computer, and also makes it easy for you to move about with your laptop while you're on a call.
Head to the kitchen for a coffee, or walk a few laps of the office, without worrying about whether your connection will hold.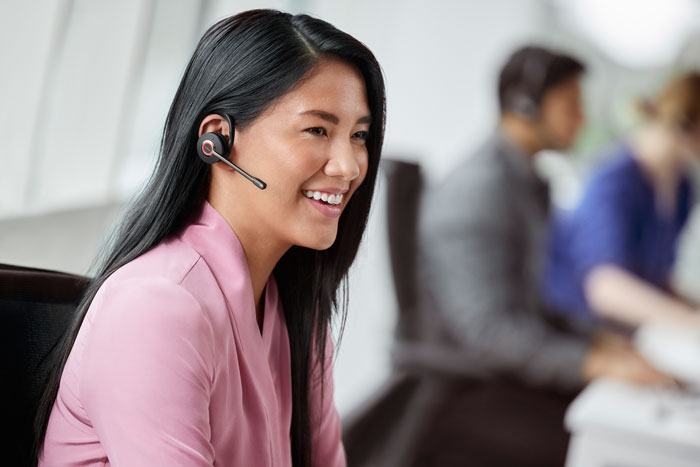 DECT Wireless – Power.Range.Security
DECT wireless is specifically designed for wireless communications, making it an ideal choice for call-intensive workers who need additional mobility. In fact, the DECT wireless range of Jabra Engage 55 is up to 15 times the average range of a Class 2 Bluetooth® device.
And if you're working in a busy office, DECT wireless is built to withstand the density of large numbers of people working in the same place, so you'll get a clear, robust, and secure connection for your conversations.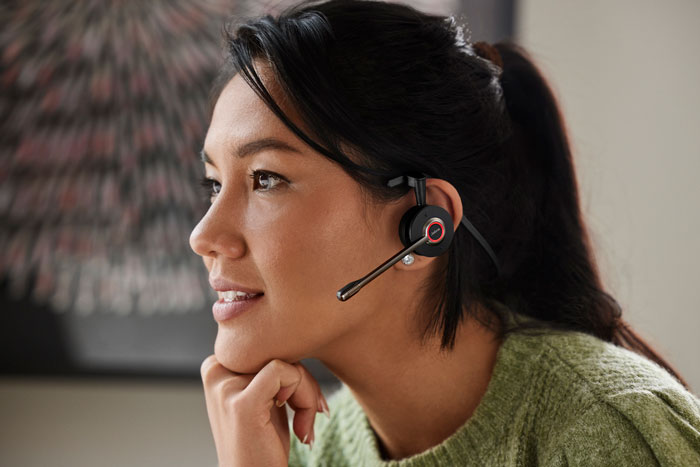 Secure DECT Wireless Adapter – Like Fort Knox. But Smaller
However you're working these days, if your conversations often include sensitive details, it's important to know that the data is protected.
The ultra-secure wireless adapter for Jabra Engage 55 is DECT Security certified. But because your data security is so important to us, we go beyond the DECT Security Step C level with additional FIPS military-grade 256-bit encryption algorithms, to prevent eavesdropping and keep conversations secure.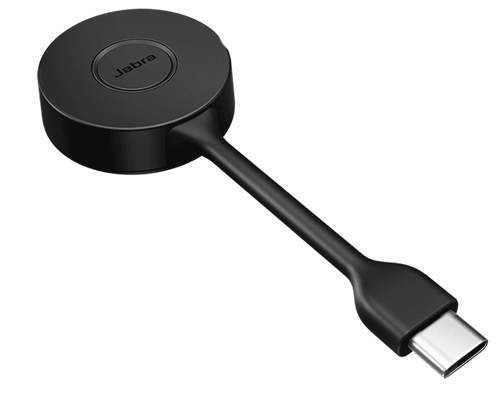 Professional-Grade Conversations – This Sounds Serious
When you're in back-to-back calls or virtual meetings, every word matters. Jabra Engage 55 features an impressive noise-canceling microphone that helps block out background noise to keep you sounding like a pro, whichever office you're working from.
The speakers are optimized for speech clarity, while wideband audio delivers crisp, crystal clear, natural-sounding calls. So you can wave goodbye to crackly, robotic-sounding voices, and say hello to more engaging conversations.
Easy USB Connectivity – Coffee To Call In Seconds
From the moment you first unbox your new Jabra Engage 55, you're ready to start having seamless, easy calls. Just plug the pre-paired USB DECT adapter into your computer and you're good to go.
With this easy-to-use, single-connectivity headset, you're never more that a few seconds from your first call on your computer.
Durable Adapter – As Flexible As Your Schedule
Whether you are hot desking or switching it up between home and the office our durable Link 400 adapter is built to withstand the demands of your day.
It's designed to bend, reducing the risk of damage even if you leave it plugged into your laptop. Perfect for companies with clear desk policies, or workers who like a change of scenery.
Lightweight Comfort – Long-Day-Proof
An uncomfortable headset can really distract your focus from the conversation. That's why we've made sure Jabra Engage 55 is lightweight, with a low clamping force, to avoid pressure and heat build-up.
So even when you're in back-to-back calls all day, you can rely on your headset to help you keep your cool.
Sidetone – It's Oh So Quiet
Nobody wants to be that guy shouting on all their calls. That's why Jabra Engage 55 has adjustable Sidetone built in.
By playing a little of your voice into your speakers as you talk, Sidetone helps you to regulate your speech volume, reassuring you that your microphone is working, and combating conversation fatigue.
Hearing Safety – It's What We Do
We've engineered Jabra Engage 55 with SafeTone™ 2.0, for superior built-in hearing protection.
What's SafeTone 2.0 made up of?
PeakStop™ prevents sudden loud audio spikes
IntelliTone™ 2.0 limits overall audio exposure
Speech Level Normalization and Intelligent Acoustic Shock Prevention maintain comfortable audio levels throughout the day
This advanced technology protects your hearing well-being, while also helping to prevent the virtual conversation fatigue that can result from poor audio.
Unified Communications (UC) – Works With Everything
Whichever communication platform you use, Jabra Engage 55 is ready. It works with all leading Unified Communications (UC) and contact center platforms for a seamless experience, and is available in both UC and MS Teams variants.
Future-Proof – Always A Step Ahead
There's plenty to love about Jabra Engage 55 from the word 'go', and our firmware updates will keep it running in peak condition.
Our Jabra Xpress and Jabra Direct software will keep your headset up-to-date and running as smoothly as the day you unboxed it, for many years to come.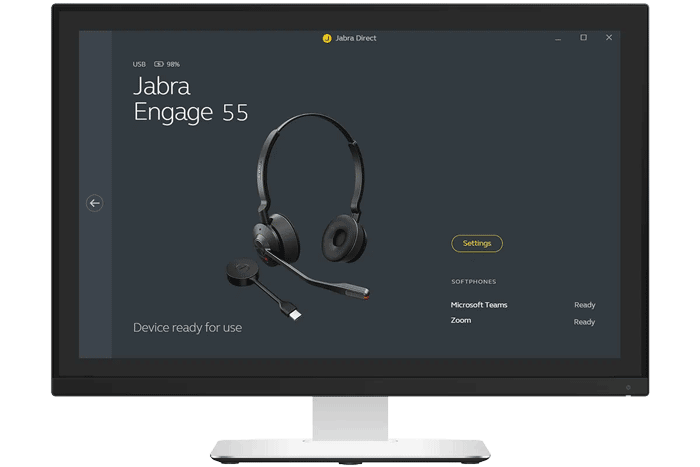 Busylight – Protect Your Focus
The built-in busylight on Jabra Engage 55 helps you wave goodbye to interruptions. Automatically glowing red when you're on a call, it shows anyone nearby that you're in 'do not disturb' mode.
Battery & Charging – Ready When You Are
With up to 91 hours of battery life, you're unlikely to run out of juice mid-flow. But in the unlikely event that you do hear the dreaded 'battery low', easy in-call2 charging means you'll never drop a call. Simply plug the cable in, and carry on the conversation.
1 Battery life for stereo and mono models is up to 13 hours. Battery life for convertible model is up to 9 hours.
2 Stereo and mono variants. Not recommended for convertible model.
---
Frequently Asked Questions:
How does Engage 55 differ from Engage 65 or 75? The Jabra Engage 55 features a new flexible, durable USB DECT adapter instead of a wireless base, making it even easier to move around with your computer during calls, and to switch between work environments.
How do I charge the headset? You can buy Engage 55 with or without a charging stand to suit your needs. If you buy the headset without a charging stand, it still comes with a charging cable that enables in-call charging for stereo and mono variants (not recommended for convertible models).
Can I connect the Engage 55 headset to my smartphone? No, Engage 55 only enables single connectivity to your PC or Mac. There is no Bluetooth connectivity. (If you require Bluetooth connectivity, we recommend the Engage 75 which allows connection to 2 Bluetooth devices at the same time).
Does it work with Mac and PC? Yes, it works with both systems.
How do I connect the USB adapter to the headset? The Link 400 adapter comes pre-paired with the Engage 55 headset
Does the microphone meet the Premium Microphone for Open Office standard and what does that mean? Yes it does. This qualification is the strictest test requirement of how the headset microphone suppresses surrounding noise and office conversation from multiple directions. It is the ultimate reassurance that your headset will excel in an open office environment.
How long is the warranty period for Jabra Engage 55? The warranty period is one year for North America.
Can I adjust the speaker volume, answer, end and mute calls with Engage 55? Yes, simple controls on the headset enable you to easily control calls.
Is the battery replaceable? No, the Engage 55 Convertible does not have a replacement battery. The battery is replaceable for stereo and mono versions.
How is the 150 m / 490 ft range measured? The 150 m / 490 ft range is measured by "Line of sight" (LIS), which shows how far the headset can be from the adapter without affecting its ability to deliver clear conversations.
Range performance can be affected by different factors, including density issues. Dense building structure such as the number of thick walls between the adapter and the headset. How many people are sharing access to the same network (Connection density) can also affect your range performance.
---
Jabra Engage 55 Convertible Wireless Headset Specifications:
UC Versions
USB-A SKU # 9555-410-125
USB-C SKU # 9555-430-125
MS Teams versions
USB-A SKU # 9555-450-125
USB-C SKU # 9555-470-125
---
Jabra Engage 55 Convertible Wireless Headset Technical Information:
General Info:
Box content: 

Headset w/ ear hook, USB adapter, USB cable, travel pouch, safety information and warranty, headband, neckband, and eargels

Packaging dimensions (without charging stand) (WxHxD):

104mm x 236mm x 172.5mm | 4.09in x 9.29in x 6.79in

Weight (headset): 21

g | 0.63oz

Warranty: 

1 year North America

Model Number: Jabra WHB050HS , WHB051HS
Audio:
Speaker bandwidth (music mode): 

40Hz – 16000Hz

Speaker bandwidth (speak mode): 

150Hz – 6800Hz

Microphone type:

ECM Uni-Directional

Microphone bandwidth: 

100Hz – 7300Hz

User hearing protection:

 

PeakStop™, Jabra SafeTone™ 2.0, EU noise at work, G616, OSHA

Certifications: 

Amazon Chime, Google Meet, Microsoft Teams and Zoom
Software & Apps:
Compatible software and/or apps: 

Jabra Direct, Jabra Xpress
Fit & Comfort:
Form factor: 

Earhook, headband or neckband
Battery:
Talk time (with busylight off): 

Up to 9 hours

Sleep mode:

Yes

Battery type: 

Rechargeable lithium-ion battery

User replaceable battery: No
Connectivity:
Connectivity: 

USB-A or USB-C

Wireless technology: 

DECT

Operating range: 

Up to 150m | 490ft